The Rail Philatelist September 2000 Newsletter
The Rail Philatelist

News & Notes Back Issues
| Oct. 1996 | Nov. 1996 | Dec. 1996 |
| Jan. 1997 | Feb. 1997 | Mar. 1997 | Apr. 1997 | May 1997 | June 1997 |
| July 1997 | Aug. 1997 | Sept. 1997 | Oct. 1997 | Nov. 1997 | Dec. 1997 |
| Jan. 1998 | Feb. 1998 | Mar. 1998 | Apr. 1998 | May 1998 | June 1998 |
| July 1998 | Aug. 1998 | Sept. 1998 | Oct. 1998 | Nov. 1998 | Dec. 1998 |
| Jan. 1999 | Feb. 1999 | Mar. 1999 | Apr. 1999 | May 1999 | June 1999 |
| July 1999 | Aug. 1999 | Sept. 1999 | Oct. 1999 | Nov. 1999 | Dec. 1999 |
| Jan. 2000 | Feb. 2000 | Mar. 2000 | Apr. 2000 | May 2000 | June 2000 |
| July 2000 |Aug. 2000 |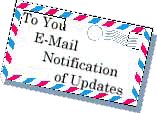 AL'S
NEWS & NOTES
ON RAILWAY PHILATELY

Volume 5 …………… PRICE $1.00 (10 ISSUES FOR $8.00)…………….Number 8 September 1, 2000
Dear Fellow Rail Philatelist:
My apologies to those of you who encountered excessive delays getting your orders and new issues because of my hectic summer travel schedule. Between June 12 and August 31, I was home only 18 days and some of that time was consumed by household chores, preparing and mailing pricelists, etc., leaving too little time to attend to all the orders and correspondence received. Thanks for your patience. Hopefully, I won't let myself get into this situation again.
NATIONAL MODEL TRAIN SHOW: The National Model Railroad Assn. convention and show was held in the San Jose Convention Center Aug. 4-6. I was able to move right in when I got there at about 7 PM but there had been up to a two hour wait earlier in the day due to union problems. Took me until almost 9:00 to get my booth set up. This is an excellent venue for the show but there seemed to be fewer booths than in years past. One change for the better was closing the show at 6 PM on Friday rather than at 9 PM as before. That made for a very long day and didn't add much to sales although I had 32 Friday sales in St. Paul (which wasn't a good show for me) and only 21 in San Jose. Only those registered for the convention were allowed in in San Jose while the public was invited for the evening hours in St. Paul and previous years. Saturday morning I looked for a way to make a speedy exit Sunday night but couldn't find one so I guess I'll just have to wait in line with everyone else trying to get out. Then I toured the layouts and manufacturers booths before opening my booth. Maybe I'm getting crotchety in my old age, but the layouts didn't seem to be as well designed and detailed as in previous years - an observation confirmed by a couple of other dealers I talk with regularly. The show was a little slow getting started because long lines formed for only two ticket booths before they got the kinks worked out. Attendance was very good Saturday but the bulk of my sales were to a handful of regular customers from the area - they at least helped me exceed my St. Paul sales. There wasn't much activity Sunday so overall the show was quite disappointing - sales were about half of what I expected (and needed). And an hour wait in line to get a place on the loading dock Sunday evening didn't help build fond memories of the show either.
APS STAMPSHOW 2000: The Rhode Island Convention Center in Providence was another great venue for a stamp show that didn't quite work for me. My Saturday was very busy with several of my New England mail order customers stopping by but sales on Thursday, Friday and Saturday didn't add enough to cover the costs of the 4000 mile round trip. The high point of the show for me was meeting several mail order customers for the first time and meeting a couple new customers as well. Even the dealers breakfast Sunday morning was a non-event, no controvercy, etc. My one regret from the show was that I didn't get the opportunity to get around to many of the other dealers booths - there were a couple dozen dealers there that I've never encountered before and may not get to see again. I did manage to stock up for the enclosed OPQ & R lists at A&D Stamps each morning before the show opened and I bought a great collection of French Parcel Posts from the dealer across the aisle from me. About a dozen collectors attended my "Railway Philately" slide show, so I was pleased with that! One of the advantages of doing major shows like this is the opportunity to rub elbows and talk with the "movers and shakers" of philately - not just the APS officials and exhibitors, but also industry leaders as well. Never one to mince words nor hide my opinion, I took full advantage of one such opportunity in Providence. Sam Malamud, owner of Inter-Governmental Philatelic Corp. and producer of most of the excessive new issues saturating the market, stopped by my booth to offer me a bargain on train FDCs returned by his customers. I declined his generous offer since I can't sell the stuff either, then turned the conversation to the glut of new issues. He acknowledged the problem and indicated that his company plans to cut new issues to about half in the coming year. We can only hope that he follows thru on that promise and that other producers will follow his lead. Time will tell. I shared a room at the Westin Hotel with another dealer to keep my costs down. That afforded me the opportunity to explore the beautifully restored downtown area of Providence and also for a walk up college hill where Brown University and the University of Rhode Island are located among some stately mansions and classic New England churches. In fact, the view of college hill from the train station platform at dusk Saturday evening reminded me of a Grandma Moses painting!
AUGUST TRAVEL: I made show trips to San Jose, CA and Providence, RI and a pleasure trip to Nova Scotia for my granddaughter's Christening in August.
TRAIN REPORT: Train watching on the California trip started well with a long SB manifest south of Castle Rock, four locos on the point, two more pushing plus a NB coal-empty to the north and a couple more trains in Denver. Then four in Cheyenne, an EB stackpack near the UP ballast quarry, a geep working a string of cars in the Laramie tie yard, eight trains between there and Walcott Junction, another geep switching the refinery in Sinclair, three trains stopped in Rawlins, and eight more between there and Green River. At Green River, they had just replaced a switch in one of the yard leads under the foot bridge when I arrived. During dinner at the Embers, I watched UP Ohio crane #903072 pull a ballast car across the new switch, followed by the tamper. Also saw three EB trains and one switching movement. Saw a pair of geeps descending Echo canyon, probably helpers but I've never seen helpers there before. Passed an intermodal climbing the pass and another just entering the tunnels East of Morgan, UT. Also passed a coal train in the dark just North of Salt Lake City and saw the lights of three others EB West of SLC, then nothing the rest of the way to Wells, NV. Still a 42 train day ain't bad! The next day was slower - a TOFC waiting to go West at Elko, an EB manifest at Golconda, another just leaving Winnemuca and an Autorack at Reno waiting to go West. I had just crested Donner Pass when I caught a glimpse of the WB CALIFORNIA ZEPHYR above me at the 6500 foot level. I pulled off at the Big Bend exit and found a spot where I would be able to see the train clearly. It was a beautiful sight as the three locos, two baggage cars, eight Superliners and five express boxcars curved around the rock cliffs above me. I saw the train again as it snaked along the rock ledges near Cisco and could have followed it all the way down the mountain if I had had the time, but I sped on ahead, passing only a WB manifest waiting to get into the Roseville, CA yard. The engine shops had a couple dozen locos in or around them and about 75 more at or near the refueling facilities. A pair of geeps was flat switching a string of cars in the East yard while three trains waited to head East (probably not until AMTRAK cleared). There was a BNSF steel coil train waiting to go West on the North side of the new yard while a UP manifest crawled West on the South side, past a waiting PFE refrigerator train. Saw an Autorack waiting to go West at Davis, passed under a 10 unit Bay Area Rapid Transit (BART) train as it headed into Walnut Creek and a two-unit Valley Transit Authority light rail train in front of the convention center as I stopped to get my badge - not such a slow train day after all! There was good train watching on the way home too, starting with a UP Autorack on the approach to the Martinez Bridge as I slowed down to pay the toll, followed shortly thereafter by a manifest. Although I was in a rush, I made the short detour around the Roseville yard to see a WB manifest starting out, a couple EB waiting on the South side of the yard and another EB snaking its way thru the yard and making the turn toward Marysville and points North (or East on the old Western Pacific Line). Saw three trains in short order after leaving Reno Monday morning - a UP TOFC, a short BNSF manifest and a long UP manifest, then nothing until 9:38 AM when I caught a glimpse of the WB CALIFORNIA ZEPHYR ducking behind a hill near Valmy, NV. Missed the head end but the consist was similar to last Thursday's. That was followed in five minute intervals by three more trains. (Actually, since they were all WB at about 60 mph and I was EB at 70 mph, they had about a 10 minute separation - a good math word problem or answer for JEOPARDY ). Passed a WB Cargill grain train as it approached the tunnels West of Elko, NV, an EB TOFC in the yard there, then an EB manifest just past the tunnels East of Elko. Saw my "mirage" train in the same place as last time but couldn't resolve any locos so it might just be a string of boxcars on a siding in the middle of nowhere. Or it could have been a train waiting to go East since there was another EB manifest "in the hole" just below the Silverzone Pass summit waiting for the WB just clearing the summit as I started my descent. That was it until I got near Salt Lake where there were three locals working the salt plants and a taconite train approaching the I-15 - I-215 intersection. Saw a WB Autorack just above Echo followed shortly by what looked to be an AMTRAK coming around the bend. I quickly pulled off to the side to let it come to me. Sure enough, it was UP #7145 leading AMTRAK #35, seven Superliners, a red & silver dome car and a forest green & silver dome observation car (couldn't read the markings on the private cars). Obviously some type of excursion but I'm not sure which one. Seeing that reminds me that if you spend enough time going to enough places, sooner or later you'll get lucky and be in the right place at the right time! Passed a couple more trains coming down the canyon and an EB leaving Evanston, WY. Caught up with an EB Autorack as it started its descent into Green River and followed it as it worked its way along the mountain wall into town. It passed as I stopped at the Embers for dinner but there wasn't any other activity except for the usual SD-40-2 pair working a string of trona cars. A WB manifest had pulled into the station for a crew change as I left. The EB Autorack was stuck waiting at the east end of Green River because the rails between there and Rock Springs were clogged with three trains each way. Passed at least fourteen more between Rock Springs and Rawlins before it got too dark to keep an accurate tally, four more on the way to Laramie, two on the way to Cheyenne plus a couple more waiting there, a couple in Denver and a SB coal train at Greenland, CO. A very good train day on an overly long day of driving. Got home about 2:30 AM, got a little sleep, took care of some bills and orders, mowed the lawn, got a little more sleep, then up at 3:30 AM to catch a plane for Nova Scotia for our granddaughter's Christening. On Monday while the women went antiquing and the other guys played golf, I went railfanning, first to a museum in the wonderfully restored 1918 Intercolonial RR station at Musquodoboit Harbor. They had a caboose, snowplow, combination car, GE 44 ton loco and a flat car as well as several interesting displays on railroading in the area. Then I stopped in Windsor, NS and walked around the shops and yard of the Windsor & Hartsport RR, an operating railroad serving a gypsum mine that also runs a tourist train on Sundays - two open platform cars, an air-conditioned smooth-side coach and an extended-vision caboose all painted maroon and gray. There were eight ALCO (Montreal Loco Works) DSH-10 diesel switchers on the property in various states of disrepair, one painted to match the passenger equipment. The gypsum train uses four GE 70 ton locos. I saw one approaching the shop area about 8 PM the night we arrived and another leaving the shop area about 7 AM when I drove my son Jeffrey to the Halifax airport. My last stop was at a museum in Middleton in the restored 1915 Dominion Atlantic station. Aside from a couple speeder cars, there was no rolling stock but they had operating model layouts in every scale and numerous interesting displays. So I was able to learn a few things about railroading in Nova Scotia. I'll save the Providence trip for next time- not enough space left this month.
DINING REPORT: Eating alone takes some of the pleasure from a good meal, so I was pleased to bump into Jim Rudai, dba RAILSTOCKS, at Denny's Saturday morning and, by chance, again at Carrow's that evening for dinner (great minds think alike? or something). He is a great guy to talk with and does a beautiful job matting and framing stock certificates. We've done business together two or three times the past couple years, but this was the first time we've had much time for conversation - turns out we have a lot in common. As for the culinary delights, the prime rib was excellent Saturday night and the salmon with citrus barbecue sauce and Mandarin oranges at Carrow's Friday night was outstanding. My other meals on the California trip were mostly burgers and fries at McDonalds, Wendy's and Carl's Jr. - tasty but not much to write home about. The best restaurant in Berwick, NS closes at 6 PM on Saturday night so we didn't get to eat there but we did have several great home cooked meals and some out, including lobster a couple times while in Nova Scotia. There were no great culinary triumphs on the Providence trip - dinners at the New River, Asian Paradise and Trinity Brewhouse were good but not exceptional while the Westin's Agora was good but not worth the high price. I did manage to have lunch in a Valentino's Pizzeria on the way home - good thing I haven't found one with a view of the UP main line - my weight would go over 300!
TRAFFIC REPORT: Ever wonder why highway departments reduce miles and miles of Interstate to one lane with no evidence of construction anywhere? I think its the orange barrel rental lobby. They have them up all over this summer. Even without construction, I-680 northbound looked like a parking lot from the Martinez bridge most of the way to San Jose. Fortunately the southbound lanes flowed smoothly except for two instances where dry-road, clear day accidents brought us to a standstill for short periods. I don't see why California wastes money on speed limit signs. The only time drivers actually go the speed limit is when they are accelerating away from a traffic jam or slowing down for one. If I had to deal with that traffic everyday I would become a much more aggressive driver than I already am. The only traffic problem on my Providence trip was that I-95 between Mystic and New Haven, CT was a fifty mile parking lot on my Sunday evening drive west.
NATURAL PHENOMENA: The numerous Western forest fires created a haze that made long distance train spotting difficult but created beautiful sunsets. Watched a spectacular lightning display north of I-80 near the Great Salt Lake that didn't bring any rain relief for the forest fire lighting up the sky on the south side of the highway near Clive, UT (mp 49). I passed thousands of scorched acres of sagebrush surrounding Imlay, NV and an active fire just west of Lovelock,NV that seemed headed for the railroad tracks - hope they're a good firebreak. It evidently worked since the fire was out on the way home. The one near Clive, UT was still smoldering and I saw evidence of a couple other fires near Wells, NV and Echo, UT. ...Looked like tent catepillars have infested the forests in Pennsylvania - hope they don't destroy the trees
THE STAMP HOBBY...: Thanks again to Michael Laurence, Editor/publisher of LINNS STAMP NEWS for this insight from his APS Tiffany Dinner speech:
8. The stamp hobby encourages diversity and tolerance. One of the glories of stamps is that you can collect what and how you please. We say this over and over again in Linn's. We can't say it enough. New collectors quickly learn that every collection is different. Most learn to respect such differences, even to celebrate them. Such a nonjudgmental attitude is essential in a hobby in which no two collections are alike. And it helps collectors move more easily in a world in which no two individuals are alike.
[Ed.note: I agree with the premise stated above in principle but in reality exhibit rules discriminate against certain aspects of philately (e.g. first day covers) and topical collectors are still treated with scorn or derision by some dealers and classical collectors/exhibitors. That is part of the reason why the American Topical Association and the American First Day Cover Society find it necessary to still have their own shows and judges.]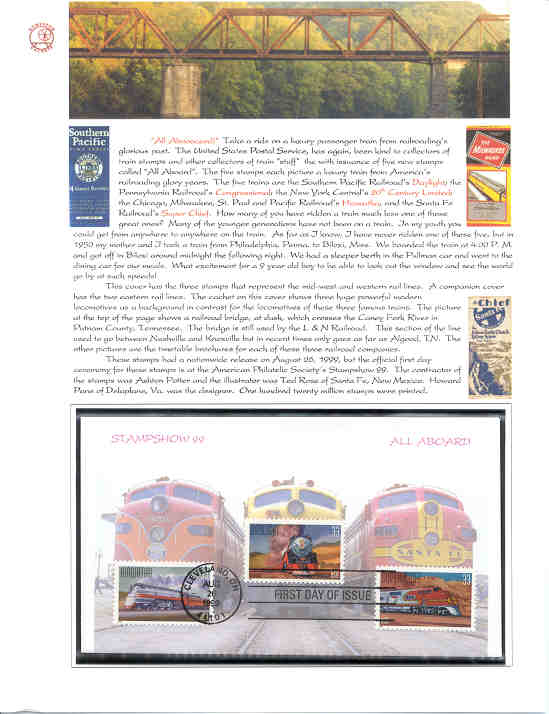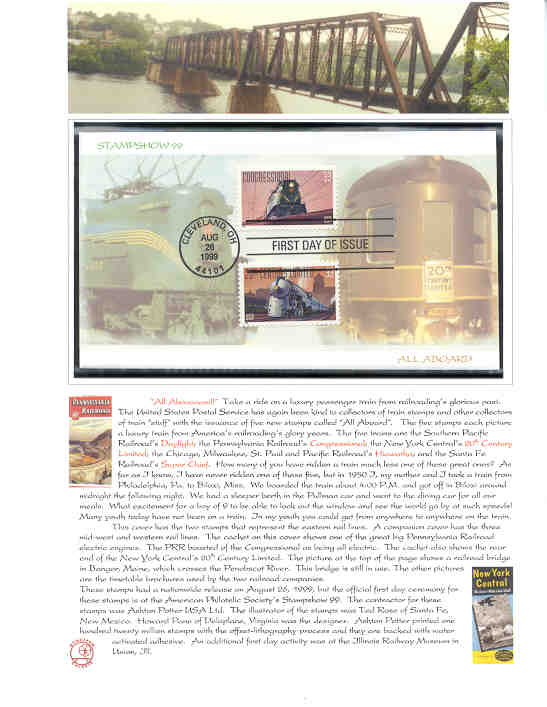 STAMP OF THE MONTH: One of the treasures discovered at the APS cachet makers bourse was this "All Aboard" first day cover set prepared by Barry Southard, Homespun Cachets. They are not only beautiful but informative as the next couple pages show. It is easy to see why he is an Earl Planty Award winning cachet artist. I have a couple sets available at $15.00 ppd. SEE SPECIALS.
RAIL THOUGHT OF THE MONTH: Companion tee shirts seen a few minutes apart on NMRA convention attendees: Hers - "I'm married to a train nut", His - "I'm the train nut".
RAIL FACTS AND FEATS: The widest gauge in standard use is 5 ft 6 in. This width is used in Spain, Portugal, India, Pakistan, Bangladesh, Sri Lanka, Argentina and Chile. In 1885, there was an 8 ft gauge lumber railway in Oregon.
May all your signals be green,

AL PETERSON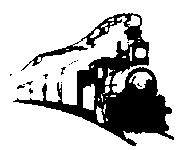 THE RAIL PHILATELIST

P.O. Box 25505
Colorado Springs, CO 80936
1-800-807-RAIL access code RR
http://www.railphilatelist.com
railphilatelist@aol.com


JOIN THE CASEY JONES RAILROAD UNIT OF THE AMERICAN TOPICAL ASSOCIATION
Dues $8.00. Contact Oliver Atchison, PO Box 31631, San Francisco, CA 94131

COME SEE MY INVENTORY AT ONE OF THESE UPCOMING SHOWS:
SEP 23-24 FILATELIC FIESTA SANTA CLARA CONVENTION CENTER SANTA CLARA,CA

I'll be attending the Regency Stamp Auction in St. Louis, MO Sept. 9-10 - an ex-customer's collection is up for sale.

News & Notes Back Issues
| Oct. 1996 | Nov. 1996 | Dec. 1996 |
| Jan. 1997 | Feb. 1997 | Mar. 1997 | Apr. 1997 | May 1997 | June 1997 |
| July 1997 | Aug. 1997 | Sept. 1997 | Oct. 1997 | Nov. 1997 | Dec. 1997 |
| Jan. 1998 | Feb. 1998 | Mar. 1998 | Apr. 1998 | May 1998 | June 1998 |
| July 1998 | Aug. 1998 | Sept. 1998 | Oct. 1998 | Nov. 1998 | Dec. 1998 |
| Jan. 1999 | Feb. 1999 | Mar. 1999 | Apr. 1999 | May 1999 | June 1999 |
| July 1999 | Aug. 1999 | Sept. 1999 | Oct. 1999 | Nov. 1999 | Dec. 1999 |
| Jan. 2000 | Feb. 2000 | Mar. 2000 | Apr. 2000 | May 2000 | June 2000 |
| July 2000 ||Aug. 2000 |

Please send us your comments, questions & orders.
railphilatelist@aol.com
(719) 591-2341
The Rail Philatelist
P.O. Box 25505
Colorado Springs, CO 80936
Orders Only : (800) 807-RAIL Access Code RR
email ordering information

---
| Listinfo | A B C D E F G H I J K L M N OPQ R Sa Se-u Sw T U VWXYZ | New Issues | Specials |

| HOME | Belgium | China | Denmark | France | Germany | NEWSLETTER | SHOWS | EXHIBIT |


| Cinderellas | Disney | Great Britain Railway Letter Stamps | Leaders of the World | Luxury Trains | Thomas |


| Event Covers | 19 Century Covers | Express Covers | Freedom Train | RPOs | Unusual Covers |


| RR Coins | Rail Magazines | Packets | RR Paper | Showcards | Stock Certificates. | Mail Bid Sale |


Copyright (c) THE RAIL PHILATELIST