The Rail Philatelist February 1998 Newsletter
The Rail Philatelist

News & Notes Back Issues | Oct. 1996 | Nov. 1996 | Dec. 1996 | Jan. 1997 | Feb. 1997 | Mar. 1997 | Apr. 1997 |
| May 1997 | June 1997 | July 1997 | Aug. 1997 | Sept. 1997 | Oct. 1997 | Nov. 1997 | Dec. 1997 | Jan. 1998 |
AL'S
NEWS & NOTES
ON RAILWAY PHILATELY

Volume 2 ………………………………………………………………………. Number 7 February 1, 1998
Dear Fellow Rail Philatelist:
I must have the greatest customers in the world! Thanks for your stupendous response to my 1998 survey. The marketing gurus indicated that a 25% response would be excellent. Thus far I've had a 30% response and they are still coming in! Thanks for all the positive comments and words of encouragement also although that's not why I conducted the survey. The info and suggestions are interesting as you will see from time to time herein starting next month.
SUPPLEMENT #2 (1998) TO ATA HANDBOOK 130: Norm Wright, his wife Florence, and several other associates, have generated a 70-page supplement to the "Railways of the World on Stamps" handbook of 1996. This second annual compilation lists not only all known new issues through 1997, but includes also many stamp errors and varieties not previously listed, as well as numerous corrections and additions to previous listings. This is an extremely useful "labor of love," and is available at his cost per copy of $12.00 ($15.00 outside U.S.) post-paid from Norm at 33 Northumberland Road, Rochester, NY 14618-2405. Don't be without it! Please include your ATA and/or Casey Jones Railroad Unit membership status with your order. A few copies of the 50-page Supplement #1 (1997) are also still available at $10.00 ppd.
WHAT IS A TRAIN STAMP?: The most restrictive definition is "A postally valid stamp issued by a member of the Universal Postal Union that pictures a locomotive or railroad rolling stock". Horst Brix of Germany offers this definition: "Track bound vehicles (and their predecessors) to carry goods and persons and all equipment around the vehicles, including all persons who contributed to the development and the traffic. This definition excludes cable cars running on ropes.". Most of you use a broader definition some where between the above and my proposed all-inclusive view:
Any philatelic item issued by a stamp issuing entity that:
Depicts vehicles constrained to move on a fixed path such as rails or overhead cables.
Depicts any form of infrastructure associated with such enterprises including bridges, buildings, tunnels, signals, tracks, catenarys, etc.
3. Depicts any person associated with such enterprises in any manner from workers to designers to owners and directors.
Commemorates or honors any such enterprise even allegorically.
Is used by such an enterprise in the conduct of its business (such as parcel stamps).
This is a comprehensive definition useful for my purposes since it includes cinderellas and many of the other items I particularly enjoy but I'm open to suggestion. Should I try to get the Casey Jones Railroad Unit of ATA to adopt it as the "Official Definition"?
STAMP OF THE MONTH: While Johns Hopkins is certainly better known for the university and medical centers named after him, he also was a Director of the Baltimore & Ohio Railroad and was instrumental in its early success. The ENCYCLOPEDIA AMERICANA says "He retired in 1847 with a large fortune which he employed in banking and railway operations." If ATA Handbook #130 can include Rowland Hill merely because he was a railroad director, then it certainly cannot exclude Scott # 2194 which honors Johns Hopkins, an early advocate for American railroads!
RAIL THOUGHT OF THE MONTH: "That light you think you see at the end of the tunnel may be an oncoming train!" That's for the pessimists among you since I featured the optimists last month.
300,000! No, not my sales (only in my dreams!). On my way to the Sacramento train show, the odometer of my Previa turned 300,000 as I passed the Union Pacific's intermodal yard in Salt Lake City, listening to Roger Whittaker's "The Good Old E A R & H" (East Africa Railway & Harbor Co.), and eating my Burger King dinner special, "2 Burgers, 2 Fries, 2 Bucks" (actually it was $2.22 plus tax in Utah - sometimes I splurge.) Hey - I'm not clever enough to just make this stuff up (particularly at midnight as I write this from my Elko, NV motel room after a long days drive) - it really happened! It turned 100,000 on the Oakland Bay Bridge (Tunisia #1125 and Poland #3350 , both issued for Pacific 97) on my way to San Francisco for a show but I don't recall where it turned 200,000 - have to check my travel logs. Those of you who have seen the ton of stuff I bring to a train show know that poor overloaded vehicle has done yoeman's service all 300,000 miles. I carry 34 fifty pound boxes of magazines, 6 long (24 in.) boxes of postcards, 17 long boxes of covers (RPOs, FDCs, Events, Expresses, etc.), 5 long boxes of souvenir sheets & worldwide covers, 32 red boxes of stamps, 4 red boxes of cinderellas, 2 copy paper boxes of displays, my "Bargain Box" (covers at 50c or 12 for $5.00), a few smaller miscellaneous boxes, a 4 foot by 2 1/2 foot metal display rack, my heavy- duty hand cart, my sign plus all my personal travel paraphernalia. At a train show, I cover three 8 foot tables and the floor space under them. The van's rear bumper lowers 6 in. from empty to loaded! I'm hoping she'll last thru 400,000 miles. She's a great vehicle - I don't understand why Toyota changed the design for 1998. I guess I'll have to find a used '97 when my '91 gives out!
REAL TRAINS: The old Southern Pacific snowsheds on Donner Pass are impressive but my profit for the Sacramento trip was seeing AMTRAK Train #5,the California Zephyr,in the snow high above me a few miles west of the summit - 3 Genesis locos running elephant style, 2 baggage cars, 9 Superliners and 2 express cars on the rear and then the eastbound thru the trees near Colfax (both running a little late). The former SP locomotive repair facilities in Roseville, CA (next door to Sacramento) used to be home to a motley collection of operational diesels and what we in the Air Force called "Hanger Queens" - airplanes, ne locomotives, cannibalized for parts to keep others running, but the Union Pacific seems to have cleaned the place up somewhat in addition to having thousands of ties and miles of rail ready to lay for a new west Roseville yard. An interesting place to spend some time. While I didn't visit this trip, the California Railroad Museum in Sacramento is well worth the price of admission. The UP seems to have the "race track" rolling again based on the 4 legs of my Dec. and Jan. trips across Wyoming. Maybe they have their problems solved - then again I haven't been to Houston! Incidentally, the BNSF (Burlington Northern & Santa Fe) is moving the freight too! After the Dec. Phoenix show, I saw 16 trains in 3 hours from my Flagstaff motel room and 22 more on my way to Albuquerque the next day (mostly stack-packs).
"OH! IT"S PHILATELIC!" Said with disdain as if you had handed them poison. It always amazes me that "philatelists" don't collect "philatelic items". By that they usually mean covers that were mailed specifically to get a particular set of stamps canceled or to get a particular cancel. I think the artificial rules of exhibiting create this snobbery since they frown upon, if not actually prohibit, philatelic covers including First Days. Quite frankly, I'm thankful that those early philatelists took the time and effort to create those covers and get those cancels. Otherwise there would be many more holes in our philatelic history. Why doesn't the exhibiting establishment recognize that?
Sincerely,

AL PETERSON
FEB 7-8 GREAT AMERICAN TRAIN SHOW OHIO EXPO CENTER/FAIRGROUND COLUMBUS,OH
FEB 14-15 GREAT AMERICAN TRAIN SHOW GARDEN STATE EXHIBIT CENTER SOMERSET,NJ
FEB28-MAR1 GREAT AMERICAN TRAIN SHOW NATIONAL WESTERN COMPLEX DENVER,CO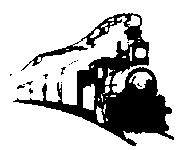 THE RAIL PHILATELIST

P.O. Box 25505
Colorado Springs, CO 80936
1-800-807-RAIL access code RR
http://www.railphilatelist.com
railphilatelist@aol.com

News & Notes Back Issues | Oct. 1996 | Nov. 1996 | Dec. 1996 | Jan. 1997 | Feb. 1997 | Mar 1997 | Apr. 1997 |
| May 1997 | June 1997 | July 1997 | Aug. 1997 | Sept. 1997 | Oct. 1997 | Nov. 1997 | Dec. 1997 | Jan. 1998 |

Please send us your comments, questions & orders.
railphilatelist@aol.com
(719) 591-2341
The Rail Philatelist
P.O. Box 25505
Colorado Springs, CO 80936
Orders Only : (800) 807-RAIL Access Code RR
email ordering information

---
| Listinfo | A B C D E F G H I J K L M N OPQ R Sa Se-u Sw T U VWXYZ | New Issues | Specials |

| HOME | Belgium | China | Denmark | France | Germany | NEWSLETTER | SHOWS | EXHIBIT |


| Cinderellas | Disney | Great Britain Railway Letter Stamps | Leaders of the World | Luxury Trains | Thomas |


| Event Covers | 19 Century Covers | Express Covers | Freedom Train | RPOs | Unusual Covers |


| RR Coins | Rail Magazines | Packets | RR Paper | Showcards | Stock Certificates. | Mail Bid Sale |


Copyright (c) THE RAIL PHILATELIST