The Rail Philatelist May 2000 Newsletter
The Rail Philatelist

News & Notes Back Issues
| Oct. 1996 | Nov. 1996 | Dec. 1996 |
| Jan. 1997 | Feb. 1997 | Mar. 1997 | Apr. 1997 | May 1997 | June 1997 |
| July 1997 | Aug. 1997 | Sept. 1997 | Oct. 1997 | Nov. 1997 | Dec. 1997 |
| Jan. 1998 | Feb. 1998 | Mar. 1998 | Apr. 1998 | May 1998 | June 1998 |
| July 1998 | Aug. 1998 | Sept. 1998 | Oct. 1998 | Nov. 1998 | Dec. 1998 |
| Jan. 1999 | Feb. 1999 | Mar. 1999 | Apr. 1999 | May 1999 | June 1999 |
| July 1999 | Aug. 1999 | Sept. 1999 | Oct. 1999 | Nov. 1999 | Dec. 1999 |
| Jan. 2000 | Feb. 2000 | Mar. 2000 | Apr.. 2000 |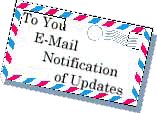 AL'S
NEWS & NOTES
ON RAILWAY PHILATELY

Volume 5 …………… PRICE $1.00 (10 ISSUES FOR $8.00)……………. Number 4 May 1, 2000
Dear Fellow Rail Philatelist:
My apologies for the delay in getting this out to you. I had planned to get more work done on the G and H lists in between WESTPEX and the Las Vegas GATS but several trains got in the way. More on that next month.
BEST TRAIN STAMP: Frankly, I was disappointed in the response to my request for the best train stamp. I expected hundreds of votes but received only a handful so I don't feel the results are statistically valid. Nevertheless, here they are:
1. US #295 Empire State Express
2. New Brunswick #6 Steam Locomotive
3. Gambia #1114-9 Various Cabooses
4. US #3333-7 All Aboard Streamliners
5. Mongolia #134 Steam Train
Honorable mentions: US #114, Iran #793, Costa Rica #C159 (All three Steam Locos)
THE STAMP HOBBY...: Thanks again to Michael Laurence, Editor/publisher of LINNS STAMP NEWS for this insight from his APS Tiffany Dinner speech:
"4. The stamp hobby is harmless. This perhaps doesn't even deserve consideration, except that in an era when extreme sports are so popular that they get their own commemorative stamps, when bungee jumping and sky-diving and whitewater rafting and vertical cliff-climbing are popular leisure-time diversions, amongst all this risk-taking there's something to be said for a hobby that entertains individuals in the quiet of their own little rooms. The social costs of stamp collecting are tiny, the spiritual benefits vast."
APRIL TRAVEL: An overnight snow storm made my drive to Denver for the Colorado Stamp Bonanza show a bit sporting but the drive home was even more interesting. The roads had cleared for the drive home and I was speeding along with the traffic at 70 mph just North of Castle Rock when a rear tire blew. I managed to control the car and get from the left lane over to the right shoulder but there wasn't much room to pull off because of guard rails along the hill. I started to roll the car further down the hill but was concerned a bout ruining the rim since the tire was mostly gone. A good Samaritan stopped to see if I needed a ride into town. I told him "Thanks. I've got a spare so I'll change it here." When I bought the car used I had checked to make sure there was a jack. Unfortunately, there was but the lug wrench was missing. Since I didn't savor trying to get the lug nuts off using a crescent wrench with my rear end sticking out in rush hour traffic, I called AAA. They said some one would be there in an hour or less. An hour later I called again and was told he was on his way and would be there in 15 minutes. A half hour later I called again and was told he should be there. The operator held on the line until he finally showed up. he apologized for the delay saying that the other two trucks were out on calls and he had had to jump start this truck to get here and it was nearly out of gas. A t that point his truck died, so we had no headlights to see to change the tire and no flashing lights to warn others of our presence. He got the tire changed with little trouble but as usual it needed some air. I offered him a ride into town but he said he would coast his truck down the hill into town when I pulled out of the way. I pulled off in Castle Rock to get some air in the tire but found the free air pump at the nearest station broken so I drove across the highway and paid 50c for some air. By that time a light snow had been falling and starting to freeze so traffic crawled along at 20-30 mph the 40 miles to home. Saturday morning I took the car into Firestone to have the tire replaced. They told me some of the blown tire had been wrapped around my brake line and had locked my rear brakes. So it was a good thing I couldn't get up to speed on the way home. Got back to Denver just as the show opened Saturday morning and ended up having a good show. Ah! The joys of travel.
ALBUM GEN: Tom & Karen Tullos, new customers I met at the Colorado Stamp Bonanza, showed me the beautiful album pages they are making for their "Rails & Sails" collection. They even create colored frames around each stamp that match the primary color of the stamp on their Gold Parchment Paper pages. Hardware used is a simple PC and an HP color Inkjet printer. The ALBUM GEN software is available for $49.95 from SoftPro 2010 Inc. They were enthusiastic about how easy it was to use. See advertisements in STAMP COLLECTOR or visit the web page http://www.members.home.net/ezstamp/index.htm.

STAMP OF THE MONTH: Tom Vincenti writes: "FYI - CANADA Scott #311-4 issued for the centenary of Canadian stamps 1951. According to Bodil(?) 'Stamps & Railways' by James Watson (c.1960) all four stamps may be included in railroad sets. #311 - Train (of course) supposed to be Bytown & Prescott Railway. #312 - Steamship "Prince George" operated by CNR. Sidewheeler 'City of Toronto' - home port- Prescott. #313 - Four engine Canadair 'North star' skyliner, used by Trans-Canada Airlines was owned by CNR (at least in 1960). #314 - Stamp on stamp of Canada Scott #1 - Beaver is an emblem of CPR and original design of three penny beaver stamp of 1851 was by Sir Stanford Fleming (Scott #739 (a railway pioneer)). Even though both RAILWAYS OF THE WORLD ON STAMPS by Burkhalter (c.1996) & Stanley Gibbons COLLECT RAILWAYS ON STAMPS (c.1986) list only #311 as train stamp, I thought Watson's history was interesting. It's an inexpensive set with a lot of background. Of course, if you include #314, then #1 becomes an expensive 'must' for a complete collection." Thanks for sharing the info Tom!

RAIL THOUGHT OF THE MONTH: "Our gravy train has been derailed" Cartoon "The Lockhorns" by Bill Hart. A lot of dot.com investors are probably saying the same thing about now!

RAIL FACTS AND FEATS: Postponed original RFAF as Tom Vincenti also wrote "My hometown is situated on the Northeast corridor. AMTRAK (old Pennsy) & CSX (old B&O) run right through town and then cross bridges over the Susquehanna River. According to Guiness RAIL- THE RECORDS by John Marshall (c.1985) - 1st RR car ferry in USA, the 'Susquehanna' operated between Havre de Grace & Perryville, MD beginning 1836. In winter of 1852, the river froze so solidly that rails were layed on the ice. Between 15 Jan & 24 Feb, 1,378 freight & other cars were hauled across (by cable). Railroad was old Philadelphia, Wilmington and Baltimore." Thanks again, Tom!

May all your signals be green,

AL PETERSON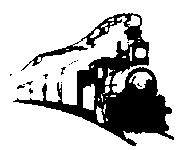 THE RAIL PHILATELIST

P.O. Box 25505
Colorado Springs, CO 80936
1-800-807-RAIL access code RR
http://www.railphilatelist.com
railphilatelist@aol.com

JOIN THE CASEY JONES RAILROAD UNIT OF THE AMERICAN TOPICAL ASSOCIATION
Dues $8.00. Contact Oliver Atchison, PO Box 31631, San Francisco, CA 94131
COME SEE MY EXTENSIVE INVENTORY AT ONE OF THESE FINE SHOWS!
JUN 16-18 NATIONAL TOPICAL STAMP SHOW BUFFALO CONVENTION CENTER BUFFALO,NY
News & Notes Back Issues
| Oct. 1996 | Nov. 1996 | Dec. 1996 |
| Jan. 1997 | Feb. 1997 | Mar. 1997 | Apr. 1997 | May 1997 | June 1997 |
| July 1997 | Aug. 1997 | Sept. 1997 | Oct. 1997 | Nov. 1997 | Dec. 1997 |
| Jan. 1998 | Feb. 1998 | Mar. 1998 | Apr. 1998 | May 1998 | June 1998 |
| July 1998 | Aug. 1998 | Sept. 1998 | Oct. 1998 | Nov. 1998 | Dec. 1998 |
| Jan. 1999 | Feb. 1999 | Mar. 1999 | Apr. 1999 | May 1999 | June 1999 |
| July 1999 | Aug. 1999 | Sept. 1999 | Oct. 1999 | Nov. 1999 | Dec. 1999 |
| Jan. 2000 | Feb. 2000 | Mar. 2000 | Apr.. 2000 |

Please send us your comments, questions & orders.
railphilatelist@aol.com
(719) 591-2341
The Rail Philatelist
P.O. Box 25505
Colorado Springs, CO 80936
Orders Only : (800) 807-RAIL Access Code RR
email ordering information

---
| Listinfo | A B C D E F G H I J K L M N OPQ R Sa Se-u Sw T U VWXYZ | New Issues | Specials |

| HOME | Belgium | China | Denmark | France | Germany | NEWSLETTER | SHOWS | EXHIBIT |


| Cinderellas | Disney | Great Britain Railway Letter Stamps | Leaders of the World | Luxury Trains | Thomas |


| Event Covers | 19 Century Covers | Express Covers | Freedom Train | RPOs | Unusual Covers |


| RR Coins | Rail Magazines | Packets | RR Paper | Showcards | Stock Certificates. | Mail Bid Sale |


Copyright (c) THE RAIL PHILATELIST