The Rail Philatelist April 97 Newsletter
The Rail Philatelist

News & Notes Back Issues | Oct. 1996 | Nov. 1996 | Dec. 1996 | Jan. 1997 | Feb. 1997 | Mar. 1997 |
AL'S
NEWS & NOTES
ON RAILWAY PHILATELY

Volume 1 ………………………………………………………………………. Number 7 April 1, 1997
Dear Fellow Rail Philatelist:
STAMP OF THE MONTH :

This Chinese Revenue can form the basis for an entire specialized collection. You are probably familiar with the overprinted series, Scott #913-36,937-47,960-2, & 963-70 and maybe Central China Stanley Gibbons#SGCC136-41 as described in ATA HANDBOOK #130. It details some of the varieties, but if you get into the unoverprinted revenues themselves, you will find a host of varieties. There were at least 6 different printers - Central Trust, Dah Tung, Dah Yip, Chun MIng, Ying Hwa and one or more unknown printers. Each printer used the same basic design but put in his own variations. Thus, there are two or more different types of scroll work at the top and bottom, some have no scroll work at the bottom. Various English letters, dots, and Chinese characters are placed in the designs in some printings. The shack window appears in different places, the buoy has a flat or round bottom, the rope is in front or behind the crane, etc. I don't want to detail all the variations - I'll let you enjoy the hunt. The stamps are listed in several Chinese revenue catalogs. An article by William E. Jones in the March 1965 CHINA CLIPPER is supposed to be an excellent reference but I don't have a copy yet. My primary reference is a Xerox copy of CATALOGUE Transportation Type Revenue Stamps of China by Robert E. Fuerst, Box EK, Agana, Guam 96910 dated January 1, 1979 so the address is old. It contains enlarged photos to highlight some of the many variations to look for. I'm not aware of a more recent reference but maybe someone out there is - if so let me know. Happy hunting.
NO FOOLIN': It may be April Fools Day, but I'm not fooling when I tell you that the 102 cards are rattling around in my red boxes. Thanks to your tremendous response to my monthly price lists and some good shows, I've been selling train stamps faster than I can get replacements. Unfortunately this results in many sold out items for the earlier lists. My cupboards are getting bare so if you have some less common duplicates (or a complete collection) I can probably use them. Send me a brief description of what you have available for sale or trade and I'll see what we can work out. Thanks!
OOPS!: I realized when I got the "K" and "L" lists back from the printer that in adding the FDC column I had used up the 1/4" for the 3-hole punch holes. I'll try to rectify that error with the enclosed lists by squeezing some space from somewhere - maybe the description column. I've created a "LIST TEMPLATE" file to make the lists consistent and to help keep me from making the same mistake again. Somehow, I also managed to lose a line of text from the bottom of page 1 of the newsletter. The missing text should have read "How do you get Poland #3245 into the right place with 100 other Poland entries already there? If you just sort on "Poland", the catalog numbers seem to be somewhat random." Gremlins keep plaguing me - I guess that's what happens when I try to do too many things at once.
EXPRESS COVERS: An EXPRESS COVER section has been added to my web page along with a DIRECTORY and other additions so check it out. I know, express covers aren't REALLY railroad covers but the express companies were closely associated with the railroads. In fact, many railroads including the Northern Pacific ran express companies. I originally picked up the TRUMAN & CO., PACIFIC EXPRESS, and WELLS, FARGO Columbian Exposition & Mexican express covers because they had trains in the indicia, then expanded into all express covers because of the close railroad ties(no pun intended). There seems to be a lot of interest in this area - two covers from the original web page express list have already sold and been deleted.
SHOW SCHEDULE REVISIONS: I've changed my show schedule somewhat, but rather than keep reprinting the entire schedule each time I change it I've decided the best way to keep you informed will be to just list the month's shows at the bottom of each newsletter. This should give you sufficient warning about when I'll be in your area so you can make plans to come see me ( or not!). Believe it or not I am trying to cut back on the show schedule to give me more time to work on your mail orders and to get more of my inventory organized. I'm gradually eliminating shows that don't provide sufficient financial and/or psychic rewards (hopefully both!) but I'm also trying some new locations as well. For me, the ultimate show experience the past 5 years has been the Hostler's Model Railroad Show in Ogden, Utah. It is held in the historic Union Station - a beautiful building with large wooden ceiling beams and murals depicting the building of the transcontinental railroad. At my table, I sell train stamps, railroad event and railway post office covers, railroad advertising labels, train and depot postcards, old prototype and model magazines, railroad stock certificates and other paper railroad memorabilia. The show staff and customers are all friendly and helpful. I revel in the camaraderie of meeting and talking with other people with interests like mine and sharing their stories and experiences. Plus I have operating model train layouts across the aisle to watch throughout the show and an occasional real train to watch through the window behind me. This is my idea of heaven on earth. And this year they made a great show even better. In past years, the show ran from 9 AM to 9 PM on Saturday, too long a day even in such idyllic surroundings. This year they closed at 6 PM, then held a social hour and prime rib dinner with a very interesting guest speaker, Thornton Waite, who spoke knowledgeably about the Union Pacific's Yellowstone Branch - well worth the price of admission (only $10.00 including 2 drink tickets!) and the drive to Utah (during which I saw numerous UP trains crossing Wyoming). Some shows just keep getting better. That's what keeps me going back (it ain't just the money although that helps cover the expenses)!
RAILROAD BOOKS: Since I turned my train stamp and cover hobby into a business, my remaining collecting passion is railroad books. In fact I considered naming the business "THE RAIL BIBLIO-PHILATELIST" to include the books, but changed my mind. I currently have about 1600 titles in my library and I'm always looking for more at each show I do. If there is a railroad book you are looking for let me know - I might be able to find it for you while I'm searching for books for my collection. Or if you have railroad books to sell, I'll be happy to take them on consignment to sell at shows if I don't need them for my own library. Some one once said, "Knowledge is power!". That is particularly true in the collectibles business. To get that knowledge, I guess I'll have to read all those books, not just collect them!
DELAYS: Back spasms put me out of commission for almost a week. I tried to work thru them for a couple of days but couldn't. It's the first time I've experienced such debilitating pain and I hope it's the last - guess I'll have to be careful. It wasn't the sliding over Donner Pass in a blizzard Sunday night after FILATELIC FIESTA in San Jose, but the 1100+ mile drive home from Reno on Monday and unloading the van on Tuesday probably set it up. A simple twist in my chair while working at my desk set it off. Needless to say, I'm now even further behind. I've kept up pretty well with the orders but the new issues are piling up - I hope to clear that backlog in the next week or so. Thanks for your patience. Hope you all had a blessed Easter.
Sincerely,

AL PETERSON
| | | | |
| --- | --- | --- | --- |
| APRIL 4-5 | MSDA PHILATELIC MALL | DOUBLE TREE SUITES HOTEL | GLEN VIEW, IL |
| APRIL 6 | CHICAGO RAILROADIANA SHW | COLLEGE OF DU PAGE GYMNASIUM | GLEN ELLYN, IL |
| APR 19-20 | WESTPHILIA STAMP SHOW | LAKESIDE MALL | LAKEWOOD, CO |
| APRIL 26 | LIVINGSTON RR SWAP MEET | LIVINGSTON DEPOT CENTER | LIVINGSTON, MT |
| APRIL 27 | 16TH ANNUAL RAILROAD FAIR | HELENA CIVIC CENTER | HELENA, MT |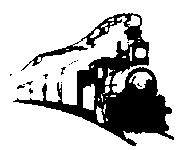 THE RAIL PHILATELIST

P.O. Box 25505
Colorado Springs, CO 80936
1-800-807-RAIL access code RR
http://www.railphilatelist.com
railphilatelist@aol.com

News & Notes Back Issues | Oct. 1996 | Nov. 1996 | Dec. 1996 | Jan. 1997 | Feb. 1997 | Mar 1997 |

Please send us your comments, questions & orders.
railphilatelist@aol.com
(719) 591-2341
The Rail Philatelist
P.O. Box 25505
Colorado Springs, CO 80936
Orders Only : (800) 807-RAIL Access Code RR
email ordering information

---
| Listinfo | A B C D E F G H I J K L M N OPQ R Sa Se-u Sw T U VWXYZ | New Issues | Specials |

| HOME | Belgium | China | Denmark | France | Germany | NEWSLETTER | SHOWS | EXHIBIT |


| Cinderellas | Disney | Great Britain Railway Letter Stamps | Leaders of the World | Luxury Trains | Thomas |


| Event Covers | 19 Century Covers | Express Covers | Freedom Train | RPOs | Unusual Covers |


| RR Coins | Rail Magazines | Packets | RR Paper | Showcards | Stock Certificates. | Mail Bid Sale |


Copyright (c) THE RAIL PHILATELIST