The Rail Philatelist July 1998 Newsletter
The Rail Philatelist

News & Notes Back Issues
| Oct. 1996 | Nov. 1996 | Dec. 1996 |
| Jan. 1997 | Feb. 1997 | Mar. 1997 | Apr. 1997 |
| May 1997 | June 1997 | July 1997 | Aug. 1997 | Sept. 1997 | Oct. 1997 | Nov. 1997 | Dec. 1997 |
| Jan. 1998 | Feb. 1998 | Mar. 1998 | Apr. 1998 | May 1998 | June 1998 |
AL'S
NEWS & NOTES
ON RAILWAY PHILATELY

Volume 3 ………………………………………………………………………. Number 2 July 1, 1998
Dear Fellow Rail Philatelist:
OOPS! Yes, I do know the difference between steam, diesel and electric locomotives but I sure messed things up in the May New Issues List. That's what happens when I do things on the road without the stamps in front of me - it never occurred to me that Cambodia would be picturing electric locos in their triangle stamps but they did, not steam locos as I reported. Also, the Cuba set was 3 steam and 2 diesels, not 5 steam. Sorry for the confusion and any problems it may have caused you. Speaking of triangles,...
TRAIN TRIANGLE STAMPS: Chuck Hemrick requested a list of train triangle stamps, but I didn't have one so on the trip to Las Vegas I created one as I drove along in the middle of no where. Here are the ones I came up with off the top of my head:
| | | |
| --- | --- | --- |
| Cambodia | New Issue | Electric Locomotives (6 + SS) |
| Congo | J38 & J44 | Steam and Diesel Locomotives (2) |
| Dahomey | J39 | Railcar |
| Ecuador | 175-79 | Railroad Builders and Officials |
| Monaco | 372 & 382 | Steam Locos Revalued (2) |
| | 390 | Mailcar Revalued |
| | J41 & J50 | Steam Locomotives (2) |
| | J56 | Railway Mailcar |
| Sharjah | 95-96 | Steam Loco & General Motors Aerotrain |
| | MK135-A | As Above but OVERPRINTED "RIYAL" |
| | 96a | As Above but SOUVENIR SHEET |
| | MK135BA | As Above but OVERPRINTED "RIYAL" |
| Somali Coast | MKN303-4 | Small Steam Loco (2) |
| Surinam | 712-23 | Various Steam Locomotives (12) |
| | 749-50 | #720-1 Revalued 15c |
| | 808-9 | #722-3 Revalued 60c |
| | SG1396-7 | #714-5 Revalued 2c |
| | SG1398-9 | #720-1 Revalued 3c |
| | 928-9 | #712-3 Revalued 1c |
| Tanna Tuva | SG90 | Steam Loco (Actually diamond shaped -two triangles?) |
Anyone have any additions or corrections to make?
JUNE TRAVEL: Lots of traffic (about 40 trains) on the Union Pacific between Cheyenne and Ogden on my way to the Las Vegas show (I took the longer way because of the trains!). If you want a drive where you can be alone take US 93 (and the NV 318 shortcut) north from Las Vegas to Ely, NV - you'll see another car about every half hour and a house or other sign of civilization even less frequently - just make sure you have a full gas tank! The Nevada Northern has all kinds of interesting equipment in their delapitated buildings and sheds in Ely. I didn't see the tourist train but there were two blue and yellow Geeps switching a cut of Union Pacific hoppers in the yard. Further north, I came across reddish -orange Eastern Idaho #2174 with 4 grain hoppers In Buhl, ID. Then I spent a little time poking around the Boise Locomotive Works (formerly Morris-Knudson). Among the many locos in various stages of disrepair were 3 F45 shells with their roofs removed sitting on freight car trucks. The next day I saw several UP trains climbing the hill up to Baker City, OR. I also spent an enjoyable lunch hour watching all the activity at UP's Hinkle, OR hump yard - actually, I found a great parking spot at the east end of the huge yard just off the irrigation canal road where I could watch two sets of Geeps (#1801/2135 & #1803/1579) switching strings of cars from the classification tracks to the departure tracks - also saw 5 trains head east. I had planned to visit my youngest son in Oak Harbor, WA for a couple days and help with his landscaping,but he turned over in a front end loader and was airlifted to a Navy hospital with a compressed spine while I was in Las Vegas so I ended up cleaning house and doing laundry for him before his fiancée arrived. He seems to be doing fine now but will be in a back brace for 3-6 months - so no P-3 flying for awhile. The Spokane show wasn't much but the train watching there was GREAT. I ate my Longhorn Barbecue take-out while watching a steady stream of trains. In addition to several run thrus, there were a couple arrivals and departures and continuous activity from two old SD-9s taking turns making and breaking up trains in the BNSF yard. I also had a fireworks show on Friday night from the ballpark and rainbows Saturday evening - it doesn't get much better than that. Also had quite a bit of activity on the Montana Rail Link and BNSF from Missoula, MT home on Monday, including a Sperry Rail Car near Laurel, MT - I listened on the scanner as they reported defects and had track crews replace the rails. But imagine my surprise and excitement to find a 10 car passenger train on the Yellowstone wye in Livingston, MT- the "Northern Parks Express" according to the drumhead on the observation car. The special tour had taken buses to Yellowstone and left the train for a few days - sure seemed like a great way to travel - 2 baggage, 2 diners, 2 Pullmans, 2 coaches, the observation and a dome car!
DINING ON THE ROAD: I don't eat to live, I live to eat as the gut over my 38 inch belt attests. I enjoy fancy restaurant meals from time to time but I'm not a gourmand - I just like good wholesome food. I like to try out local restaurants, especially if there is a railroad motif, but I usually stick with known chains for the sake of my gastrointestinal track. My seeming fetish with Hardee's Monster Burger is more a matter of practicality than taste although I do enjoy the flavors - it is the only large hamburger I've found I can eat safely while driving - the cheese holds the bacon and hamburger together so I don't get shredded lettuce, juicy tomatoes or secret sauce all over myself or the steering wheel as with the others. CRACKER BARREL is my favorite stop for dinner or breakfast -their roast beef dinner is outstanding ( I've ordered it as many as 4 nights in a row) and the Granny's Sampler breakfast with eggs over easy, bacon, sausage, ham and peaches on the pancakes is a good way to start the day although my favorite breakfast is at PERKINS. There they use a good sharp cheddar cheese in the ham and cheese omelet and they have apricot syrup for the pancakes. Both places serve a LARGE glass of orange juice when you order large! With breakfasts and dinners like that I often just snack at lunch. What (or where) are your favorites?
RAIL THOUGHT OF THE MONTH: "RAILROADERS (HEART) TO COUPLE UP" - bumper sticker on car driven by man in his 60's in Columbus, OH.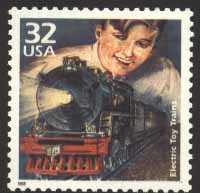 STAMP OF THE MONTH: The new Electric Toy Trains stamp (probably #3184d) from the 1920s "Celebrate the Century" pane of 15 is supposed to take us back to the days of our youth, playing with our Lionel trains but I think they used a train set from the 40s (my youth) rather than the 20s they are supposedly commemorating. Still a nice addition to our collections.
Sincerely,

AL PETERSON
JUL 24-26 NATIONAL MODEL RR ASSN. CONVENTION CENTER KANSAS CITY,MO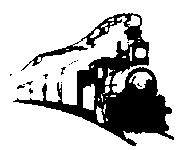 THE RAIL PHILATELIST

P.O. Box 25505
Colorado Springs, CO 80936
1-800-807-RAIL access code RR
http://www.railphilatelist.com
railphilatelist@aol.com

News & Notes Back Issues
| Oct. 1996 | Nov. 1996 | Dec. 1996 |
| Jan. 1997 | Feb. 1997 | Mar 1997 | Apr. 1997 |
| May 1997 | June 1997 | July 1997 | Aug. 1997 | Sept. 1997 | Oct. 1997 | Nov. 1997 | Dec. 1997 |
| Jan. 1998 | Feb. 1998 | Mar. 1998 | Apr. 1998 | May 1998 | June 1998 |

Please send us your comments, questions & orders.
railphilatelist@aol.com
(719) 591-2341
The Rail Philatelist
P.O. Box 25505
Colorado Springs, CO 80936
Orders Only : (800) 807-RAIL Access Code RR
email ordering information

---
| Listinfo | A B C D E F G H I J K L M N OPQ R Sa Se-u Sw T U VWXYZ | New Issues | Specials |

| HOME | Belgium | China | Denmark | France | Germany | NEWSLETTER | SHOWS | EXHIBIT |


| Cinderellas | Disney | Great Britain Railway Letter Stamps | Leaders of the World | Luxury Trains | Thomas |


| Event Covers | 19 Century Covers | Express Covers | Freedom Train | RPOs | Unusual Covers |


| RR Coins | Rail Magazines | Packets | RR Paper | Showcards | Stock Certificates. | Mail Bid Sale |


Copyright (c) THE RAIL PHILATELIST