>

The Rail Philatelist October 1999 Newsletter
The Rail Philatelist
News & Notes Back Issues
| Oct. 1996 | Nov. 1996 | Dec. 1996 |
| Jan. 1997 | Feb. 1997 | Mar. 1997 | Apr. 1997 | May 1997 | June 1997 |
| July 1997 | Aug. 1997 | Sept. 1997 | Oct. 1997 | Nov. 1997 | Dec. 1997 |
| Jan. 1998 | Feb. 1998 | Mar. 1998 | Apr. 1998 | May 1998 | June 1998 |
| July 1998 | Aug. 1998 | Sept. 1998 | Oct. 1998 | Nov. 1998 | Dec. 1998 |
| Jan. 1999 | Feb. 1999 | Mar. 1999 | Apr. 1999 | May 1999 | June 1999 |
| July 1999 | Aug. 1999 | Sept. 1999 |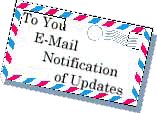 AL'S NEWS & NOTES
ON RAILWAY PHILATELY
Volume 4 …………… PRICE $1.00 (10 ISSUES FOR $8.00)………………. Number 7 October 1, 1999
Dear Fellow Rail Philatelist:
<![if !supportEmptyParas]> <![endif]>
Summer is supposed to be the slow time for stamp collecting so I am especially pleased to send out my thanks to all of you who made the past three months my best sales quarter ever! Show sales were good (in most cases) and mail order sales continued strong along with new issues. Unfortunately, we are being buried in new issues - most have some really great trains on them but there are just too many, I think, for the good of the hobby. What do you all think?
<![if !supportEmptyParas]> <![endif]>
NEW ATA HANDBOOK: GREAT NEWS! Norm Wright reports that the American Topical Assn. (ATA) has authorized him to proceed with the preparation of a complete revision of the railway Handbook, this time in 8-1/2" x 11" loose-leaf binder format. This will allow future updates using annual supplements containing revised and additional pages designed to be inserted in the Handbook in proper order. This method will enable us to keep the Handbook "fluid" and perpetually updated each year. Current plans are for the new book to be issued at the ATA National Topical Stamp Show (formerly TOPEX) in Buffalo, N.Y. June 23-25, 2000. Since Norm's deadline with the ATA is "early January," he will close the book (except for new issues) at the end of September, following release of Vol. 6 of the Scott Year-2000 CATALOGUE. The ATA will be handling the printing and sales of the new product. Because the complete Handbook will be available in 2000, Norm will not issue a Supplement #4 for HB130, since that material will be included in the new publication. The first planned "upgrade-able" loose-leaf supplement is scheduled for mid-year 2001 and is expected to be available from the ATA also. Further details are still being worked out, so ... stay tuned . . . .Norm suggests that anyone who has not obtained all three HB130 Supplements issued to date would be well advised to wait for the new Handbook, which will include all supplemental information and more -- probably at a savings in price from buying the component parts separately. It's a monumental task. We all owe Norm a GREAT BIG THANK YOU for all the time and effort he is putting into this. I'm certainly looking forward to getting the new handbook!
<![if !supportEmptyParas]> <![endif]>
CELEBRATE THE CENTURY EXPRESS (CTCE): Bill Senkus had e-mailed me the following report on his visits to the CTCE: "I caught the CTC Express in Sacramento on July 31, and again in San Francisco on August 20. The train itself can be interesting, but only if you are willing to spend the time to ask questions, and read the somewhat haphazard placards. There were a few attendants, but they seemed to resent questions. The private car at the end of the train, through which one enters, was the most interesting part to me, showing as it did how the rich once traveled in style. It reminded me of scenes from several Hollywood movies. Don't miss the beautiful little paintings in the bedroom and sitting room. The mail car needs a live narrator to bring it to life. As it is, if you don't know what went on here, it's merely puzzling and quaint. The modern section, with its videos and gee-whiz murals, is overdone and boring. The USPS had tables outside at both venues, with souvenirs and souvenir covers. The envelope they were using (<http://home.att.net/~wsenkus/ctc-express.JPG> ) differs completely from one I saw pictured in Linn's or Stamp Collector, and is inscribed "Pacific Area" on the back, so apparently there are several versions, but no one at either location knew whether there's any way to get the others. In Sacto I was allowed to buy blank envelopes and prepare my own covers, but in SF they claimed they had none except the ones they had prepared. Also in Sacto, members of the local stamp club were doing a most excellent job of manning the cancelers, including an old RPO-style version - also mentioned in the philatelic press - apparently it has been available for public use in some places. That cancel was nowhere in sight in SF. The "official" cancel in Sacto also differed from the one in SF, one having the CTC logo in outline, the other filled in (<http://home.att.net/~wsenkus/ctc-cancels.JPG> ). Finally, there were some souvenir postcards (with peelable stickers) available at both locations (<http://home.att.net/~wsenkus/ctc-card.JPG>)". TOPICAL TIME, Sept. Oct. 1999, page 68 had a short discussion by Mary Ann Bowman on her school stamp club's visit to the train in Oshkosh, WI with a picture of the covers they created using the peelable stickers that Bill mentioned. Armed with the knowledge gained from these two sources, I put "All Aboard" stamps on 40 envelopes, took a few more blank envelopes and some extra loose stamps and headed for Denver Sept. 10 to see the CTCE and create some souvenirs. The train was at Union Station and the Postal Service had a couple trucks there for stamp sales and a couple tents with brochures for the kids - I didn't see any for adults. They also had some singers at a microphone but it wasn't my kind of music so I rushed on by. In the station tunnel to Track 3 where the CTCE was parked there was a small exhibit by the Colorado Railroad Museum, a couple vendor booths selling framed stamps, etc, a table manned by the Rocky Mountain Philatelic Library where you could get covers canceled with the pictorial cancel, and a large Postal Service area selling all kinds of stamp trinkets - the only things related to the CTCE were a poster @ $3.00, "Official" #10 sized covers @ $3.00 and the peelable sticker post cards @ $0.45. I bought 5 sets of the "Official" covers and 40 of the postcards and went to the cancel table. Since I knew the guys working the booth, they were happy to let me do my own canceling. After doing the 40 covers I had pre-stamped, I tried the peelable stickers on one and liked the result. I left the covers there so the ink could dry and went upstairs to see "The Train". I agree with Bill's report that Missouri-Kansas-Texas (KATY) business car #403 (AMTRAK #800393) was the most impressive part of the train - it certainly takes you back to the days of opulent rail travel in style! Southern Railway RPO Car #36 is a sibling to #49 that was used as the model for US #2265 - the 21c Railroad Mail Car in the Transportation Coil Series (I should have used those on the postcards instead of the 33c All Aboards!). Both these cars were in their original Pullman green. Genesis loco #100 (the number didn't register its significance at first), the baggage car(used for carrying supplies, etc.) and Amfleet Coach #21044 (the exhibit car) were all painted a bright yellow with stamp and cancel designs all over them - actually a pretty sight for a train and stamp nut! But, again, I agree with Bill - the exhibits didn't do much for me. So I rushed back down stairs, put stamps on the 40 postcards and got them canceled too. I canceled a few covers and cards for others who only had one or two to do while I was doing mine since there was only one canceler available. Had several requests wanting to buy my covers but told them they had to go buy their own from the post office. I've never been much of a fan of "Peel and Stick" labels but they certainly worked well in this case. I put them on all 40 covers after I got home. I think they turned out quite well (see below). If the CTCE comes near you, be sure to go see it and create your own souvenirs for sale or trade. Hope you enjoy the experience as much as I did! PS: Glad I didn't buy the poster. On Tuesday, my favorite post office clerk pointed to the poster on the wall and asked if I was going. I said "I've already been. That was last weekend. By the way, when you take the poster down, may I have it?" He said "You can take it down now since it's over". So I did! Never hurts to ask.
<![if !supportEmptyParas]> <![endif]>
SEPTEMBER TRAVEL: Only saw a couple trains each way on my three trips to Denver for the CTCE and the APEX 99 stamp show. The show was pretty much a waste of time as far as sales went but I did get to meet a couple new customers and I saw an excellent Streetcar RPO exhibit! It featured several rarities including a "Chattanooga Electric Car" cancel (only a couple known). It certainly deserved the Gold Medal it received. On my way to Filatelic Fiesta in Santa Clara, CA, I saw 34 UP trains between Cheyenne and Rock Springs, WY. The most interesting was a stackpack stopped at Wamsutter - behind the 3 GE Dash 44s were a Montana Raillink FP-45, two dome cars and a platform observation car (all three blue and chrome), then the string of stackpacks. Couldn't see any markings on the cars to identify them better unfortunately. There wasn't much activity in Green River when I stopped for an early dinner, just SD 40-2 #4752 working a string of trona cars when I arrived and a string of tank cars when I left plus two WB freights I had already seen. There weren't even any locos at the refueling racks but there were 11 sitting on the ready tracks. Saw only eight more between there and Ogden. Saw the lights of a WB as we both crested Silver Zone Pass (elevation 5940 feet) in Nevada about 10 PM. A few minutes later I heard a defect detector report "Milepost 769. Defect: Hotbox. Axle 147 from end of train" so the crew probably had to stop to check it out there in the middle of nowhere in the dark. Thursday I saw eight trains between Elko and Reno, NV including a WB going thru one of the tunnels just east of Elko so I slowed to 50mph hoping to also see it go thru one of the tunnels west of Elko but it evidently got held up going thru the yard. Catching a glimpse of AMTRAK #5 snaking thru the Sparks/Reno yard at 12:20 PM, I decided to give it a head start up Donner by stopping for lunch at the Reno Hilton's buffet. Thought I'd also give back some of the money I won in July but I was ahead enough to pay for lunch and gas after 5 minutes on the "Wheel of fortune" slot machine, so I cashed out and headed west about 1:30. I reached Donner Summit about 2:30 without seeing or hearing any signs of #5. Saw a WB TOFC high above me just past the summit and saw EB AMTRAK #6 thru the trees as I passed over it at Emigrant Gap where it was stopped at a signal. Saw another EB freight climbing near Auburn, CA but no #5. Got to the Roseville station about 3:30 and learned that #5 was running about 2 hours 45 minutes late and wouldn't arrive until 5 PM. Once again it had eluded me in the mountains - I guess you need to find a vantage point up there and just wait for it to come by. Incidentally, there are six large photo collages in the Roseville station that are worth a look if you are in the area. They also seem to be amassing a large collection of UP work equipment including a couple wreck cranes and also some old SP passenger cars across the tracks from the station. Almost looks like the start of a museum collection but it may just be the wreck train storage area. Saw only a couple more trains as I circled the new yard and then joined the California traffic about 4 PM. Got to the Santa Clara Convention Center about 6:30 and spent an hour there unloading and getting partially set up, then headed for my motel to check my e-mail and work on this. Had a good sales day Friday from 10 til noon and 5 to 6 PM but pretty dead in between so I spent some time buying (as usual). Saturday was another good day primarily due to one customer who came back with his wife and again counted for more than half my total sales. Friday night I ate in a Vietnamese beef noodle soup shop next to the hotel but Saturday night I went upscale to a nearby restaurant the hotel clerk had recommended when I checked in: Nicolino's. Not only was the rack of lamb superb but they had a great floor show featuring Italian ballads and opera arias - wish Sue could have joined me! Sunday was slow as expected but still okay. Spent some more time buying, had a nice visit from Jerry Lindelef and his new young heart and had time to go thru all the exhibits. While there weren't any train exhibits a Russian Far East Offices exhibit did have two frames of interesting Chinese Eastern Railway postmarks which warrant further study on my part. Picked up a couple Famous Stars for dinner at Carl's Jr., crossed over the UP's big autorack yard at Miltipas, CA and headed for Reno. Crossed over an autorack train climbing the pass in the dark at Emigrant Gap but didn't see anything else. Monday morning I expected to see AMTRAK #5 somewhere east of Reno but saw a WB Sante Fe loco with six boxcars and a green BN caboose instead. Must have been some kind of priority shipment using trackage rights ( maybe a money shipment for the casinos?). Saw a couple freights near Lovelock but no AMTRAK. Leaving Winnemucca just past noon I picked up the "afternoon lineup" on the scanner - about six trains each way in the next 4-6 hours. Saw three of the WB within the next half hour! Between Elko and Wells, I heard an irritated dispatcher chastise a maintenance worker who called in a "Slow order" late:"You'd better get your act together - they're coming at you!". A few minutes later I caught up with a long EB six unit GM doing about 60 mph and then crossed over a highballing WB intermodal so I assume the maintenance guy was somewhere in between. At the Utah-Nevada border I saw a train way ahead in the distance so I spent the next half hour chasing it across the Bonneville salt flats. It had about a 10 mile head start but I caught up with it at I-80 milepost 26 adjacent to the "Nut tree Sculpture" (4 colorful spheres near the top of a column with nut shell fragments on the ground below out in the middle of nowhere - if you've seen it, you don't forget it. Truth IS stranger than fiction!). I was doing 70 mph and a detector reported "Detector mile post 829. No defects. Speed 50 mph. Temperature 73 degrees. Detector out." I watched the three unit 45 car train in my rear view mirror for the next 15 miles until the "Knolls" got in the way (that's what the Exit 41 sign called the little salt dunes). Saw a couple more trains between there and Salt Lake and four more climbing Weber and Echo Canyons. There was a train cresting the hill just west of Green River, WY as I started down and another just starting the climb as I pulled into the parking lot and climbed the stairs to the foot bridge over the yard at 10 PM. The only other activity was a welder working on a covered hopper in one bay of the car repair shop and a couple of guys pounding on the end of another car in the other bay. There were no locos at the refueling rack, only six locos on the ready tracks and both switchers were tied down for the night. There was plenty of activity the next morning (see below) but only 20 trains between Rock Springs and Cheyenne, the most interesting of which was the blue Pandran & Jackson rail grinding train sitting idle on the Point of rocks siding. Train watching was good on the way to the Lincoln GATS - 9 BNSF between Colorado Springs and Sterling, CO, 19 UP between Julesburg, CO and North Platte, NE, 15 more in the North Platte yard, 25 more on the way to Grand Island, then 11 more BNSF from there to Lincoln. Unfortunately the show was doubly frustrating - no business and I was stuck inside while a steady parade of trains I could hear but couldn't see passed by about a 100 yards away! I did get to see about 20 trains during dinner at Wendy's and while parked in the wye at the east end of the yard for a couple hours after the show Saturday evening. There was a stackpack just pulling up to the south refueling racks at the west end of the yard at 6:30 PM - it was still there when I went to my motel at 8:30 - wonder how long it takes to refuel a train? That's all I can squeeze in this month - to be continued next month...
<![if !supportEmptyParas]> <![endif]>
THIRTY MINUTES AT GREEN RIVER,WY: I would love to spend a full day documenting the activity in the Green River, WY yard but the 30 minutes I spent there Tuesday, Sept. 21, 1999 will give you the flavor. I got to the foot bridge over the yard about 8 AM. A WB GM was just stopping in front of the depot for a crew change on track 1 while another WB autorack was just starting to roll on track 2. Track 3 was occupied two EB freights stopped tail to nose. Track 4 had a WB trona train waiting to depart. The loader was loading a string of stack pack cars in the intermodal yard. The switchers were still in the same spots as the night before, not yet ready for their daily chores. There were still no locos at the refueling racks but there were now 24 locos on the ready tracks where 6 had been 10 hours before so there had been quite a bit of activity overnight. The doors were closed to one car repair shop but a string of box cars protruded from the other with a set of steps against one car with a guy working on the grab irons. About 8:10, two sets of three locos fired up on one of the ready tracks and slowly zigzagged their way to take the point of trona trains on tracks 5 and 6. About 8:15 one door of the other car repair shop opened and a trackmobile pushed a chemical tank car out and down the storage track (it wasn't in there 10 hours ago so I guess they work at least two shifts). At 8:20 another group of three locos fired up and one uncoupled and moved about six feet and stopped. At 8:25, the steps were removed and the string of cars was pulled one car length into the car shop. The train on track 1 was starting to move as I went to my van at 8:30. This is probably typical of morning activity in Green River except at least one switcher is usually working a string of trona cars.
<![if !supportEmptyParas]> <![endif]>
WORLD STAMP EXPO 2000: The WSE logo displayed in my SHOW SCHEDULE signifies that I will have a booth at the "BIG SHOW" in Anaheim, CA next July 7-16. Unlike Pacific 97, where I worked in another dealer's booth and didn't get my business name "up in lights", this time I have swallowed the bit and will have my own booth. I'll be way in back since I opted for one of the "cheap" $1500 booths. That coupled with room and board for the duration mean I'll have to sell a lot of train stamps to break even! My plans call for me to get most of the material I've accumulated over the past 20+ years worked up for this one shot at the "big time". So start making your plans to come to the show and see all the great stuff I'll have available. Of course, much of it will still show up in the alphabet lists and specials lists each month between now and then also.
<![if !supportEmptyParas]> <![endif]>
BITS AND PIECES: (1) The "LEARN CHINESE" message I got in a fortune cookie was "STAMP-You-piao". (2) I've noticed that U-HAUL has started a new art series on their rental trucks. The original series had a steam loco on the Kansas art for Topeka's Railroad Days and the caboose end of a steam train on the Chattanooga Choo-Choo trailers. I'll be looking for trains in the new series as I tool down the highways. (3) The Forney Museum in Denver has made I-25 travel much more interesting by placing their Union Pacific "Big Boy" 4-8-8-4, Chicago & North Western 4-4-0, rotary snow plow and a couple passenger cars on a display track visible from I-25 just south of the "Mousetrap" (I-70 & I-25 interchange). (4) There must be hundreds of former Class 1 railroad EMD SW-1 and ALCO S-1 switchers that have found colorful second (or third) lives at grain elevators or industrial sites. I see several every trip I make across the plains of Nebraska, Kansas & Colorado.
<![if !supportEmptyParas]> <![endif]>
RAIL THOUGHT OF THE MONTH: "If you value your life, don't mess with a train". Suggested slogan for OPERATION LIFESAVER.
<![if !supportEmptyParas]> <![endif]>
RAIL FACTS AND FEATS: Wagons running on wooden rails were used for mining as early as 1550 at Leberthal, Alsace near the French-German border and at Broseley Colliery, Shropshire, England in October 1605. (See Fujeira Minkus # 614).
<![if !supportEmptyParas]> <![endif]>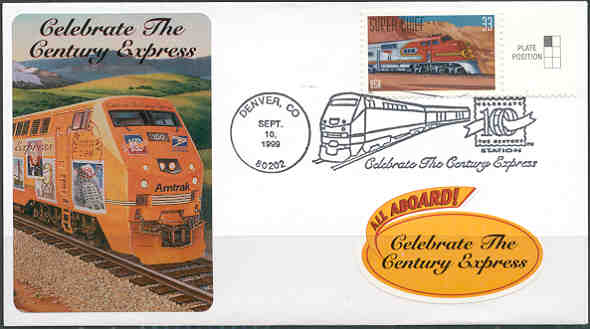 STAMP OF THE MONTH: Not a stamp at all, but the event cover I created at the CTC train as discussed above. They are $2.00 each or $3.50 for a cover & postcard. I'll try to match requests for specific "All Aboard" stamps on them but there were only 8 of each so I might not be able to meet the demand.
<![if !supportEmptyParas]> <![endif]>
May all your signals be green,

AL PETERSON
<![if !vml]>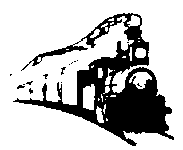 <![endif]>
THE RAIL PHILATELIST

P.O. Box 25505
Colorado Springs, CO 80936
1-800-807-RAIL access code RR
http://www.railphilatelist.com
railphilatelist@aol.com
OCT 16-7 GREAT AMERICAN TRAIN SHOW MALL EXPO GREENSBURG,PA
OCT 23-4 GREAT AMERICAN TRAIN SHOW FT.WASHINGTON EXPO CENTER PHILADELPHIA,PA
News & Notes Back Issues
| Oct. 1996 | Nov. 1996 | Dec. 1996 |
| Jan. 1997 | Feb. 1997 | Mar. 1997 | Apr. 1997 | May 1997 | June 1997 |
| July 1997 | Aug. 1997 | Sept. 1997 | Oct. 1997 | Nov. 1997 | Dec. 1997 |
| Jan. 1998 | Feb. 1998 | Mar. 1998 | Apr. 1998 | May 1998 | June 1998 |
| July 1998 | Aug. 1998 | Sept. 1998 | Oct. 1998 | Nov. 1998 | Dec. 1998 |
| Jan. 1999 | Feb. 1999 | Mar. 1999 | Apr. 1999 | May 1999 | June 1999 |
| July 1999 | Aug. 1999 | Sept. 1999 |

Please send us your comments, questions & orders.
railphilatelist@aol.com
(719) 591-2341
The Rail Philatelist
P.O. Box 25505
Colorado Springs, CO 80936
Orders Only : (800) 807-RAIL Access Code RR
email ordering information

---
| Listinfo | A B C D E F G H I J K L M N OPQ R Sa Se-u Sw T U VWXYZ | New Issues | Specials |

| HOME | Belgium | China | Denmark | France | Germany | NEWSLETTER | SHOWS | EXHIBIT |


| Cinderellas | Disney | Great Britain Railway Letter Stamps | Leaders of the World | Luxury Trains | Thomas |


| Event Covers | 19 Century Covers | Express Covers | Freedom Train | RPOs | Unusual Covers |


| RR Coins | Rail Magazines | Packets | RR Paper | Showcards | Stock Certificates. | Mail Bid Sale |


Copyright (c) THE RAIL PHILATELIST