The Rail Philatelist May 97 Newsletter
The Rail Philatelist

News & Notes Back Issues | Oct. 1996 | Nov. 1996 | Dec. 1996 | Jan. 1997 | Feb. 1997 | Mar. 1997 | Apr. 1997 |
AL'S
NEWS & NOTES
ON RAILWAY PHILATELY

Volume 1 ………………………………………………………………………. Number 8 May 1, 1997
Dear Fellow Rail Philatelist:
PACIFIC 97: BOOTH K16, Moscone Center, San Francisco - Come see me there May 29 thru June 8. Pat Dowling, 20th Century Classics and Kurt Harding, Stamp Center of Texas are sharing the booth and I'll be there working with them. They specialize in Postal History and will have thousands of covers including railroad items (Hey - I can't afford to have them all!) I expect to be very busy helping their customers the first few days of the show so I won't have my stamp and cover stock there until Friday, June 6, but I can bring selected items in on earlier days (nothing too bulky) if you make arrangements with me in advance (before Sunday, May 25). If nothing else, stop by and say "HI!". Don't miss the philatelic event of the century! See you there - Booth K16.

ORGANIZATIONS: I often get asked "What are all those initials on your sign?, card?, web page?, GLOBAL ad?,etc." They are some of the philatelic and railroad organizations I participate in. Each provides useful information and contacts via publications and meetings - thus they are an essential part of my collecting and my business. For the record, here is a fairly complete listing:
AFDCS - AMERICAN FIRST DAY COVER SOCIETY
APS - AMERICAN PHILATELIC SOCIETY
ARA - AMERICAN REVENUE ASSOCIATION
ATA - AMERICAN TOPICAL ASSOCIATION
CJRRU - CASEY JONES RAILROAD UNIT OF ATA
CMC - COLORADO MIDLAND CHAPTER OF NRHS
CSSC - COLORADO SPRINGS STAMP CLUB
MPOS - MOBILE POST OFFICE SOCIETY
MSDA - MIDWEST STAMP DEALERS ASSOCIATION
NMRA - NATIONAL MODEL RAILROAD ASSOCIATION
NRHS - NATIONAL RAILWAY HISTORICAL SOCIETY
NSDA - NATIONAL STAMP DEALERS ASSOCIATION
PCS - PICTORIAL CANCELLATION SOCIETY (no longer exists)
RCAI - RAILROADIANA COLLECTORS ASSOCIATION INC.
RPG - BRITISH RAILWAY PHILATELIC GROUP
I'll be happy to provide you additional information on any of these fine organizations. There are many other worthwhile groups not included above (see next page) just because there isn't enough time and energy to belong to all of them. We all have to draw the line somewhere.

"ALBUM PRO": In addition to sending me some useful tips and suggestions on my computer woes, Donald Kesler, Jr. of Lawton, OK writes "The other purpose of this letter is to let you and all your subscribers know that 'ALBUM PRO' as advertised in Linn's Stamp News, Scott Stamp Monthly, ATA's Topical Times, Global Stamp News,etc. is G-R-E-A-T!! I ordered and received my copy last week and have been having a good time creating my own album pages(see enclosed examples(printed on Scott type B pages)). I have not received any compensation from the publisher, nor do I expect to receive any thing from them. I do feel that your newsletter is probably well read [Thank you! ALP] and that this recommendation may help a fellow philatelist who is looking for excellent, high quality, user friendly page making software." Thanks for the recommendation Don. The ads I've seen list the price at $59.95 plus $4.00 shipping & handling and say it works with WINDOWS so us Mac guys are probably left out for now. Don's pages really look great but I'm not sure my copies do them justice (I had to reduce them to fit). Maybe we could commission Don to create a Train Topical Album for us - how 'bout it Don?
INTERNATIONALE MOTIVGRUPPE EISENBAHNWESEN: Horst Brix of Germany writes "I appreciated your notes about four of the five railway stamp associations I am a member of (CJR, MPOS, RPG, RTF of South Africa). Now let me tell you something about the fifth. It is the "Internationale Motivgruppe Eisenbahnwesen". Today this group has about 650 members, about 350 from Germany, 60 from the Netherlands, 50 from Switzerland, 80 from Austria and several members from West and Eastern Europe, USA, South Africa, China and Japan. You see everybody is welcomed in this group. It issues a bimonthly magazine "Der Eisenbahnmotivsammler" with the newest issues for the railway theme, all known railway cancellations in the world (both parts with copies of either the stamps or the cancellations, there is always a big part of US cancellations), and additional information about railway history and railway philatelic. The magazine is written in German. If anybody is interested in joining the group, he or she can contact me." I've asked Horst to bring me some applications when we meet at Pacific 97 so contact me if you are interested or contact Horst directly at 100327.655@compuserve.com. I have several 70's & 80's copies of the magazine(24 pages of good stuff back then) - it provides excellent coverage of worldwide pictorial cancels - something you can't find anywhere else - don't let the language put you off - my German is poor (2 college courses 35 years ago) but I get the info I need.


STAMP OF THE MONTH: Issued in 1869, U.S. #114 is part of a pictorial issue that has it's own study group and journal. It was only the second train stamp issued worldwide (New Brunswick #6 being first). The item pictured here is not #114 but a #114-E6d ESSAY - note the small "3" in a shield at the bottom - the issued stamp has a much larger "3" and no shield. The essays are available in a variety of colors, not just the BLUE of the issued stamp, and are actually much less expensive (about $80.00) than mint copies of #114 (CV $250.00). I believe that the 4-4-0 steam loco is generic, taken from a check engraving.

SCOTT CATALOGS: I know there is some controversy about Scott Publishing's decision to finally list all the world's countries alphabetically (except for the U.S. and possessions) in the 1998 catalogs. From where I sit, that's just great for us topical types. Now we won't have to juggle three heavy books (!A, !B and 2,3,4,or 5) to catalog a collection - we can alphabetize the items and go sequentially one book at a time for the most part. While I'm on the subject of Scott Catalogs, I can't see why they don't just issue yearly updates in looseleaf and/or computer disk formats instead of six big clunky volumes each year (Save the Trees!). The only rational explanation is that they are making too much money selling those volumes to all the public libraries and stamp clubs in the country every year - they sure aren't selling a lot through stamp dealers and they've just canceled their distribution agreements with Walden Books and B. Dalton's because of poor sales. When was the last time you bought a complete set? Personally, I use the local library's. Speaking of libraries...

PHILATELIC LIBRARIES: The American Philatelic Research Library, State College, PA and Rocky Mountain Philatelic Library, Denver, CO (see my web page directory) are two great resources. Visit them if you possibly can. A personal philatelic library is also essential. Besides owning a copy of ATA Handbook #130 with supplements & a file of DISPATCHERS, there are numerous other books and catalogs that are useful to have on hand or borrow from the afore mentioned. I can't list them all in the remaining space so I'll mention some from time to time. That's it for now - see you in San Fran!

Sincerely,

AL PETERSON
| | | |
| --- | --- | --- |
| MAY 3 to 4 | GREAT AMERICAN TRAIN SHOW | AMARILLO TRI STATE FAIRGROUNDS AMARILLO, TX |
| MAY 17 to 8 | GREAT AMERICAN TRAIN SHOW | CASHMAN FIELD CENTER LAS VEGAS, NV |
| MAY 29 to JUNE 8 | PACIFIC 97 INT'L STAMP SHOW | MOSCONE CENTER (BOOTH K16) SAN FRANCISCO,CA |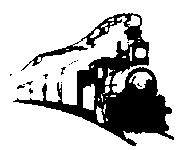 THE RAIL PHILATELIST

P.O. Box 25505
Colorado Springs, CO 80936
1-800-807-RAIL access code RR
http://www.railphilatelist.com
railphilatelist@aol.com

News & Notes Back Issues | Oct. 1996 | Nov. 1996 | Dec. 1996 | Jan. 1997 | Feb. 1997 | Mar 1997 | Apr. 1997 |

Please send us your comments, questions & orders.
railphilatelist@aol.com
(719) 591-2341
The Rail Philatelist
P.O. Box 25505
Colorado Springs, CO 80936
Orders Only : (800) 807-RAIL Access Code RR
email ordering information

---
| Listinfo | A B C D E F G H I J K L M N OPQ R Sa Se-u Sw T U VWXYZ | New Issues | Specials |

| HOME | Belgium | China | Denmark | France | Germany | NEWSLETTER | SHOWS | EXHIBIT |


| Cinderellas | Disney | Great Britain Railway Letter Stamps | Leaders of the World | Luxury Trains | Thomas |


| Event Covers | 19 Century Covers | Express Covers | Freedom Train | RPOs | Unusual Covers |


| RR Coins | Rail Magazines | Packets | RR Paper | Showcards | Stock Certificates. | Mail Bid Sale |


Copyright (c) THE RAIL PHILATELIST