The Rail Philatelist June 1998 Newsletter
The Rail Philatelist

News & Notes Back Issues
| Oct. 1996 | Nov. 1996 | Dec. 1996 |
| Jan. 1997 | Feb. 1997 | Mar. 1997 | Apr. 1997 |
| May 1997 | June 1997 | July 1997 | Aug. 1997 | Sept. 1997 | Oct. 1997 | Nov. 1997 | Dec. 1997 |
| Jan. 1998 | Feb. 1998 | Mar. 1998 | Apr. 1998 | May 1998 |
AL'S
NEWS & NOTES
ON RAILWAY PHILATELY

Volume 3 ………………………………………………………………………. Number 1 June 1, 1998
Dear Fellow Rail Philatelist:
They say "the third time is the charm!" so lets get going on Volume 3! Thanks to all of you who responded so favorably to my 15th Anniversary 15% discount on last months listings - I'm not sure I'll be able to afford to do that again but it was fun while it lasted.
TOPICAL VS. THEMATIC: We Americans primarily use the word "topical" while the Europeans use "thematic". The American Topical Association (ATA) uses the word "topical" to recognize both "subject" and "thematic" type collections. In some countries, the words "topical" and "thematic" (as applied to stamp collecting) remain virtually synonymous, while the ATA classifications of "subject" and "thematic" have distinctive differences (even though both collection types consist of an assemblage of philatelic material relating to the subject matter depicted). A "subject" collection for a given topic (e.g. railways) is generally arranged by country of issue in chronological order by date of issue while a "thematic" collection is arranged in such a way as to "tell a story". Here the arrangement is usually not by country of issue; instead the development of a theme makes use of philatelic elements other than just stamps - including materials which, although thematically related to the main topic, may have only a peripheral connection in its own right. Examples of the two collection types would be one of Steam Locomotives on Stamps (a "subject" collection), compared to a "thematic" exhibit on The Development of Streamlined Locomotives. In the latter case, material depicting Rudolph Diesel and Alessandro Volta would be quite appropriate since both diesel and electric motive power is commonly streamlined. However, it would probably be considered a "stretch" to include such material in a "subject" collection of trains or railways. Similarly, Sir Rowland Hill's position as a one-time director of the London & Brighton Railway Co. is a valid "thematic" connection, but that connection does not establish him as a railway personage to the extent that all stamps with his image (in whatever context) qualify for inclusion in a general railway "subject" collection. Therefore, you should develop your collection to suit your tastes and interests. The "rules" are not laws, nor are the guidelines engraved in stone. The lines between "subject" and "thematic" are often very fine ones. Since these distinctions may overlap, I follow a policy of "inclusion" rather than "exclusion" - that is, if anyone anywhere has identified an item as railway related I try to include it if I can find sufficient supplies to do so. Therefore, some items may have minimal interest for the railway purist but they are included for the obsessive,compulsives like me! (Thanks to Norman Wright for most of the verbiage above!)
END OF THE ROAD: My side trip to Paducah, KY (see below) on the way to the Knoxville show turned out to be expensive. As I was climbing the on ramp back onto I-24 and about to pass a truck there was no 5th gear, so I put on my flashers and drifted to the side of the road. The lower gears seemed to work, so I eased on down the highway looking for a Toyota dealer. Finding none, I pulled off at the Fort Campbell exit and called the nearest Toyota dealer. Since it was Friday afternoon, they said they wouldn't be able to help me until Monday but they looked in their service manuals and advised me that as long as I wasn't hearing a lot of grinding noises and the other gears seemed to work, that a pin had probably broken out of the 5th gear and would be trapped on a magnet in the bottom of the transmission. I could probably make it to Nashville at least. Now alert to every noise, I drove on the edge of my seat and noticed that the air conditioner was also making some regular strange noises so I kept it off as much as I could. Having made it to Nashville, I pressed on to Knoxville, did the show (not enough sales to cover expenses even without the transmission problem) and decided if I had made it that far I'd try to get the whole way home since I'd have more options there than I did on the road. Made it home without any real difficulties, evaluating my options as I drove. With 320,326 miles on the Previa already it didn't seem cost effective to spend another $2000 (and at least a week in the shop) repairing it, so I scoured Colorado to find another one. Of the 10 Toyota dealers from Pueblo to Boulder, only 4 had a Previa available so my choices were minimal. I bought a 1994 with 45,293 miles - the only drawback being an automatic transmission (Toyota didn't offer the 5 speed from 94 on). All in all, I spent the better part of 3 days checking repair costs, finding another Previa, unloading the old one and putting the seats back in, taking the seats out of the "new" one, loading it, arranging financing, etc. I'm hoping to get at least 200,000 miles out of this one but I'll need a lot of orders to help pay for it. The maiden voyage is to Las Vegas,NV & Spokane,WA for train shows, so we'll see. Wish me luck!
MAY TRAVEL: The Burlington Northern Santa Fe dispatching center in Ft. Worth, TX must be really busy. Most of the messages my scanner intercepted on the Montana trip and particularly on the Tulsa, OK trip were "You have reached the Burlington Northern Santa Fe dispatch center. Your call will be answered in the order received" and less frequently "You have reached the Burlington Northern Santa Fe dispatch center. Your call has been presented to the dispatcher. Please hold. The dispatcher will be with you momentarily." But I didn't hear that message at all on the way home from Tennessee. In contrast to all the activity on the Union Pacific at Cheyenne that I reported last month, there was practically no activity on the old Santa Fe main line in Amarillo, TX on the Thursday evening and Monday morning of my Tulsa trip - only one train per hour - there was actually more activity on the old Ft. Worth & Denver (Burlington) main line that crosses there also. Happily there was more activity on my Tuesday morning return from Tennessee - 4 trains per hour on each line. I stopped at OKPEX in Oklahoma City on my way to Tulsa and overspent my budget, but found some useful items for my lists. On the way home from Knoxville, I spent 4 hours in The Stamp Den, Jim Metler's well stocked shop in Memphis. Spent most of my time productively looking thru the dollar cards and the dime books. My Paducah side trip was a visit to the Paducah & Louisville (PAL) where I watched some flat switching UP HILL in the old Illinois Central (IC) yard and then tooled around the old IC shops, now the VMV Enterprises "Paducahbilt" re-build center - lots of interesting locos on the property including a freshly painted Coaquila and Durango "operado por Genesee & Wyoming" waiting to go to Mexico. I didn't have time to visit the Union Pacific's big North Little Rock, AR yard but I listened in on the scanner as I drove by. Stopped to see one of my favorite little railroads, Farmrail in Clinton, OK. Their attractive cream with broad brown stripe and orange logo paint scheme is complimented by the Indian tribe names on each of their locomotives, e.g. #257 is also "Shawnee". I actually saw them working a cut of grain hoppers in the small yard for the first time in about six visits and there was also activity in the engine shed. Their extended cupola caboose/business car was parked by the station on the west side of town.

STAMP OF THE MONTH: Peru #19 is another classic train stamp. Issued in April 1871, it celebrated the 20th anniversary of the first railway in South America, linking Lima and Callao. At one time Scott had it designated as the first commemorative stamp but doesn't say so in the current catalog. The stamp shown is a particularly nice used copy.
RAIL THOUGHT OF THE MONTH: "Every train should end with a caboose!" Probably a union slogan but still a good thought. I actually saw a train with a caboose recently - April 30 in Amarillo, TX - a 12 car Santa Fe local headed east with SF caboose #999776 in tow although an EOT (end of train) flasher was attached.
Sincerely,

AL PETERSON
JUN 6-7 GREAT AMERICAN TRAIN SHOW INTERSTATE FAIRGROUNDS SPOKANE,WA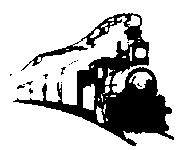 THE RAIL PHILATELIST

P.O. Box 25505
Colorado Springs, CO 80936
1-800-807-RAIL access code RR
http://www.railphilatelist.com
railphilatelist@aol.com

News & Notes Back Issues
| Oct. 1996 | Nov. 1996 | Dec. 1996 |
| Jan. 1997 | Feb. 1997 | Mar 1997 | Apr. 1997 |
| May 1997 | June 1997 | July 1997 | Aug. 1997 | Sept. 1997 | Oct. 1997 | Nov. 1997 | Dec. 1997 |
| Jan. 1998 | Feb. 1998 | Mar. 1998 | Apr. 1998 | May 1998 |

Please send us your comments, questions & orders.
railphilatelist@aol.com
(719) 591-2341
The Rail Philatelist
P.O. Box 25505
Colorado Springs, CO 80936
Orders Only : (800) 807-RAIL Access Code RR
email ordering information

---
| Listinfo | A B C D E F G H I J K L M N OPQ R Sa Se-u Sw T U VWXYZ | New Issues | Specials |

| HOME | Belgium | China | Denmark | France | Germany | NEWSLETTER | SHOWS | EXHIBIT |


| Cinderellas | Disney | Great Britain Railway Letter Stamps | Leaders of the World | Luxury Trains | Thomas |


| Event Covers | 19 Century Covers | Express Covers | Freedom Train | RPOs | Unusual Covers |


| RR Coins | Rail Magazines | Packets | RR Paper | Showcards | Stock Certificates. | Mail Bid Sale |


Copyright (c) THE RAIL PHILATELIST