The Rail Philatelist Home Page
The Rail Philatelist
click train for sounds.
OVER 20 YEARS OF SERVICE TO RAIL COLLECTORS (since May 1983).
Member AFDCS, APS, ARA, ATA, NMRA, NSDA, RCAI, RPG
Everything Philatelic related to trains and trolleys.
Also most other forms of railroad paper memorabilia and ephemera
Train sounds courtesy of Big Train Sound, G.S. Products, P.O. Box 511, Southfield, MI 48037
All prices are subject to change without notice.
******* If you have a couple of minutes please fill out our
VISITOR SURVEY, Thanks Al.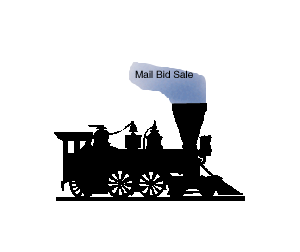 Mail Bid Sale #5 CLOSES MARCH 15, 2002
BUYING : I am always interested in buying items similar to those shown on this page. Whether you have just a single better item or a complete collection, contact me for my fast, fair, firm offer. We'll both be glad you did!


Shortcut to Other Web Sites





<

Please send us your comments, questions & orders.

railphilatelist@aol.com
(719) 591-2341
The Rail Philatelist
P.O. Box 25505
Colorado Springs, CO 80936
Orders Only : (800) 807-RAIL Access Code RR
email ordering information

---
| Listinfo | A B C D E F G H I J K L M N OPQ R Sa Se-u Sw T U VWXYZ | New Issues | Specials |

| HOME | Belgium | China | Denmark | France | Germany | NEWSLETTER | SHOWS | EXHIBIT |


| Cinderellas | Disney | Great Britain Railway Letter Stamps | Leaders of the World | Luxury Trains | Thomas |


| Event Covers | 19 Century Covers | Express Covers | Freedom Train | RPOs | Unusual Covers |


| RR Coins | Rail Magazines | Packets | RR Paper | Showcards | Stock Certificates. | Mail Bid Sale |


Copyright (c) THE RAIL PHILATELIST