The Rail Philatelist
News & Notes Back Issues
| Oct. 1996 | Nov. 1996 | Dec. 1996 |
| Jan. 1997 | Feb. 1997 | Mar. 1997 | Apr. 1997 | May 1997 | June 1997 |
| July 1997 | Aug. 1997 | Sept. 1997 | Oct. 1997 | Nov. 1997 | Dec. 1997 |
| Jan. 1998 | Feb. 1998 | Mar. 1998 | Apr. 1998 | May 1998 | June 1998 |
| July 1998 | Aug. 1998 | Sept. 1998 | Oct. 1998 | Nov. 1998 | Dec. 1998 |
| Jan. 1999 | Feb. 1999 | Mar. 1999 | Apr. 1999 | May 1999 | June 1999 |
| July 1999 | Aug. 1999 | Sept. 1999 | Oct. 1999 | Nov. 1999 | Dec. 1999 |
| Jan. 2000 | Feb. 2000 | Mar. 2000 | Apr. 2000 | May 2000 | June 2000 |
| July 2000 | Aug. 2000 | Sept. 2000 | Oct. 2000 | Nov. 2000 | Dec. 2000 |
| Jan. 2001| Feb. 2001 | Mar. 2001 | Apr. 2001 | May. 2001 | June. 2001 |
| July 2001 | Aug. 2001 | Sept. 2001 | Oct. 2001 | Nov. 2001 | Dec. 2001 |
| Jan. 2002 | Feb.2002 | Mar.2002 | Apr.2002 | May.2002 | June 2002 |
| July-Aug. 2002 |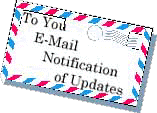 AL'S RAILINGS-
NEWS
&

NOTES

ON RAILWAY PHILATELY
Volume 8 Number 1
................

PRICE $1.50 (10 ISSUES FOR $12.00)

...............

Sept.-Oct.-Nov. 2002

Dear Fellow Rail Philatelist:

FINALLY! Have you ever found yourself in such a hole that you thought you would never crawl out? Well, that's where I've been for the past couple months. After my prolonged summer travels, the orders and new issues had piled up so high I didn't think I could ever catch up. At the same time, my motivation disappeared. I was on permanent vacation and couldn't get myself organized to get back to work. Where I used to multi process and work on two or three things at once, now I couldn't even stick with one thing long enough to get it done. Gradually I worked down the pile of orders and new issues, but the longer I took on that the later the price lists and newsletter became. In a final desperate effort to get up to date, I am combining three newsletters in one and then we'll be back on a regular monthly schedule (I hope!). So thank you for your patience and sticking with me. I apologize if some of the information enclosed is now outdated. I look forward to your comments and orders.

HANDBOOK 138 ON CD: Handbook 138 (incorporating the basic book and all supplements plus additional new material received through 6/30/2002) is now available on a CD-ROM for $30 post-paid from the American Topical Association, P. O. Box 50820, Albuquerque, NM 87181-0820. It is planned to issue updates on disk annually at mid-year. The disk contains all material in both WORD and PDF formats, along with instructions from Paul Tyler at ATA on how to open the disk. This will allow all users to use whichever computer format they prefer. The editorial format is virtually the same as that of the printed Handbook and (since February 2002) the New Issues List in The Casey Jones DISPATCHER. The lists on the CD are a consolidated composite of the printed book and all supplements and other updates, with new material appearing in its proper places within the country listings -- same as it was in the initial basic book (in effect, an "all-new" re-work). A printed Supplement #3 will be issued in January 2003, following which the semi-monthly updates in "The Dispatcher" will be available from the Casey Jones Unit at $2 per issue for those non-members who may prefer printed updates to the CD. I haven't seen the CD-ROM yet so I can't give a review, but it seems like a great idea. I plan to order one soon.

APS STAMPSHOW 2002: Got to the Atlantic City Convention Center at 11:40 AM on Wednesday, August 14 and there were already 10 other dealers waiting in line to unload. Unloading didn't start until noon so I was thankful for a slight breeze to somewhat offset the oppressive heat and humidity as we waited in the sun. I finally got onto the ramp at 12:33 and wheeled my material into the hall. I had it all piled into my booth by 1:30 and then drove a mile or so to the Holiday Inn on the Boardwalk to check in. Then I caught a Jitney back to the Convention Center to complete my booth set-up. As I entered Hall A, I saw the signs for the ASDA and NSDA dealer bourses so I looked into both and found a few interesting railroad items at one table. By 5 PM I had my booth pretty much the way I wanted it and I was worn out so I met a good customer from NYC and we caught the Jitney back to my hotel so I could clean up while he went on to his hotel to check in. We didn't get back together until almost 6:30 PM. After showing him a group of RPO covers another dealer wanted to sell me, we decided to go to the 7 PM National Stamp Dealers Assn. cocktail party and annual meeting before dinner since it was in my hotel. It was a great party with outstanding hors d'oeuvres and an open bar. The meeting was short but the fellowship with other dealers went on until 8 PM. We decided we had had more than enough to eat so we skipped dinner and went to TCBY for dessert. Got back to the room about 9:30 and crashed on the rollaway in the room I shared with two other Colorado dealers.

Woke up about 4:30 AM and reviewed the things I still had to get ready in my booth. Finally got up at 6:30 and we made our way to Country Kitchen for breakfast. Got to Hall B for the 8 AM opening for dealers and made a small purchase at one of the "Dollar" booths before completing the set up of my booth. There was a long line at the Post Office booth for the Teddy Bear stamps as soon as the show opened and I had customers almost immediately also. That is unusual for me at an APS show - usually my first day is slow but picks up on Friday and Saturday. I actually was busier than I wanted to be from opening until about 3 PM. I finally got to meet a couple good long-term mail order customers but I was so busy I didn't have much time to really talk with them (or anyone else). Sales were quite good but they'll have to be that way or better all four days to offset the high booth fee and the high cost of living in Atlantic City. I had a couple small sales after 3 PM but spent most of the time until the 6 PM closing looking for train items in the stock of the dealer next to me while talking with a couple old customers who stopped by. Back to the room about 6:30 and then off to one of the restaurants at the Tropicana Casino for an excellent but expensive dinner. Called for credit card approvals, checked email and worked on the computer until 11 PM.

Friday was even slower than I expected in terms of sales but I bought a lot of great stuff including some scarce Swiss Jura Industrial RR stamps, a large group of German letter seals (some even have steam locos but most have winged wheels or other embossing), and a small collection of Australian railway parcel stamps. I also bought a few train FDCs at the Cachet Makers Bourse after the show. Unfortunately I missed the last jitney serving the Convention Center (I think there only was ever one and it stopped running just after 6 PM) so I had to walk several blocks in the heat and humidity before I could catch a ride to my hotel. That is just one of the reasons why I'm certainly not impressed with Atlantic City. The casinos aren't as tastefully done as Las Vegas or Reno and outside the casinos, the city is trashy. There are slums and areas you don't want to walk thru between the major casinos so you really need to ride the jitneys or a taxi Too bad the Sheraton Hotel was sold out early. If I had been able to stay there I could have avoided a lot of hassle getting back and forth from the hotel to the show. I probably wasted an hour or more each day waiting for the jitneys. And on Friday (and Saturday) night you couldn't even get near the restaurants in the casinos because of the crowds. The overpriced restaurant we ate in Thursday night without a reservation didn't have an opening until 10 PM (11 PM on Saturday) and all the other restaurants in the Tropicana had about an hour wait so we settled for a cheap, decent meal at the Country Kitchen where we also ate breakfast each morning. The waitresses we had for our four meals at the Country Kitchen were all from Eastern Europe - Poland, Latvia and Russia. All spoke excellent English and were completing college degrees; one was working on her MBA.

Saturday's sales were a little better than Friday's but still less than half of Thursdays. Pat Dowling watched my booth while I gave my "RAILWAY PHILATELY" talk at noon. It almost didn't happen. I got to the room early only to find there was no slide tray for the projector so I "borrowed" one from another room that wasn't in use. After getting the slides loaded, I couldn't figure out how to turn the projector on - couldn't find a "Power" or "On" switch anywhere, nor could I find any wall switch that would turn the outlet power on or off. The microphone in front seemed to be working so I moved the projector so I could plug it into an outlet I knew worked, but still nothing. By then my audience was dribbling in. A couple of them were teachers and experienced with audio-visual equipment, but they couldn't figure out how to get the projector on either. In desperation, I asked one of them to run down to the APS booth for instructions. Turned out I had to hold down both the left and right "Focus" buttons simultaneously to turn the projector on. After that delay, the talk went well with 15 or so attentive collectors who asked several interesting questions. Some of them stopped by my booth later for further discussions and a few purchases. One was a long time customer from Maryland who had driven up specifically to meet me. It took me two jitney rides to get back to the hotel Saturday evening. Then we called around trying to find a decent place for dinner and finally settled for a Chinese restaurant in the Hilton Hotel. After dinner I came back to the room, while my roommates went looking for a quiet lounge to have a relaxing drink. They came back about 9 PM without finding one - everything was loud and crowded. We all went to bed early, tired and looking forward to getting out of town Sunday!

I drove my van to the Dealer's Breakfast Sunday morning, parking in the Convention Center parking garage at "$7.00 for the first 4 hours and $1 for each additional hour". As we left the parking garage, we walked thru the New Jersey Transit train station on the west end of the Convention Center. There were two trains backed into the station each with an F40PH diesel and two or three coaches. That reminded me that when I had learned that the Sheraton was sold out, I had proposed that we stay out near the airport at a reasonably priced Comfort Inn and ride the train back and forth to the show. My companions had vetoed the idea, thinking it would be better to be on the strip. If I ever have to return to Atlantic City (not if I can help it!), that's what I'll do. The Dealers Breakfast was good both in terms of food and companionship but as usual nothing was resolved in the Question & Answer session with Ken Martin, the APS show director. Next years show will be in Columbus, OH so that should be a good one. And the 2004 Winter show will be in Norfolk, VA so I may consider doing that one although my youngest son will probably be at sea on the USS Enterprise at that time. Oh well, Sue and I can visit Kathryn and Karyn (our Daughter-in-Law)! As expected, Sunday's sales were nothing to write home about but I did buy a large collection of parcel stamps that included a great group of used Swedish railway parcel stamps I've never had before. In fact my show purchases exceeded my sales by 30%. After the good first day, Atlantic City's total sales turned out to be $2 less than last year in Chicago, IL and only $100 better than the previous year in Providence, RI. Hopefully, next years sales in Columbus will return to the glory days of Cleveland (1999's location). Reports from other dealers paint a mixed picture. Essentially everyone had a good first day as all the serious collectors got in and out of Atlantic City before all the gamblers and tourists showed up for the weekend. Several had really good shows and others like me struggled. The ever increasing show costs, particularly the big shows, makes it hard for someone as specialized as I am with limited clientele to break even, let alone make a profit. I did have a great time meeting new and old friends and buying some interesting material so from that standpoint the show was a success. The move-out was relatively painless as I wheeled my six loads out the front door of the show hall, down the elevator to the lower level, and around the corridor to my van in the parking garage, most of the half mile long journey in air conditioned comfort. With the van loaded, I made a hurried visit to the train station to see one train sitting there, then faced the final Atlantic City insult, paying $13.00 to get out of the parking garage! Traffic moved fine on the toll road back toward Philadelphia, then I turned south on I-295 and I-95 for Baltimore where I had an appointment Monday morning to buy a former customer's collection. That was probably the highlight of the trip since the collection contained not only some excellent train stamps including several expensive Belgium Qs but also a great group of covers and postcards and an unusual selection of train related coins and medallions. This might all work out after all.

"BEAR-MARKET FOR COLLECTIBLES": That was the headline on a Cox News Service article by Sandra Eckstein in the August 11 DAYTON DAILY NEWS with a sub-title "Mass-production reduces values in the long run". This is probably particularly applicable to the new issue segment of the stamp hobby. "Just about everything has fallen in value," said Mary Sieber, editor of COLLECTORS MART MAGAZINE "Hallmark ornaments, Precious Moments, blown glass, plates, plush toys - they're all flat....The companies just kept coming out with more and more and soon the collectors couldn't keep up. They killed the cash cow, they over produced and it lost its appeal, it lost its uniqueness. They got greedy." Sounds an awful lot like stamp new issues to me. "It used to be, if you wanted something, you bought it when you saw it," said Connie Swain, managing editor of ANTIQUE WEEK "But now, with eBay, you can find five of them at any time. When supply goes up, value goes down." Stamps still don't seem to have really caught on on eBay, but maybe that is just from a dealer's perspective. The APS online stamp sales seem to be doing fine. Henry Rinker, a collectibles expert who writes columns and books on the topic says, "Today prices are 40 percent, 50 percent, even 60 percent less than what the specialized guides are saying. If you want to see what something is really worth, go on eBay, check some sales." While the article deals primarily with Hummels, Pier 56 and similar collectibles it does mention stamp collecting as well. I don't think the stamp hobby is in as depressed a state as some of these other collectibles but deflationary times have never been good for hard goods and collectibles. Not that I would wish inflationary times on us either. Added note: During the slow train show in Belleville, Il, I had plenty of time to leaf thru a stack of CLASSIC TOY TRAINS magazines I recently acquired and was struck by several editorials all decrying the excessive number of models being issued by various manufacturers. They sounded much like my new issue rants so I guess all collectibles are suffering the same maladies.

SCOTT STAMP CATALOGUE: As I was working trying to identify Turkey-in Asia #85 & 86 a few months back for the T list, I ran into a problem: the Scott catalogue pictures A28 & A29 were identical while the two stamps I had were not. I scanned the two images and emailed them to James Kloetzel, the Scott catalogue editor with a note saying I didn't know which was which, but one of the catalogue pictures was wrong. He asked for a larger scan and thanked me for my concern. Thus, I was pleased when I checked out the new Volume 6 at the library and found that picture A28 has been changed. They do listen after all. I wonder how many years that error had been perpetuated? How many more are still lurking in the 6000+ pages and millions of entries? An editor's nightmare!

REDUX: Here are a couple updates from the last newsletter:

1.Post Office Limited Edition Collectible: Norm Wright reported he received one for Father's Day and believed the price was $49.95. I also found the item in the Centerville, OH post office selling for $49.95 (they had received three of them and hadn't sold any as of August 10). When I mentioned the high price to my daughter-in-law, she just smiled and said, "Gee. They must be expensive in Ohio". I'm happy to have it but probably wouldn't have paid $49.95!

2. US Antique Toy Train Stamp: The Scott catalog gives just three numbers for the Antique Toy Locomotive stamp as a single: #3627 for the "First Class" stamp from either the sheet/convertible booklet or the vending machine booklet; #3638 for the "37c" coil stamp; and #3643 for the "37c" from either the sheet/convertible booklet or the vending machine booklet. The five locos in the sheet/convertible booklet come in four varieties: perfed on all four sides (1), straight edge at top (1), straight edge at bottom (1) and straight edge at right (2) while the five locos in the vending machine booklet come in two varieties: straight edge on top (4) and straight edges at top and right (1). Thus with the coil stamp, there are 21 varieties to collect mint since the backing is different for each of the self-stick stamp positions, but only 11 varieties used since the five different "straight edge at top" probably can't be distinguished with the backing removed.

MY "FAREWELL TO AMTRAK TOUR" PART 2: The CALIFORNIA ZEPHYR from Denver to Sacramento. I was excited about my first Amtrak trip as I checked the Amtrak web page at 5:30 AM on June 2, 2002 to learn that #5 was only 13 minutes late. It was scheduled to depart Denver's Union Station at 9 AM. My oldest son Thomas and his wife Diane picked me up about 6:45 AM, leaving baby Christine with Sue for the day. We had a pleasant drive to Denver, meeting a southbound Union Pacific coal train at Monument. Arrived at the grand old Union Station about 8:10 AM, mailed my 10 covers in the drop box outside and walked in to learn that #5 wasn't expected to arrive until 10:30 AM! (Evidently the ZEPHYR got caught behind a freight train having problems about 6 AM in western Nebraska.) That gave us plenty of time to look around the station, have breakfast in the snack bar (there isn't a real restaurant in the station), and walk outside to take some pictures of the station and the light rail trains coming and going. I also noticed there were five express boxcars on a siding just north of the station. Back inside, I went to the ticket counter and was able to purchase an economy sleeper ticket for $212 - still expensive but much better than the $364 it would have cost me a couple weeks ago. About 11 AM the conductor started taking tickets although the train hadn't yet backed into the station. That at least meant it was close so my excitement level increased a notch or two (not quite into Run 8 but close). Since only ticketed passengers were allowed on the platform, Tom took my picture thru the fence on the north side of the station about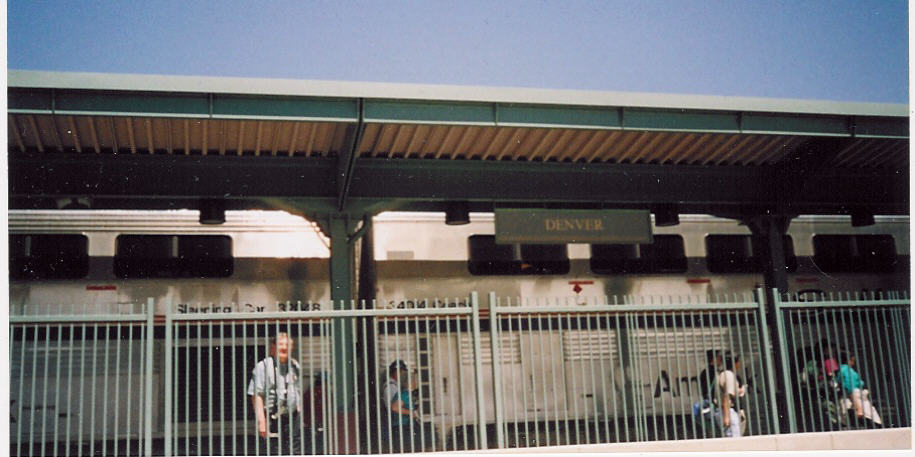 11:20 as I headed for room 12 of car number 532 (actually Amtrak #32021). As I figured out later, all the cars have permanent five-digit numbers painted on their sides and in the vestibules plus they have four-digit temporary numbers that light up and can be changed depending on what train the car is on and the location in the consist. Thus the 05 was for Amtrak #5, the westbound
CALIFORNIA ZEPHYR
, the "3" indicated "Sleeper" ("1" indicates "coach") and the "2" indicates there is more than one sleeper. After stowing my gear in my lower level compartment and taking some pictures of the cozy room, I got off and walked forward to get pictures of the locomotives and the train back to my car. My first Amtrak train consisted of Genesis P42 #194, 158 and 53 (all in the new Acela paint scheme), baggage car #1164, Transition Sleeper (crew car) #39022, Sleeper #32021 (532), Sleeper #32000 (531), Diner #38038, Lounge Café #33014, Coach #31541 (510), Coach #34091 (511), and Coach #34014 (512). Back in my compartment, I scanned a photocopy of the dining car menu and copy of a notice from the National Association of Railroad Passengers "Nationwide Service Could End October 1! Help Save Our Trains" urging everyone to contact the President, and their Senators and Representatives, etc. (None of the other trains I rode had this notice - I wonder if they all got confiscated?). We started rolling at 1148 but then stopped and backed up, probably to pick up the five express boxcars from the siding. Finally started forward again at 12:03 PM, just three hours late!
After a slow turn past the Burlington Northern Santa Fe locomotive shops (about 10 locos in view), we crossed under I-25 and up thru the Union Pacific yard. I had a northbound coal empty on my right side and a southbound manifest on the left so I couldn't see much of the former Denver & Rio Grande facilities as we picked up speed thru Utah Junction. I was writing in my journal as we passed a huge storage yard for work equipment on the right so I didn't get any pictures (next time!). We met an EB coal train at 12:15. The engineer was blowing the horn almost constantly as we headed west into the foothills. On the scanner, I heard the dispatcher say she was going to try to get two east bounds thru Moffat Tunnel before #5 got there. At 12:30 they made the first call for lunch so I made my way two cars back to the dining car. The line was already too long so they sent me on thru to the lounge car to wait for a reservation number. It certainly was scenic as we climbed thru the foothills into the mountains. We made three or four switchbacks climbing which gave me good views of the locomotives and the tail end of the train so I could confirm that we had five Express boxcars on the rear. At one point we passed a string of hopper cars filled with grass covered dirt that evidently serve as a permanent snow fence/windbreak. When the dining car steward started giving out numbers, I got in line, but since I was a single he found me a seat with a man from Illinois and his two daughters (his wife and baby son were back in the family compartment in car 532) on their way to Glenwood Springs for a church outing. The oldest girl (12 or 13?) was keeping a journal, recording the time we entered each tunnel, etc but we lost track after about 10 tunnels. Had a good meal - vegetable soup and a Rueben Sandwich, pleasant conversation and great scenery for the next hour as we continued our climb into the Rockies. This really is a great way to travel! Passed an EB coal train in the hole about 1:10. About the time I finished lunch, we stopped in a siding as another EB coal train came by. I was back in my compartment before we started up again. The announcer said "We will shortly be entering the 6.1 mile, 9,257 foot high world famous Moffat tunnel so everyone should remain in their cars - opening the vestibule doors will allow diesel fumes into the cars". (The Moffat Tunnel is only the third longest in the US - I'll get the two longest on the EMPIRE BUILDER). We stopped short of the tunnel for a few minutes, probably while the fans cleared the exhaust from the coal train that had just passed us. We entered the darkness at 1:55 PM. The scanner stuck on 160.745 Mhz inside the tunnel but there wasn't any chatter. The engineer blew the horns just as we exited at 2:04 PM and passed another EB coal train on the siding. We stopped at Winter Park, two hours, 35 minutes late. As I walked the train thru the lounge car to record all the trailing car numbers we passed another EB coal train in the hole - I hadn't realized there was this much traffic still on this line. We stopped at Granby at 2:48 PM, still two hours, 39 minutes late. After passing some work equipment on the siding leaving Granby, we picked up speed - we went from 38 mph at milepost 79.9, 68 axles, "No defects" to 80 mph at mp 98.9 and 76 mph at mp 113.2. We passed a WB welded rail train on a siding at 3:56 PM. At 4:21, I heard the dispatcher talking to BNSF 794 east at Bond. A short time later, we stopped on a siding next to a string of covered hopper cars and two UP locos as EB BNSF manifest #794 rolled by. Shortly after we got moving again we passed another EB coal train in the hole. When my fellow travelers from Iowa across the corridor (on their way to Salt Lake City for some genealogy research) closed their drapes about 4:30, I could no longer see out both sides of the train so I went up to the lounge car. Got there in time to see us pass another EB coal train at speed. At 5:13 PM we met Amtak #6, the EB CZ, also at speed so it was mostly a blur - three Genesis locos, baggage, eight Superliners, thirteen Express boxes and one Roadrailer. The EB was about four hours late at that point. I stayed in the lounge car thru Glenwood Canyon where most of the rafters, bikers and hikers waved at us while a few swimmers mooned or flashed us. Returned to my room about 5:55 PM as we started to slow for Glenwood Springs and said goodbye to my lunch partners at 6:17, still two hours, 40 minutes late. There were several bundles of ties and about 50 pieces of maintenance of way equipment in the yard as we departed Glenwood Springs. At 7:07 we passed the new ASHX potash yard where there are three tracks being installed on concrete ties. I got called for the 7:15 dinner seating (unlike lunch or breakfast where you need to get to the diner when you are ready, for dinner, the dining car steward comes to the sleeper compartments in late afternoon and takes dinner reservations). I was seated with a couple from Iowa on their way to San Francisco and then Las Vegas on the return. Passed a string of loaded coal cars without locomotives as I ordered my salmon with dill sauce, rice pilaf and green beans almandine. All very tasty and served on real china - white with red trim. Passed another EB coal train in the hole at 7:35 and two more strings of loco less coal cars before we passed a string of empty coal cars at the east end of the Grand Junction yard where about eight UP locos were at the service tracks. A pair of BNSF geeps with a green wide-vision caboose sat near the beautiful, but decrepit Grand Junction station when we rolled to a stop at 8:09 just as the apple pie alamode was being served. There was a coal empty waiting to go west as we left Grand Junction at 8:25, two hours, 50 minutes late. The landscape turned to desert in the gathering darkness as we headed west from Grand Junction.
My car attendant, Bennie Morris, came by at 9:20 and made up the lower bunk for me. I had my nightly chores and prayers completed by 9:40 and was ready for the rails to lull me to sleep. The wheels really chatter and bounce over the switch frogs and especially over a couple sections of jointed rail west of GJ but at other times it was eerily silent as we seemed to float over straight smooth sections of welded rail. This is probably more noticeable when you are lying down than during the day. We rolled to a stop in Green River, UT at 10:15. At 10:19 I heard the now familiar two toots of the horn just before we started rolling. The engineer seemed to be blowing the horn with enthusiasm and almost continuously as we went thru a populated area about 11:30 PM (Wellington/Price?) There were at least four locos still in D&RG colors as we pulled into Helper at 11:45 PM, now three hours late. Shortly after midnight the throb of the three diesels on the point as we climbed Soldiers Summit sounded like the chugging "I think I can, I think I can" of a steam loco (or maybe that was just a dream). I finally dozed off but woke up at 1:50 AM as we stopped briefly in Provo. It felt like we had square wheels as we bumped along leaving Provo - evidently the track is the old 40-foot sections of rail welded together (or so I was told by a Provo native I talked with later in Sacramento). I didn't get back to sleep even after the track smoothed out since the engineer was blowing the horn almost constantly for crossings all the way into Salt Lake City. I got dressed before we pulled in at 3 AM, still 2 1/2 hours late. Since this was a service stop. I got off and tried to find a mailbox with no success so I left my covers with the agent at the small shack Amtrak now uses as a station. Took a few pictures of the train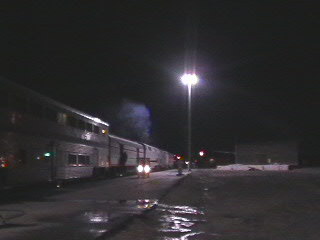 in the darkness, then got back on board and caught up on my journal while they completed servicing the train and then let a few new passengers board. I got ready for bed again but planned to stay awake until we got west past the Morton Salt plant on the former Western Pacific route. A WB manifest rolled by at 3:36 while we waited in the depot. We started rolling at 3:53 and met another Amtrak #6 at 4:13 AM MDT waiting to get into SLC. It caught me by surprise so I didn't get a good consist count - looked like the usual three locos, baggage, eight Superliners and about eight Express boxes. We had probably caused it to be an hour late.
I woke up about 4:50 AM PDT as we rolled out of Wendover, NV so I got less than two hours sleep. The sun was starting to come up as we climbed Silverzone pass about 5:15. I stayed in bed until 5:30 and was getting dressed when we went thru a fairly long tunnel I wasn't expecting. Had to turn the lights on to see what I was doing. I was ready about 6 AM when the defect detector at mp 733.0 reported we were going 78 mph but I had to wait until 6:30 for the first breakfast seating, where I got the last seat! (Everyone else must have been up early too!) Sat with a couple from Florida going to Reno for a grandchild's high school graduation and a lady from Detroit going to Oakland to visit an uncle and tour California for a couple weeks. Had eggs over easy, sausage patties, fried potatoes, croissant, juice and coffee - all were prepared and served perfectly! We met an EB manifest at 6:50 and I videotaped the Elko yard as we rolled by. Recorded an EB manifest waiting in the yard and a long string of stackpacks with out a loco (the locos were probably among the eight I saw at the refueling tracks). There was also a WB manifest waiting for us to clear Elko. West of Carlin we went thru Ruby Canyon and a tunnel not visible from I-80 (there are four that are - two on each side of Elko). Back to my compartment at 8 AM to relax and read more of Terry Pindell's LAST TRAIN TO TORONTO - A CANADIAN RAIL ODESSEY- I only read about 20 pages yesterday. Arrived in Winnemucca at 9:28, still two hours 44 minutes late. Amtrak uses just a bus stop-like shelter here. There was an EB manifest waiting for us as we started rolling again at 9:30. It looked like there was an EB manifest in the former Western Pacific yard on the north side of I-80 as we highballed west on the former Central Pacific/Southern Pacific tracks. Nevada is about as boring from the train as it is driving I-80 so I got quite a bit of reading done. At 10:30 AM we passed an EB manifest in the hole about five miles east of Lovelock and there were a pair of BNSF geeps doing some switching in Fernley when we rolled thru at 11:39. I heard EB manifest #7290 receive his clearance to highball at 12:08PM after we passed him just east of Sparks. We stopped in Sparks, another service stop at 12:11. The old station was locked up with "Do Not Enter' signs on all the doors. There wasn't even a bus stop-like shelter so the passengers just milled around in the sun. I gave my covers to a couple ladies in a red convertible just pulling out of the parking lot and had lots of time to photograph the train end to end.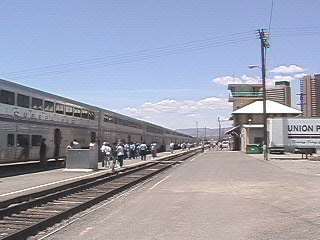 We started rolling at 12:27 and passed an EB manifest waiting in the yard, then stopped briefly in Reno at 12:39. After passing an EB ballast train at 12:50, I headed for the lounge car to get in line for the first lunch call so I could be done by Truckee. Sat with three elderly ladies traveling home to California together. The soup and steak burger were excellent but I passed up dessert and left the diner at 1:38 PM to get a good seat in the lounge car for the ride over Donner Pass. I was shocked to find the car only half full. With its extra-large windows, it has the best view of everything. And I seemed to be the only one taking pictures. I wonder where all the tourists are? I got photos of a couple rotary snowplows, two Jordan spreaders and a white "Railroad Police" bay window caboose as we rolled into Truckee (Sorry I can't share all the photos here). The scenery was spectacular as we climbed the pass even if there weren't many of us enjoying it. You can see lots of scenery from the train but it is hard to see the train in scenery from inside it! We passed several pieces of work equipment before we got up to the first snow shed. We crested the summit inside a tunnel about 2:15 PM and met an EB autorack at Norden at 2:19. Went back to my room about 2:50 and found a
USA TODAY
on my seat so I read it as we continued our slow descent. The ride over Donner Pass was as spectacular as I expected it to be but the slow ride down seemed like something out of the Twilight Zone. At 2:57 we stopped to wait for "our sister train, EB #6 to come by" according to the announcement. But listening to the scanner I learned that #6 was delayed behind a BNSF freight. At 4 PM the EB BNSF manifest came by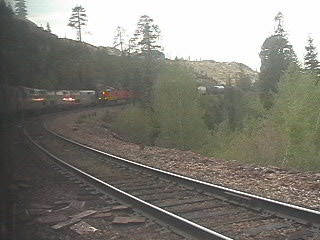 and we started our descent again. I call this photo "Visitors Meet on Donner". We met #6 just west of Emigrant Gap at 4:21 - three Genesis locos, baggage, eight Superliners, six Express boxes and three Roadrailers.. Later we met EB grain train #4263 and an EB manifest. Arrived in Colfax at 5:18, almost four hours late. They made some kind of announcement about passengers with connections at Martinez would be getting off at Sacramento to take a bus but I didn't pay much attention at the time since it didn't affect me. I made it a point to be in the lounge car when we stopped in Roseville at 6:40 and so was able to get some pretty good pictures as we rolled slowly past the engine repair shops and the engine service facilities. There must have been over 100 locomotives in the area including one of the blue locos that pulled the Olympic Torch Relay train.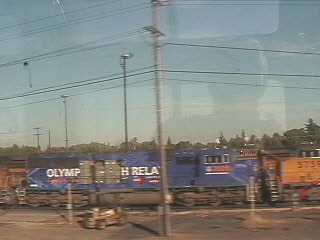 Unfortunately, a couple of the doors were open as you can see in the photo along with my reflection in the window. There was an AMTRAK CALIFORNIA loco and double-deck coach at the east end of the departure yard and a couple of WB manifests waiting at the other end. We were doing about 80mph when we went by the light rail service facility and I was looking directly into the setting sun so I didn't get any pictures there (next time!). Slowed to a crawl shortly afterward as we met an EB empty TOFC at 6:54 and finally pulled into Sacramento at 7:01 PM, just three hours late (there is quite a bit of play in the schedule from Roseville to Sacramento).
Overall, my first Amtrak trip was a great success even if we did arrive late. That meant I spent the extra time on the train rather than sitting in the station waiting for the next one! But since the COAST STARLIGHTwasn't due in until after midnight even if it was on time, I had some time to kill in the Sacramento depot. Besides a beautiful mural of the start of the transcontinental railroad and some original benches with the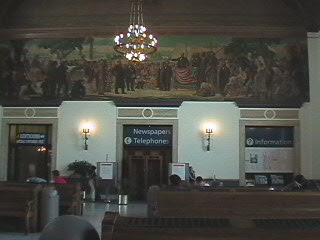 SP logo carved into their ends, the former Southern Pacific depot didn't have much to offer - no restaurant, no mailbox, no storage lockers; just a ticket window, restrooms and some vending machines. It looked a bit too far to walk into downtown Sacramento lugging my baggage, so I settled on a bench and ate a package of my emergency peanut butter crackers and had a can of Pepsi I had carried with me from the train just in case. (That was another good thing about the sleeper - in addition to meals being included in the price, the car attendant had bottled water, soft drinks, coffee and tea and ice set up in the center of the car so you could serve yourself any time.) The waiting room was somewhat stuffy so I sat out on the platform where there was a cool breeze and I could watch trains. I saw four AMTRAK CALIFORNIA trains - one WB and three EB that all terminated in Sacramento and parked nose to tail on a couple tracks waiting for their morning runs. I also had eight UP freights pass within a few feet of me - a WB stackpack, three WB manifests and four EB manifests. About 10 PM a young guy who had been riding his bike back and forth came over and asked about my scanner. At first I was a little leery but it turned out Ted is a railfan too and the depot is one of his favorite spots. We talked about saving Amtrak and other ideas he has for improving railroads until about 11 PM when he left and I went inside to check on the
COAST STARLIGHT's
progress. That trip next time.
AUGUST TRAVEL: I actually saw a few trains on my way to the family reunion in Pennsylvania on Sunday, August 4 and while delivering Kathryn to her new home in Norfolk, VA. We passed a loaded CONRAIL coal train in the Punxsutawney, PA yards and Buffalo, Rochester and Pittsburgh SW-15 #1509 and GP-38 #2002 in the Johnsonburg, PA paper mill yards both ways and I heard a NB BR&P freight while we were at the reunion but couldn't see it thru the forest. For coming the furthest distance I received a wooden postcard depicting a steam locomotive "Greetings from Kinzua Country". The reunion was held in Mt. Jewett, PA home of the famous Kinzua Bridge. Unfortunately I didn't have time to pay it a visit. (See STAMP OF THE MONTH)
As we went out to dinner about 5:30 PM Monday evening in Chesapeake, VA, we met the nightly SB Norfolk Southern manifest near Kathryn's new home and, on the way west Tuesday, we met an EB CSX gravel train in Newport News. From the far right lane of I-95 in Lorton, VA I caught a glimpse of Amtrak's AUTOTRAIN yard with a short string of Superliners present about 12:30 PM.
My timing was about five minutes off on Thursday, August 8 near St. Louis as I caught up with a WB Norfolk Southern "Triple Crown" Roadrailer train just after it had crossed the huge old Wabash Missouri River bridge. Kansas City was clogged with trains as we passed thru about 6 PM. Wish I would have had time to stop at Santa Fe Junction to enjoy the show. For the first time ever, I saw an EB manifest on the I-70 overpass in Independence, MO just west of Noland Rd (at the Amtrak Station sign) and a couple manifests stopped under the bridge just west of the I-35 interchange. A NB Union Pacific passenger train in all its Armour Yellow glory was sitting under the I-670 overpass on the edge of the Armourdale yard with at least one freight loco ahead of the baggage car - I couldn't see if the E-9 units were in the lead. There was an EB stackpack and a WB autorack picking their way thru the yard as we rolled by. An EB coal train was stopped under I-70 at Lawrence, KS as an EB manifest passed it. On Friday, we passed a WB grain train stopped at Wakeeny, KS and an EB coal train stopped at Grainfield, but that was it for this trip.
I remember now why I have always avoided Teeny Weenie Airlines (TWA) and St. Louis. Unfortunately, they are no better under the American Airlines umbrella. On my flight back to Dayton August 11, I sat on the runway in Colorado Springs for three hours in less than air-conditioned comfort because of runway holds in St. Louis. After take-off when I tried to use the air phone to call my sister-in-law who was scheduled to pick me up, I couldn't get it to work. When I buzzed the flight attendant for assistance, it took her 15 minutes to respond (glad it wasn't an emergency) and then she curtly said, "I don't know how those things work. I don't use them. Maybe it just doesn't work" and walked off. I then moved over to a different seat and found a phone that did work fortunately, catching my ride just before they left for the Dayton airport. Although my connecting flight gate to Dayton was announced before we landed in St. Louis, it was long gone when we got there and there was no other Dayton flight on the Departure Schedule. I reluctantly got into the long line at Service Counter #6. After an hour I was at the front of the line when two of the four workers left for the day! No wonder TWA went bankrupt and had to be taken over. (I have three candidates to be among the 7000 layoffs American Airlines recently announced). When I did get my turn at 4:25 PM, I asked for a flight to Dayton or Cincinnati. The next flight to Dayton wasn't until after 8 PM while there was one to Cincinnati at 4:50. When I asked if I could make that one, the young lady said, "You can if I hurry." She quickly issued me a ticket and I hustled from the D to the B concourse with just enough time before boarding to call my sister-in-law with my new flight number and expected arrival time in Cincinnati. I did see a couple trains along the Mississippi River as we took off from St. Louis and a CSX manifest along the Ohio River as we landed just after 7 PM. I planned to grab a bite to eat before my ride arrived at 8 PM since there was no meal service on either flight, but, after picking up a soft drink at the snack bar, I discovered that they had already closed down all their other food services - good thing Sue had prepared me a big breakfast before I left home at 7:30 AM. My ride arrived about 10 minutes early even with a traffic jam on I-75. We took I-275 around Cincinnati to avoid the I-75 accident and got back to Centerville just after 9 PM. A long frustrating day - you can bet I won't be flying again any time soon. Particularly not TWA nor American thru St. Louis!
A WB Norfolk Southern (NS) autorack crossed the overpass at I-70 milepost 60 as I headed for Atlantic City on August 13 signaling the start of a reasonable train day. I was surprised to see two Union Pacific locos on the point of a manifest at the south end of the Conrail (now NS) yard on the west side of Columbus - I didn't think they ranged that far east (maybe pool power). A black SW-7 was working the grain elevator on the east side of Columbus. Heard quite a bit of chatter on the scanner as I skirted Pittsburgh, PA but didn't see any of the trains mentioned.
I had read that NS had increased use of Enola yard in Harrisburg, PA so I thought I'd stop for a visit. Enola was once one of the premier yards in the world in the Pennsylvania Railroad's heyday. I-81 crosses the north throat of the yard just before it crosses the Susquehanna River (you also can get a good view of the PRR's famous stone arch bridge across the river from there). US 11 &15 run down the west side of the two mile long yard while the river limits the east side access. There was certainly a lot more activity than on my first visit a couple years back, but as a diehard Pennsy fan it pained me to see the "Norfolk Southern Enola Yard" sign. There were about 20 decrepit Canadian National and Grand Trunk locos stored in the southeast corner of the yard and three strings of loaded coal cars in the southwest corner as I made my initial pass SB. Coming back north, I met a grain train pulling thru the yard. As I stopped to take some pictures of some crew cars (actually trailers on flatcars), the grain train reversed and shoved back into one of the arrival tracks. That gave me a good view of the engine service facilities and part of the loco repair area. There were still almost as many locos in Conrail blue as in NS black but they all seemed to have new white or black number boards with NS numbers. There was a seemingly new Quality Inn whose east windows would have a good view of the yard but I already had reservations for a motel a little further east. I had dinner at the Wendy's since it had a good view of the north end of the yard and was rewarded with a couple train movements as I ate my dinner at 7 PM. I made another swing to the south end about 8 PM to see a manifest waiting to go west and one of the strings of coal cars moving north. As I came back north, a crew bus disgorged about 40 gandy dancers who quickly dispersed to their crew cars to clean up for dinner. The yard lights came on as another WB manifest was making its way thru the yard as I headed for my motel. A loud thunderclap woke me at 5 AM and the noise kept me awake about a half hour before I dosed off again, finally getting up at 6:45. After a slow breakfast at Bob Evans, I was on the road about 9 AM hoping to miss most of the traffic on I-76 thru Philadelphia. It was still slow going when I saw a two-unit SEPTA commuter train cross a stone arch viaduct up ahead. Then I was pleased to see one of the new Amtrak Acela trains stopped at the 30th street station (probably waiting for an inspection of the newly found defects). There were also several other Amtrak locos at the service tracks and a couple commuter trains leaving or approaching the station. Wish I would have had time to stop but I wasn't sure what traffic would be like over the bridge and on to Atlantic City.
After my stop in Baltimore on the way home from Atlantic City, I took the road less traveled. Instead of I-70 west all the way, I took I-68 to Morgantown, WV, then I-79 south to Clarksburg, then US 50 west to Parkersburg, then I-77 back up to I-70. Saw a WB CSX TOFC and a pair of helpers as I had lunch at McDonald's in Cumberland, MD but not much else train related aside from old B&O logos on a couple girder bridges near Clarksburg so I won't make that detour again.
TRAINSmagazine published their first "Trackside Guide" on Cincinnati's railroads in the August 2002 issue, so I had to spend Tuesday afternoon checking it out since I was only 40 miles away at my Mother-in-laws on the way home from Atlantic City. From the maps included with the article, it looked like Tower A was a separate building that was supposedly open to railfans. I drove all around Union Station and environs and the only tower I could find was at the Norfolk Southern yard. They had a freshly painted caboose on display but the tower was locked and had "No Trespassing" signs. It still turned out to be a pretty good spot to watch trains. By standing on a hill across the street, I could see the NS yard and trains coming across the Ohio River bridge from the south and also see CSX trains, mostly autoracks, leaving their yard just to the west. Spent about a half hour or so there taking pictures and was headed back to my car to leave when a railroad policeman finally stopped me and asked me what I was up to. After giving him all my vital information, I left, continuing my search for Tower A. My conclusion was that Tower A is probably the tower above the tracks on the west end of Union Station. Can anyone confirm that for me? If so the TRAINS map was very misleading. Even so, I had a great day watching trains at several locations in Cincinnati so I'm glad I read the article and made the short trip down from Centerville.
Wednesday evening I spent at Santa Fe Junction in Kansas City. There was the usual train action and a couple other railfans to talk to. One was a young guy starting his second year in a railroad operations degree program at Johnson County Community College. The text used for the railroad history course he completed last spring was Rudolph Daniels TRAINS ACROSS THE CONTINENT - NORTH AMERICAN RAILROAD HISTORY. When he told me he thought they had charged him $60 for the book, I told him they were ripping him off since it was available in most bookstores for $22.95. He had spent a couple weeks this summer as a counselor at "Train Camp" in STEAMTOWN, the Railroad National Park in Scranton, PA. Another railfan showed up whom he knew who turned out to be a part-time stamp dealer who had seen me at a couple shows in the area. They filled me in on where the new flyover was supposed to come thru for the old Santa Fe mainline to eliminate several crossovers here. They also explained how the interesting bridge over the Kansas River works. The silver spikes on top are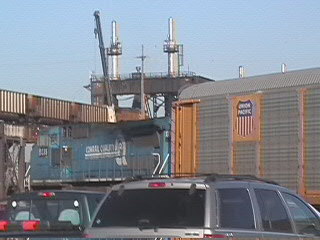 actually hydraulic lifts so that when the double-deck bridge is raised the lower track actually makes connection with the upper tracks. Thus some rail traffic can continue even with the bridge raised for river traffic. There really isn't any river traffic anymore so the bridge hasn't been raised in sometime, not since the last flood several years ago. So it was an interesting stop - lots of useful information and great train watching. I'd have to check my videotape to make sure but there were at least 16 trains in the almost three hours I was there.
On the way home Thursday I started my new collection - I stopped and photographed switchers at grain elevators. Just three so far but the collection will grow - they always do. When I stopped in Cheyenne Wells, CO to photograph the new green geep at the Cargill grain elevator, there were a couple men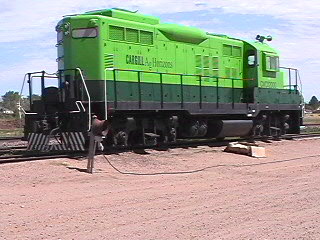 working on a drain near the tracks so I asked permission before I walked over to the locomotive. After I had my pictures, the supervisor came over and told me it was a GP-9 built in 1950. They had sent "Old Ruth", the blue, white and yellow SW-1 to an elevator in Nebraska (I knew I saw her there on my way home from Omaha in May!) because she could handle only 20 loaded grain cars on the slight uphill grade of their three 22 car storage tracks. The new loco can easily handle the loads but it doesn't maneuver as well as "Old Ruth". Even railroaders get sentimental about their lost friends! I'll have to get her picture the next time I'm in eastern Nebraska! (There weren't any grain cars in evidence that August day but there were sixty-eight there on my way thru in September.)
SEPTEMBER TRAVEL: The Greater St. Louis Metro Area Train Show in Belleville, Il may have been the worst train show I've ever done. Sales were pathetic (less than $180 - you can't break even on that with two nights at Motel 6 and two at Super 8, let alone meals and car expenses for 1700 miles) but the trip still had its moments. I was across from my favorite book dealer, Mike Daliden, dba Art of Motion from Chicago so we got a chance to catch-up on things. My long trip this summer when I elected not to do the Mile High Rail Fair in Denver, the GATS Show in Dayton and the NMRA Convention in Florida turned out to be good decisions - all three shows were duds. The NMRA show was reportedly the worst ever, while the usually good Dayton show was bad because they held it at a new airport arena but GATS gave the wrong directions so most customers never found the show and the Denver show just continued its decline. In fact, both Mike and Larry Bunce, dba Railroad Relics, indicated that with one or two rare exceptions, all the train shows the past few months have been 25 - 30% below normal or worse. I did manage to get a train bib for my granddaughter Christine, but the highlight of my time in the St. Louis area was after the show closed Saturday at 5 PM. I dropped off my computer and cleaned up in my motel room and was on a Metro Link train headed into St. Louis Union Station at 5:30 PM. I had a nice ride and a good view of the east side Metro Link service area on the way in. There were three elderly gentleman (at 62 myself, I guess I can say that), all with fancy cameras taking pictures of the vacant and collapsed buildings as we went thru East St. Louis, IL. After crossing the Eads Bridge (US #293), I spotted the tail end of a TRRA freight climbing a ramp from the rivers edge. Saw two UP freights waiting to leave EB as we approached Union Station. I had my camera with me this time so I was able to get pictures of the Anheuser Busch Billboard reefer, three cabooses, a TRRA SW-7 and the following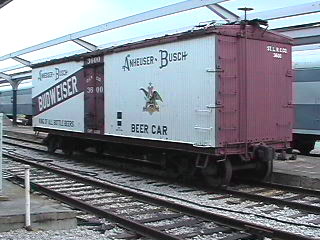 St. Louis Car Co. green with gold trim passenger cars of Rail Cruise America all on display at St. Louis Union Station:
Dining Car.....................................Osage River.............................#800610
Lounge-Diner...............................Cuivre River..........................#800152
Sleeping Car...............................Colorado River......................#800515
Power-Dormitory......................Current River.........................#800480
Baggage..............................................River Des Peres.................#1000
Dome-Dining..................................Columbia River....................#800031
Bar-Dance Lounge...................Charrette Creek...................#800391
Dome-Lounge................................Mississippi River...........#800200
Parlor-Observation...........Missouri River....................#800066
See more on these beautiful cars at www.railcruiseamerica.com.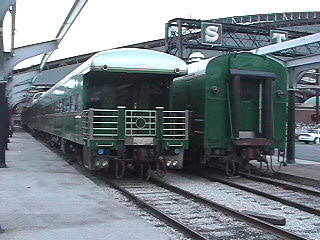 Had a great seafood dinner at Landry's, one of the restaurants under the old train shed at the station. The lobster bisque was a bit spicier than my palate was expecting but the crab stuffed shrimp were excellent. After a brief tour inside to confirm that the National Railroad Museum store was still there (and that it contained nothing I really needed), I headed back to the Metro Link as the gathering storm clouds let loose. Between the rain and the darkness there wasn't much to see on the way back. The only customer with a Belleville address on my mailing list had walked by me on Saturday; then got home to find my postcard in the mail so he came back on Sunday to introduce himself. That was about all the excitement there was except for an EB coal train as I loaded the Previa for the trip home. I did spend a couple enjoyable hours each way at Santa Fe Junction in Kansas City photographing a host of trains, but nothing out of the ordinary except for the unusual string of 15 gravel cars I saw first in Raton, NM and then in Chicago in June on my Amtrak tour.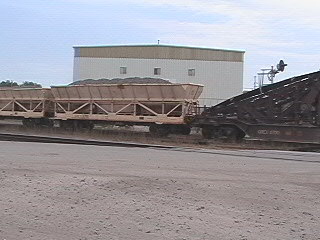 OCTOBER TRAVEL: Aside from one trip to Denver for a local stamp show that didn't yield much for my inventory and only a couple of the usual coal trains to add to my train watching log, I've been busy in Colorado Springs. On Oct. 12, I attended the Slim Gauge train show here in town. The narrow gauge guys always display some great modeling and I was able to buy a large collection of NARROW GAUGE GAZZETTES and a good selection of the small metal railroad logos from the Sugar Crisp cereals of the 60's. On Oct. 19 Sue and I rode the Manitou & Pikes Peak Cog Railway (Antigua #1393 and Dominica #1292) to the top of Pikes Peak, had coffee and donuts, then rode back down as part of a SERTOMA fund-raiser. In the afternoon, I attended the SOCOPEX stamp show and talked with several dealers but didn't find much to buy.
RAIL FACTS AND FEATS: The world's highest railway bridge spans the Mala Rijeka Gorge near Kolasin, Yugoslavia at a height of 650 feet on the Belgrade-Bar line. It consists of five steel spans on concrete piers. The railway was opened June 1, 1976 after nearly 25 years of work. It includes 254 tunnels, totaling 71 miles. The summit at Kolasin is at 3386 feet.
RAIL THOUGHT OF THE MONTH: "The loss of a form of travel that provides a unique perspective of the country would be a loss of something much more than transportation." One of the last (and probably the best) lines in Terry Pindell's 1990 Amtrak journey, MAKING TRACKS, AN AMERICAN RAIL ODYSSEY. Since I found three misstatements that can most charitably be called "poetic license" in just a couple pages on his trip from Omaha to Denver (an area I am familiar with), I read the entire book with a lot more skepticism than I did his Canadian book and therefore enjoyed it less. But the quote above is right on the mark regarding Amtrak and its survival.
STAMP OF THE MONTH: Since I mentioned the Kinzua Bridge, here is a postcard showing it. Built of iron in 1882 by the Erie RR over a valley west of Mt. Jewett, PA (Kinzua Creek flows under it), it was rebuilt with steel in 1900. It was once the highest railroad bridge in the US, but is now only third highest, surpassed by the 1390 foot long Pecos River Bridge which I crossed on my SUNSET LIMITED ride over the old Southern Pacific in west Texas in June and the 340 foot long Crooked River Canyon Bridge that I drove by near Madras, OR in April, both at 320 feet. The Kinzua Viaduct is still impressive at 2053 feet long and 301feet high. Now out of use, but under a preservation order with no funds for maintenance, it is rusting away. After recently declaring the bridge to be unstable, the National Park Service no longer allows the Knox & Kane RR to run their daily tourist train out on to it although the venturesome can still walk out on it (as I have on a previous visit). Like most things from my youth, I didn't appreciate its significance until long after I had moved from the area.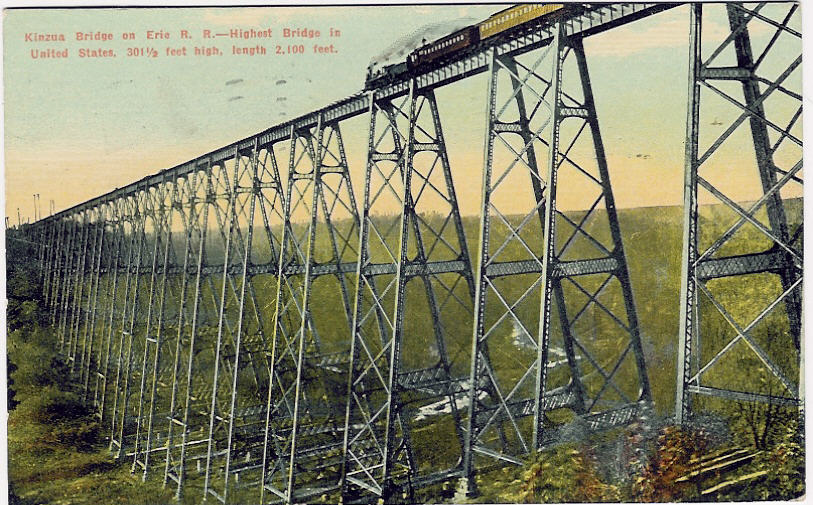 May all your signals be green,

AL PETERSON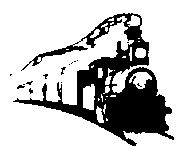 <![if !supportEmptyParas]> <![endif]>
<![if !supportEmptyParas]> <![endif]>
AL PETERSON
THE RAIL PHILATELIST
P. O. BOX 25505
COLORADO SPRINGS, CO 80936
<![if !supportEmptyParas]> <![endif]>
<![if!supportEmptyParas]> <![endif]>
<![if !supportEmptyParas]> <![endif]>
1-800-807-RAIL access code RR or 719-591-2341
http://www.railphilatelist.com/ or e-mail railphilatelist@aol.com
JOIN THE CASEY JONES RAILROAD UNIT OF THE AMERICAN TOPICAL ASSOCIATION
Dues $10.00. Contact Contact Bill Senkus @ CJRRU-ATA P.O.Box 4584, Walnut Creek, CA 94596-4584