The Rail Philatelist
News & Notes Back Issues
| Oct. 1996 | Nov. 1996 | Dec. 1996 |
| Jan. 1997 | Feb. 1997 | Mar. 1997 | Apr. 1997 | May 1997 | June 1997 |
| July 1997 | Aug. 1997 | Sept. 1997 | Oct. 1997 | Nov. 1997 | Dec. 1997 |
| Jan. 1998 | Feb. 1998 | Mar. 1998 | Apr. 1998 | May 1998 | June 1998 |
| July 1998 | Aug. 1998 | Sept. 1998 | Oct. 1998 | Nov. 1998 | Dec. 1998 |
| Jan. 1999 | Feb. 1999 | Mar. 1999 | Apr. 1999 | May 1999 | June 1999 |
| July 1999 | Aug. 1999 | Sept. 1999 | Oct. 1999 | Nov. 1999 | Dec. 1999 |
| Jan. 2000 | Feb. 2000 | Mar. 2000 | Apr. 2000 | May 2000 | June 2000 |
| July 2000 | Aug. 2000 | Sept. 2000 | Oct. 2000 | Nov. 2000 | Dec. 2000 |
| Jan. 2001| Feb. 2001 | Mar. 2001 | Apr. 2001 | May. 2001 | June. 2001 |
| July 2001 | Aug. 2001 | Sept. 2001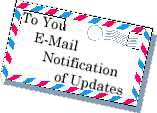 AL'S RAILINGS-
NEWS
&

NOTES

ON RAILWAY PHILATELY
Volume 7 Number 1 PRICE $1.50 (10 ISSUES FOR $12.00)
October 1, 2001

Dear Fellow Rail Philatelist:

The September 11 tragedy was brought even closer to home when I attended the memorial service for Kathryn Yancey La Borie, a flight attendant on UA 175 who grew up here in Colorado Springs, attended the same high school as my sons, and whose parents attend our church. Words can never express our sorrow for the senseless loss of so many innocent lives, nor bring solace to those who survive. With a son and newly-wed nephew serving as Navy flyers, my prayers are that the retribution will be swift and thorough, with minimal casualties among the innocent, so that the world can return to some semblance of normalcy. At times like these, many of us turn to hobbies for a few precious moments of escape from our worldly concerns. All sales from this month's "A" & "B" lists will be donated to the Red Cross Disaster Relief Fund.

MY READERS WRITE: (1) Actually Bill Spielberger of Grand Rapids, MI stopped by my booth at the Chicago APS show to confirm that the Schibe Park stamp (US #3518) does indeed have a trolley. As a kid growing up in Philadelphia, he took the subway and then the 20th Street trolley line to the ball park several times. Thanks Bill!

(2) Ian & John Hoppitt emailed from Australia that Peter Hewitt informed them that Paraguay C658 comes with an "A" or a "B" in the lower right corner. Sure enough, when I checked my stock I found one of each. The letters are almost 1/4 inch high so I wonder how I missed them all these years. The new DOMFIL catalog pictures the "B" variety but doesn't mention it. Wonder what the letters signify - different printings? Does anyone have a "C"?

(3) Along with his order, John Azzaro sent some great photos of a TOFC circling the Tehachapi Loop taken on his way to drop off his daughter at college.

TRAIN WATCHING REPORT: No September travel but here is the report on my Chicago APS show trip. Aside from a scanner report "Train 18 at the summit" from a Pikes Peak Cog Railway train as I left Colorado Springs, there was no real train action until I got to Nebraska, just a couple coal trains in the BNSF yards in Denver and another I met just south of Fort Morgan, CO. Got off I-80 at Big Springs to follow the UP more closely on US 30. Saw only a couple westbound trains before I came to a detour at Sutherland that forced me back on I-80 for one exit. Seems there is so much coal traffic on the UP line from the Wyoming coal fields that they are building an overpass on US 30 to eliminate the bumpy grade crossing just east of Sutherland. (They are also building a couple overpasses in downtown North Platte as well.) Back on US 30 I encountered a couple stackpacks highballing WB plus a couple EB coal trains waiting to get thru North Platte. As I crossed the four tracks at the west end of the Bailey Yard throat, I could see five trains on the departure tracks waiting for their turn to go west. There wasn't any activity on the EB hump as I made my usual drive thru of the engine service facility where there are always about 100 locomotives parked waiting for some type of service. Stopping in the convenience store parking lot at the east end of the yard, I observed five manifests waiting on the EB departure tracks while a stackpack and a coal train ran thru EB and a WB coal empty and manifest entered the yard. The Van Yard was unusually empty - I guess all the high priority traffic had made it out of town. After a late lunch/early dinner at Valentino's Pizzeria, I headed east encountering a steady stream of WB trains, mostly empty coal, but nothing unusual. I finally caught up with an EB manifest just before dark as I approached Grand Island. I took US 34 from Grand Island so I could follow the BNSF to Lincoln. Saw a long string of empty TOFC cars stored on one of the sidings at Hampton, and the lights of one WB train off in the distance, but it was too dark to see much so I got back on I-80 at York. Made a quick tour over the Lincoln Yard to see that three of the four fueling tracks were occupied by EB coal trains, then made a beeline for my motel in Des Moines, IA arriving just after midnight.

Up at 6:30 and breakfasted at Perkins. Heard some chatter on the scanner as I drove thru downtown Des Moines but didn't see anything. There actually isn't much to see since the old CNW (now UP) mainline is quite a bit north of I-80 along US 30. I've never followed 30 across Iowa - maybe I should but I'm usually in a hurry at that point, either to get where I'm going after dallying in Nebraska or hurrying to Nebraska so I'll have time to dally! As I approached Rochelle, IL, I saw an EB stackpack and a WB coal empty but they were long gone by the time I got to the UP-BNSF junction. There were about 20 people in the pavilion enjoying picnics and waiting for trains when I arrived at noon. I spent two hours there watching trains, listening to the scanner reports broadcast on the PA system and enjoying the camaraderie. Most of the men were taking pictures but one was working on a detailed scale drawing of a GP-18. I saw just one BNSF train and five UP during my stop but that was enough to energize me for the drive into Chicago. Crossed over a couple big yards on my way to the convention center but traffic always makes it difficult to do much rubber-necking. Spent only about 20 minutes in line waiting to get my van onto the show floor to unload, got my booth set up, went briefly to a couple dealer bourses, then went to my hotel. I shared a room with two other dealers in the Embassy Suites. They provide a good breakfast in the morning and a cocktail hour in the evening as part of the price, so you know it costs more than my usual Motel 6, even split three ways. But its good to have the opportunity to exchange ideas and gossip with other dealers from time to time. As previously reported, I didn't make any money at the show but I did have a great time seeing everyone.

Load out Sunday evening went pretty quickly, so I grabbed a couple McDonalds burgers on special at the I-88 Food Court just east of Rochelle, and headed for the junction. All three picnic tables at the pavilion were occupied when I got there about 7 PM, so I sat on one of the side benches to eat and watch trains. Eavesdropping on all the conversations was almost as much fun as watching trains; some of the locals must make it a Sunday evening ritual to have a family picnic there. Saw four UP trains, two each way before it got too dark, then I headed for my motel in Davenport, IA.

After breakfast at Cracker Barrel, I made a trainless drive across Iowa, stopped in Omaha at Valentino's for lunch and headed for Lincoln. After noting only two coal trains at the fueling facilities, I drove around to my favorite parking spot at the wye on the east end of the yard. In addition to a WB switcher with a string of grain hoppers and a SWB manifest, both coal trains that were refueling came by during the hour I spent there. Then I made a quick trip to the engine service facilities - much smaller than UP's North Platte facility but still with over 50 locos in the vicinity. Passed a couple coal trains waiting to get into the Lincoln yard as I got back on I-80 but didn't see anything along US 34 on the way to Grand Island except for the string of empty TOFC cars at Hampton. I parked for almost an hour at the BNSF overpass over the UP in Grand Island but there wasn't anything moving on either line so I headed west. Encountered 12 EB trains on my way to North Platte (one Intermodal, two manifests, the rest coal) and caught up with five WB (three manifests, two coal empties) all moving, plus what seemed like a parking lot on the middle of the three tracks - five EB coal trains all sitting idle just east of North Platte, spaced about a mile apart. In North Platte I picked up a light dinner at Wendy's take out and headed for the convenience store parking lot. There the departure tracks were full, the van yard had more stackpacks than on the way east and there were a couple stackpacks running thru as well as a couple inbound coal empties and a manifest. The most interesting train, however, had pulled out ready to depart with a UP loco on the point and four bright blue switchers reminiscent of the Morrison-Knudson models of a few years back. They had "CIT" reporting marks and were numbered 2007 and up. [The November 2001 TRAINS has a p.26 story "Switchers make a comeback at EMD" which describes locos similar to the ones I saw as demonstrators built for EMD by Motive Power Inc of Boise, ID (formerly Morris-Knudson). Evidently CIT has ordered three dozen for lease service so I saw four of them.]. After it got too dark to see well, I headed west past the engine service facility and got trapped at the west end crossing as two trains entered the yard (stackpack and manifest) and two coal empties left. Another coal train was approaching as I made the crossing and headed for my motel in Ogallala, NE.

There was a string of several unmarked gray and blue passenger cars tucked into a grain elevator siding as I left Ogallala Tuesday morning - I have no idea where they were from nor did the maintenance worker nor dispatcher I heard on the scanner discussing them about an hour later. They also mentioned another passenger train leaving Sidney, NE but I never saw it. I had never taken the stretch of I-80 thru Sidney to Cheyenne, WY, always turning down I-86 to Denver, but I had a little extra time so I completed that part of the interstate system. Saw several UP trains along the way along with a bunch of track repair equipment and also saw a BNSF manifest race north on the overpass in downtown Sidney while I was checking out the UP yard and station. I got a couple burgers at Hardees in Cheyenne and parked at the west end of the yard to watch trains while I ate - just a couple EB autoracks and a WB manifest. Saw a NB BNSF manifest just north of Fort Collins, CO and a SB coal train with helpers at Greenland completed my train watching for the trip. Both the Ringling Brothers Circus train and about 30 private passenger cars were in Denver in early October but I missed them.

#%@$&* COMPUTERS: In scan mode, my HP G55 All-in-one printer seems to have a factor of two problem - the final image is always twice life size even though all the settings are correct. Obviously a software glitch that I have learned to work-around by dividing all size settings by two. A more irritating problem is that while the G55 seems to print and copy fine using the "PRINT" command, invariably when I click on the desktop icon to go to scan mode, I get an error message telling me the G55 cannot be accessed and to "Uninstall the software and re-install". The fifth time this happened finally prompted me to call Hewlett Packard's technical support. What a waste of time! After an interminable time on hold, the young man asked a seemingly endless string of useless questions, the answers to which should have already been on the computer screen in front of him since I had registered the G55 with HP when I bought it. Then we finally got into my computer settings which all agreed with his requirements. Not knowing where else to turn to solve the problem, he pulled the usual "It isn't our problem. It is probably your driver. You'll have to go to the Intel web site and download a new driver and probably buy a new chip." "Bull feathers" I told him less politely, "If the system works some of the time, I don't need new parts, I need HP to fix a problem in their software." Since he had no clue what to do next other than blame Intel, I told him to forget it and I would forget to ever purchase another HP product. I'll just uninstall and reinstall software when I need the scanner - another unsatisfactory attempt at tilting with the computer windmills!

RAIL FACTS AND FEATS: The November 2001 TRAINS magazine reports "On June 21, Australian mining company BHP Iron Ore set a new record for the longest and heaviest freight train with a 4 1/2 mile-long, 109,705 ton loaded ore train. It ran 170 miles between BHP's Mount Newman mining complex and Port Hedland, Western Australia. The 682-car train was powered by all eight of BHP's General Electric AC6000 locomotives, dispersed throughout the train in distributed power mode. The train was delayed nearly 5 hours when a drawbar failed on an uphill grade. Restarting required assistance from two more units."

RAIL THOUGHT OF THE MONTH: "In the two decades from 1870 to 1890, railroads spread across Colorado like cracks in a windowpane". An apt metaphor that was the lead sentence of a July 24, 2001 Colorado Springs THE GAZETTE article "Rail developments kept area's progress on track.

STAMP OF THE MONTH: With the current patriotic fervor, this cover commemorating "America the Beautiful" issued by the Manitou & Pikes Peaks Cog RR in 1993 seemed like a good choice for Stamp of the Month. One side of the stuffer card has the familiar words to the song while the other gives some history: "During 1893, a young woman instructor of English, Miss Katherine Lee Bates, came to Colorado Springs, CO to teach a summer course at Colorado College. On the morning of July 22, 1893, she traveled on a Colorado Midland passenger train from Colorado Springs to Cascade, CO. After transferring to an open carriage coach, she began her trip up Pikes Peak and into the history books. Upon reaching the summit and gazing out along the sweeping plains and rising mountain ranges, she wrote down the opening lines of a poem which would later be set to music and become known as "America the Beautiful". The Cog RR makes the trip in about 2 hours compared with the two days it took Miss Bates, but the views are still just as awe-inspiring. Come see for yourself.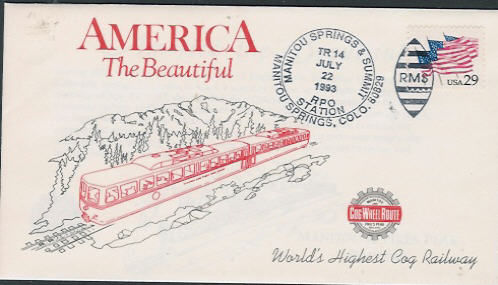 May all your signals be green,

AL PETERSON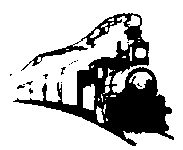 <![if !supportEmptyParas]> <![endif]>
<![if !supportEmptyParas]> <![endif]>
AL PETERSON
THE RAIL PHILATELIST
P. O. BOX 25505
COLORADO SPRINGS, CO 80936
<![if !supportEmptyParas]> <![endif]>
<![if!supportEmptyParas]> <![endif]>
<![if !supportEmptyParas]> <![endif]>
1-800-807-RAIL access code RR or 719-591-2341
http://www.railphilatelist.com/ or e-mail railphilatelist@aol.com
JOIN THE CASEY JONES RAILROAD UNIT OF THE AMERICAN TOPICAL ASSOCIATION

Dues $8.00. Contact Oliver Atchison, PO Box 31631, San Francisco, CA 94131