The Rail Philatelist October 2000 Newsletter
The Rail Philatelist

News & Notes Back Issues
| Oct. 1996 | Nov. 1996 | Dec. 1996 |
| Jan. 1997 | Feb. 1997 | Mar. 1997 | Apr. 1997 | May 1997 | June 1997 |
| July 1997 | Aug. 1997 | Sept. 1997 | Oct. 1997 | Nov. 1997 | Dec. 1997 |
| Jan. 1998 | Feb. 1998 | Mar. 1998 | Apr. 1998 | May 1998 | June 1998 |
| July 1998 | Aug. 1998 | Sept. 1998 | Oct. 1998 | Nov. 1998 | Dec. 1998 |
| Jan. 1999 | Feb. 1999 | Mar. 1999 | Apr. 1999 | May 1999 | June 1999 |
| July 1999 | Aug. 1999 | Sept. 1999 | Oct. 1999 | Nov. 1999 | Dec. 1999 |
| Jan. 2000 | Feb. 2000 | Mar. 2000 | Apr. 2000 | May 2000 | June 2000 |
| July 2000 | Aug. 2000 | Sept. 2000 |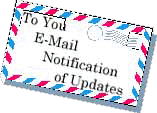 AL'S
NEWS & NOTES
ON RAILWAY PHILATELY

Volume 5 ............... PRICE $1.00 (10 ISSUES FOR $8.00)................Number 9 October 1, 2000
Dear Fellow Rail Philatelist:
I'm cramped for space this month because the S and T lists are long. I'll do better next month.
STAMP AUCTIONS: Over the years I have actively participated in only five stamp auctions. My first was the 1982 Roger Koerber Auction in Southland, MI where I bought most of the Sterling Foote train stamp collection. That provided the initial stock for my business since it not only provided duplicates of my collection, but, since he collected singles and blocks of four, up to five duplicates. The other major auction experience was a Superior Auction in Los Angeles, CA where I bought several space covers for my son, Thomas. The others were brief experiences in conjunction with shows where I only bought one lot at each. I have stayed away from auctions primarily because I didn't want to bid against my customers and also because I haven't had the time to go through the numerous auction catalogs carefully. But when emails from several sources informed me that the Sept. 9-10 Regency Stamp Auction had major train stamp lots, I made it a point to visit the Regency booth at the APS STAMPSHOW in Providence, RI and pick up a catalog. I immediately recognized the collection as having been assembled by a customer who passed away last year. Since the lot descriptions included phrases like "some faulty", "some stuck down", etc., I decided I needed to attend the auction and examine the lots carefully, so I did. I spent Friday in St. Louis examining about 140 lots, not all from the train collection but all train related. I ended up over-spending my budget and only got about half the 90 lots I bid on. There was much more competition than I expected, particularly from the floor from specific country collectors and a local train collector. Thus I didn't get the bargains I had hoped but I did get some great material at reasonable prices. It turned out to be only parts of the collection - I don't know what happened to the rest. Over all the auction experience was very good and the lunches provided were excellent!
SEPTEMBER TRAVEL: Trips to St. Louis, MO and Santa Clara, CA provided good train watching, but first I have to report on the Providence, RI trip deferred from last month. ... Noticed a new two-tone green GP-9 at the Cargill grain elevators in Cheyenne Wells, CO on my way East - it will probably replace the blue & yellow SW-1 which was parked at the end of a stub track. The construction on the former Kansas Pacific line must be almost complete. There were ballast trains parked at Cheyenne Wells and Winona, KS and a couple pieces of work equipment on sidings in between but no activity on a Sunday afternoon. There was an EB coal train stopped in the usual place at Sharon Springs, KS and I caught up with an EB manifest near Oakley. Then nothing until my stop at Santa Fe junction in Kansas City. Saw eight trains in 80 minutes including a couple KCS switcher transfers. After spending Monday night with my son Jeffrey near Pittsburgh, PA, I spent an hour at Gallitzen watching a couple trains emerge from the tunnels, then drove down to horseshoe curve. Since there is no access to the visitor area before 10 AM, I drove on into Altoona and parked in my usual spot near the museum. On trips east, I usually try to squeze in visits to Subway Stamp Shop, APS headquarters (library and sales office), and the Oracle but the timing wasn't right on this trip, so I opted to spend some time watching trains! The fancy new footbridge makes a great observation tower. It provides a good view of the tracks and the outdoor equipment displays of the museum. They even provide a couple benches so I sat up there reading Tom Brokaw's THE GREATEST GENERATION and watching trains all afternoon. Saw 34 trains of all types in about seven hours. Four of special note: (1) since this is now Norfolk Southern country, there was a "Triple Crown" Roadrailer with about 100 trailers, (2) a NS research train with two cars - one a passenger coach modified for track inspection and the other shaped somewhat like a box but with a "V" notch in the middle - should have had a camera! (3 & 4) AMTRAK's about a half hour apart - EB with two locos, 8 eight express boxcars, one baggage car, four coaches, one cafe car, ten roadrailers, WB with two locos, three express boxcars, two coaches, one cafe car, three more boxcars and 14 roadrailers - AMTRAK is definitely in the freight business! Saw a New Jersey Transit train leaving the Netcong, NJ station as I stopped for breakfast at Perkins Wednesday AM. I was disappointed not to see any rail activity on AMTRAK's Northeast corridor as I drove along I-95 in Connecticut although I did see a couple commuter trains in a shop area near Stamford. I was hoping to see one of the new Acelas but was about a mile off - one of my customers who rode the train down from Boston said he passed an Acela doing some test runs just outside Providence while a customer from Attleboro, MA said he was watching an Acela when he called me a few days after the show. Maybe AMTRAK will finally get them working. I picked up a brochure touting their wonders in the Providence station Saturday evening when I spent an hour there seeing two AMTRAKS come through, one powered by two AEM7 electrics, the other by an old FP40. These trains didn't have any freight cars in their consists! The gray and mauve Massachusetts Bay Transportation Authority commuter train in the station when I got there at 8 PM was powered by an old SD-45. After almost an hour, it headed towards Boston empty. To be continued next month...
LCL: (1) Another mystery solved - one of the roadrailers seen in Altoona was an "Ice Cold Express", the logo I was unable to dechipher on the BNSF trains in California. Read in TRAINS magazine that BNSF is adding a second "Ice Cold Express" - maybe the logos will be bigger! (2) The domed building in downtown Altoona that I speculated might be the county courthouse in one of my previous newsletters is actually the Cathedral of the Blessed Sacrament, built in 1924.
THE STAMP HOBBY...: Thanks again to Michael Laurence, Editor/publisher of LINNS STAMP NEWS for this ninth insight from his APS Tiffany Dinner speech:
9. The stamp hobby creates community. The local stamp club is typically one of the most egalitarian institutions around. Stamps cut across class and economic lines. All ages and social strata participate as equals.
STAMP OF THE MONTH: France #1392 showing the "Trein Grande Vitesse" or TGV (high speed train) has always been one of my favorites. The red, blue, white and black colors are striking and the artist incorporated a shock wave to connote speed. The TGV appears on forty or more stamps by now - enough for a separate collection - but #1392 is the classic in my album.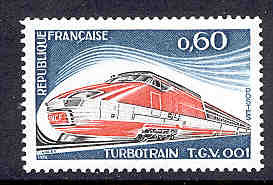 RAIL THOUGHT OF THE MONTH: "The days go by like a fast train" from Chad Brock's hit song "Yes". In my case, the train must be a French TGV (France #1392 above) or Japanese "Bullet Train" (Japan # 1109 among others) since the days are flying by much too fast. I can't catch up!
RAIL FACTS AND FEATS: The longest straight track is on the Commonwealth Railways Trans-Australian line over the Nullarbor Plain from Milepost 496 between Nurina and Loongana, Western Australia and Milepost 793 between Ooldea and Watson, South Australia, 297 dead straight although not level. (ED: An Australian fact seemed appropriate with all the Olympics hoopla.)
May all your signals be green,

AL PETERSON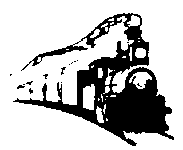 THE RAIL PHILATELIST

P.O. Box 25505
Colorado Springs, CO 80936
1-800-807-RAIL access code RR
http://www.railphilatelist.com
railphilatelist@aol.com


JOIN THE CASEY JONES RAILROAD UNIT OF THE AMERICAN TOPICAL ASSOCIATION
Dues $8.00. Contact Oliver Atchison, PO Box 31631, San Francisco, CA 94131

.

News & Notes Back Issues
| Oct. 1996 | Nov. 1996 | Dec. 1996 |
| Jan. 1997 | Feb. 1997 | Mar. 1997 | Apr. 1997 | May 1997 | June 1997 |
| July 1997 | Aug. 1997 | Sept. 1997 | Oct. 1997 | Nov. 1997 | Dec. 1997 |
| Jan. 1998 | Feb. 1998 | Mar. 1998 | Apr. 1998 | May 1998 | June 1998 |
| July 1998 | Aug. 1998 | Sept. 1998 | Oct. 1998 | Nov. 1998 | Dec. 1998 |
| Jan. 1999 | Feb. 1999 | Mar. 1999 | Apr. 1999 | May 1999 | June 1999 |
| July 1999 | Aug. 1999 | Sept. 1999 | Oct. 1999 | Nov. 1999 | Dec. 1999 |
| Jan. 2000 | Feb. 2000 | Mar. 2000 | Apr. 2000 | May 2000 | June 2000 |
| July 2000 ||Aug. 2000 | Sept. 2000

Please send us your comments, questions & orders.
railphilatelist@aol.com
(719) 591-2341
The Rail Philatelist
P.O. Box 25505
Colorado Springs, CO 80936
Orders Only : (800) 807-RAIL Access Code RR
email ordering information

---
| Listinfo | A B C D E F G H I J K L M N OPQ R Sa Se-u Sw T U VWXYZ | New Issues | Specials |

| HOME | Belgium | China | Denmark | France | Germany | NEWSLETTER | SHOWS | EXHIBIT |


| Cinderellas | Disney | Great Britain Railway Letter Stamps | Leaders of the World | Luxury Trains | Thomas |


| Event Covers | 19 Century Covers | Express Covers | Freedom Train | RPOs | Unusual Covers |


| RR Coins | Rail Magazines | Packets | RR Paper | Showcards | Stock Certificates. | Mail Bid Sale |


Copyright (c) THE RAIL PHILATELIST