OLIVER ATCHISON: Oliver Atchison died February 11, 2002 at the age of 84. I have lost many other train stamp friends and acquaintances over the years, but none have given more to our hobby than Oliver. As mentioned last month, Oliver single-handedly ran the Casey Jones Railroad Unit for the past 18 years. Like Casey Jones, he died with his hand still on the throttle. He will be sorely missed by his CJRRU family - his only heirs and survivors. His place on the American Topical Association Roll of Distinguished Topical Philatelists and the many copies of THE DISPATCHER in our collective files will remain his legacy. His collection of railroad books will form a special collection at the Western Philatelic Library in San Jose, CA, available for others to use for research. May he be well received in that Roundhouse in the sky.
SUPPLEMENT #2: There will be a delay shipping the Supplement # 2 orders. I put the order in on February 28 as I left on my trip, but the Supplements received from ATA were missing some pages and had other printing problems. I hope to have replacements in the next week or so. Sorry for the delay, but you deserve to receive the Supplement as Norm Wright created it. Price is $10.00 postage paid.
STAMP MOUNT QUESTION: I received the following email a few weeks ago. "I am new to the hobby of Philately. I was first exposed to stamp collecting when I was 8 years old but many other things in life took my attention away from it. Also I live in a small town and there were no dealers or hobby shops to help spur me on. Now, I am 42 and thanks to the Internet, I have rekindled my interest in Stamp Collecting. I know you are very busy so I'll get to the reason why I am writing. I started with U.S. singles about 3 or 4 years ago. My interests in Trains soon led me to start a Topical Section dedicated to trains and railroading. Now here is my problem. How do you measure stamps for the right size stamp mounts? I have purchased Showgard and G&K stamp mounts that fit my U.S. singles collection just fine. But how do I measure my foreign train stamps for the proper mount? I do not want to invest in something that I will never be able to use. Any help you can give will be greatly appreciated."
What would you advise him? Here is my reply: "Thanks for your inquiry. Personally, I don't use stamp mounts for a topical collection. There are so many varying sizes for the foreign stamps that you have to spend considerable money buying all the mount sizes. I recommend using the Hagner, Vise-O-Grip, Scott or similar black stock pages with the transparent slots. They come single or double sided with from one to seven or more slots. This way you can easily rearrange a topical collection as you add material. For example, if sometime down the road you decide to organize the train collection by type of locomotive rather than just filing them chronologically by country as most of us do, you just move the stamps to the appropriate page. With mounts, you have to create new pages and buy more mounts. The mounts often cost more than the stamps." Actually, I like the Lindner T-Blank system but it is a little pricey for most of us, so I usually recommend the Hagner (etc.) sheets for those just starting out. How do you store or mount your collection?
WHAT NOT TO DO! I have been working overtime to break down the huge collection I bought in Tucson, not so much to get the stuff into my inventory but more so to get it off the ordinary note paper that most of it is hinged to. While the collector was obviously in the process of writing-up and remounting his extensive collection on White Ace(r) "Railroad Stamp" pages and "Railway Philately" pages that I think he had specially made up (see enclosed "Liberia" page), most of the collection is still on ordinary notebook paper. Since these papers may have a high acid content, they pose a serious risk for the long-term storage of stamps. Also, he clipped off the corners from envelopes of incoming mail and used them (along with cellophane tape) to mount Souvenir Sheets to the notebook paper. Again, the acid content might damage the sheet corners and the tape doesn't age well. (But the sheets are all Never Hinged!). So far I haven't found any damage to any of the stamps but there is some bleeding of the ball point pen write-ups on the cheap paper, another no-no. Living in a dry climate probably prevented most of the damage such techniques can cause, but I don't want the stamps exposed to these conditions any longer than absolutely necessary. Don't treat your collection this way - use archival quality pages and store your treasured items in a clean, dry place.
SHOWS: After a month break, I had shows on three consecutive weekends:
1. GREAT AMERICAN TRAIN SHOW - DENVER: While I am not particularly happy with some of the changes the new GATS management has made (like a 20% table fee increase and no floor plans until you check in at the show), the Denver show was the best I've done there. Sales were good and I had a view of the BNSF mainline so I saw a few trains when I wasn't busy with customers. In a moment of weakness, I acquired another seven boxes of magazines including a complete collection of MAINLINE MODELERS (already sold out) but was able to integrate four of them into my show stock so I only added three additional boxes to the pile in my garage. I also was able to get all the postcards I bought in Mesa priced and filed. My dealer friends report that sales at all the shows thus far have been much better than last year. Maybe I'll have to add a couple more shows although the GATS schedule doesn't offer much that appeals to me. Also had good train watching on all three trips to Denver and back for the show but nothing out of the ordinary.
2. HOSTLER'S MODEL RAILROAD FESTIVAL - OGDEN, UT: This is always my favorite show even though sales were down considerably from last year (maybe an OLYMPICS hangover). Jordan Glew brought me a couple more boxes of his Southern Pacific mementos to peddle for him, but not much else exciting happened at the show. My friend Jim Ozment, a director of the Mobile Post Office Society and retired Denver & Rio Grande civil engineer gave the banquet speech tracing the abandoned 1880's D&RGW narrow gauge road bed across the desert from Grand Junction, CO into Ogden (the D&RGW followed a somewhat different route when they standard gauged in the early 1900's). The food and service at The Timberline were the best I've ever had at a banquet! And I won one of the door prizes - a double-sided photo with the Union Pacific's Thiokol rocket motor train in Echo Canyon on one side and the Space Shuttle in orbit on the other!
3. GREAT AMERICAN TRAIN SHOW - SAN FRANCISCO: A stamp customer I met at WESTPEX last year had emailed me about selling his Marklin HO trains for him if he brought them to the Cow Palace show. I told him I didn't know anything about Marklin but we'd work something out. Fortunately, there was a Marklin layout at the show and they had a recent price guide. Thus I was able to get my client a fair price for all his unwanted items. I also had a couple good mail order customers show up to boost my sales. And since Bill Senkus friend was delayed on AMTRAK's CALIFORNIA ZEPHYR about five hours, we were able to have dinner Saturday evening at The Hungry Hunter (one of my favorites in California) and talk about his plans for the CJRRU and THE DISPATCHER and several other topics. Keep up the good work, Bill! Train watching was a little slow though - I only saw one set of CALTRANS bi-level units during three round trips between my motel and the Cow Palace and meals at Lyons. I spent Monday at the Dempsey's (A & D Stamps) going thru the remainder of their back stock plus "I-N" in their show stock. I picked up a good selection of Norway Posthorns for next months lists among the $2,000 I added to inventory.
FEBRUARY-MARCH TRAVEL: Train watching on the Ogden-San Francisco trip started slowly with nothing until Denver where I saw a couple coal trains waiting to go South and an empty in the BNSF yard waiting to go North. Saw a WB UP manifest at the CO-WY border headed for Sherman Hill and then a line-up of four trains - two autoracks, a stackpack and a manifest - waiting to get East thru Cheyenne. As I climbed the hills west of Cheyenne the snow started. At times, it was almost whiteout conditions but the roads were still fairly clear. After gassing up, I passed a solitary Geep at the west end of the Laramie yard as I turned onto US 30. The roads got progressively worse the further I went. Shortly after meeting an EB APL (American Presidents Lines) stackpack west of Rock River, the Previa's rear end decided to try to lead. After a couple wild swings back and forth, I uttered a common expletive (OH S---!) as I slid off the left side of the road and straight down a ten foot embankment. Fortunately, at that point the All-Wheel Drive gained traction in the grass and gravel and I was able to make a gentle turn and drive right back up onto the highway with only a few more gray hairs for the experience. Saw another EB stackpack in the snow west of Medicine Bow and a WB manifest stopped at Hanna Junction as the snow started to let up and the roads began to clear. Saw an EB stackpack approaching Sinclair but it was too dark and snowy to see anything in the Rawlins yard. I did see the lights of another EB coming down the hill toward Rawlins and part of a grain train at Point of Rocks plus the lights of a couple more EB trains east of Rock Springs. There was a stackpack waiting to go East as I pulled into Green River at 8 PM and SD-40-2 #3070 was working a string of gondola cars as I stopped for dinner. It was too cold and snowy to spend much time on the footbridge, so I made a brisk walk across to see about 20 locos on the ready tracks and the car shop doors closed. I did see two Intermodals and a stackpack roll by EB as I ate my soup and a club sandwich at the "Game Day Family Restaurant and Sports Bar" (formerly "The Embers"). The place was a little noisy because of the Wyoming-BYU basketball game on TV but the track view was still good and it was a lot warmer inside!
It wasn't quite as raw at 8AM the next morning so I spent almost an hour on the footbridge observing lots of rail activity. The loader in the Intermodal yard was busy unloading the last of six containers from a string of nine doublestack cars. There were 15 locos on the ready tracks so a few had moved out during the night and the hostlers moved three of them onto the point of a WB string of trona cars as I patrolled the bridge. The Trackmobile from the heavy repair shop pushed a completed car out shortly after I got there and after he completed the move and was converting to road tires I heard him call on the radio that he had a flat tire. He put the Trackmobile back on the tracks and drove into the shop where he evidently fixed the flat since he was driving around again about a half hour later. The yard goats started their activities about 8:30. I saw three EB (two stackpacks and an Autorack) come down the hill and thru the yard but no WB showed up before I left. Met an EB manifest approaching Green River as I crested the hill near Peru and that was it for awhile. Since I had a little time and it was a beautiful day, I drove into Evanston to see the 28 stall roundhouse they are trying to preserve. Most of the window panes are broken but otherwise it looks in pretty good shape. There was a WB manifest in the yard that started rolling about the time I completed my inspection. Met a stackpack climbing up Echo canyon as I descended, the lead loco had the US flag painted on the side but it looked a little strange since the blue star field was on the right while we normally see the star field at the left (that's so the waving flag flows backward on the right side of the locomotive - the left side looks okay). Also passed a WB Autorack near Morgan, UT. Made a quick tour of the Riverdale Yard on my way into Ogden but didn't see much activity so I headed for Union Station to set up. After unloading and completing most of my set-up, I drove to the Sleep Inn I usually stay at to see if I could get a better rate on a room. The 800 number was still quoting the $120 per night Olympics rate when I called, but the woman at the desk gave me the usual $48 per night for the four nights so I cancelled my reservation at the downtown Motel 6. Back at the show, I completed my set-up and had an early dinner at the Union Grill - the seafood fettuccini special was excellent! I also stopped in the gift shop and bought four books on Utah railroading, one of which had a good foldout map of the Ogden Yard and another was a compilation of paintings by Gilbert Bennett, which I got him to autograph for me Saturday morning. Friday night I had a few sales but mostly it was time to visit with old friends. My former D&RG, SP and now UP engineer friend was scheduled for a yard goat in Salt Lake at 11 PM (and later reported a busy but boring night switching 300 cars). Saturday and Sunday were both reasonably busy but the sales just didn't add up to previous years. After loading out Sunday evening, I spent a couple hours until dark at the wye watching a little rail activity before heading for dinner. The Chinese Buffet I had planned to visit was out of business so I settled for Souper Salad.
After a leisurely breakfast at the motel, I got to the wye about 8:45 AM prepared for a full day of train watching. Between trains I did my accounting from the show, prepared the Utah Sales Tax Return and also, for the first time on the road, prepared a bank deposit since I had noticed in the phone book that there was a US Bank in Ogden. There are four dispatchers on the radio in Ogden, one for the yard, one for traffic East to Wyoming, one for traffic through Salt Lake City and one for WB traffic across the Salt Lake on the old SP line. Sometimes it takes some careful listening on the scanner to figure out which one is talking. When there appeared to be a lull in the rail activity about 11AM, I made my trip to the bank and also picked up lunch at Carl's Jr.s. After lunch, I started reading EMPIRE EXPRESS, BUILDING THE FIRST TRANSCONTINENTAL RAILROAD by David Howard Bain between trains but didn't get very far. Altogether I saw 36 train movements in my 10 hours at the wye and had a train in view most of the time, thus the slow progress on the book. Unfortunately there wasn't anything unusual. Of the approximately 100 locomotives I saw, only four had the new flag logo on them. There were a couple of the aluminum covered steel coil cars built in Colorado Springs in the yard on my way to dinner at Souper Salad again, but they were gone Tuesday morning when I made my circuit of the yard and stopped at the post office. I mailed my sales tax return and was able to buy 10 sheets of the baseball parks stamps.
Didn't see anything between Ogden and Salt Lake City, but there was a stackpack at Magna waiting to go to LA. There was also some switching activity in the small yard on the south side of the lake and an EB local near the Morton Salt plant. I met an EB stackpack near Argonite and that was it for the trip across the salt flats. There are always a bunch of rail cars in the Wendover yard but I've never seen any locomotives doing any switching there. Passed a WB stackpack about 10 miles East of Elko and a WB manifest a couple miles further on. The Elko yard was full with a stackpack waiting to go each way and a couple EB manifests. There was a local doing some switching in Carlin and a long string of empty Autoracks stored there. Didn't see anything else until just east of Winnemucca where I saw EB and WB manifests passing each other. Saw the short one loco EB TOFC I've seen a couple other times just east of Valmy. As I reached Fernley, I realized that if AMTRAK's EB CALIFORNIA ZEPHYR was close to on-time I would meet it in the canyon between Fernley and Sparks with a closing speed of about 140 mph - not conducive to a good view. So after gassing up at Pilot, I puttered around in Wendy's with a bowl of chili and a Frosty. Having completed that, I went to my car and waited another five minutes before #6 raced by - three P42s, a baggage, eight Superliners and eight Express boxcars. That accomplished, I continued on to Reno where I checked into my motel, then headed to the Reno Hilton for their Grand Canyon Buffet and also lost my allowance to the "Wheel of Fortune".
As I left Reno on a rainy morning, I met an EB Autorack coming round the bend as I started up the hill near Boomtown. At the Truckee Agricultural Inspection Station, all the truckers were putting on their chains for the climb over Donner Pass although the warning signs still said "No Chains Required". The rain changed to snow as I climbed above 6000 feet and the roads got a little sloppy but not particularly bad. Through the snow and fog just past the summit, I was surprised to find myself alongside another EB Autorack. The snow turned to rain again as I descended to 6000 feet and the roads cleared so all the truckers were pulling off to take their chains back off. With the heavy rain and the spray from all the 18 wheelers, the descent was like driving thru a 50 mile two lane carwash! I passed a WB Autorack at Emigrant Gap on the way down, arriving at the Roseville Yard about 11 AM. After a stop at the station to pick up a new AMTRAK schedule and a quick walk in the rain to see the engine repair shops, I drove along the North side of the yard looking for a good vantage point. My previous spot on the South side at Antelope was convenient, but the hump trains often blocked the view of the mainline. I found a great spot near the departure yard leads on the main access road near the yard mailbox. The UP had installed two concrete barricades across the road (maybe in response to 9/11) just short of the gate accessing the mainline. Looked like a nice safe place to park, out of traffic without having to pull off road into the mud. One hump train was slowly backing its string of cars over the hump while another hump train was pulling its train West into position on the south hump track. A set of four locos came light EB into the yard and backed onto a string of cars on one of the departure tracks followed shortly by an EB manifest entering the yard. About that time the South hump train started backing its cars over the hump. At 12:16 PM, EB AMTRAK #6 rolled by with Genesis 164, 161 & 137 all in the new paint scheme, one baggage car, eight Superliners and six Express Boxcars, just a few minutes late. Several other train movements kept me entertained while I also listened to the scanner. Transmissions on the radio are always extremely polite and without profanity, so shortly after hearing "Flanger 580" requesting approval to leave the engine service area EB, I was somewhat surprised to hear an agitated voice call "There is snow on the mountain. Will someone help me get out of this damn yard!" (Or words to that effect.) Piecing together scraps of several conversations that followed, it seems that someone had left a switchlock on the flanger's track making it impossible to get out. They didn't locate the switch key but somehow managed to crowbar the switch enough to get the flanger train out and up the mountain on its snow clearing mission. (It evidently had plenty to do up there since it still hadn't returned when I left 48 hours later.) Just after 2 PM, I heard the hump engine crew call for a "Special Agent" to check out a car at my location. It took over an hour before the railroad police car showed up. He said "Just watching trains?" I said " Yes. I'm not in anyone's way am I?" He said "No. Just don't go out onto the tracks." I said "I won't." He said "Have a good day" and waved as he left. I waved back. There was almost continuous action of one type or another - thru trains on the main or on the south bypass, trains departing the yard WB or entering EB, light locomotive movements to and from trains and the continuous hump movements. At 4:05 PM, WB AMTRAK #5 raced by 90 minutes late - Genesis #175, 156 &192, eight Superliners, one baggage and eleven Express Boxes including three of the new "EXPRESS TRAK" cars. I did manage to also do some reading amid the rail action. After AMTRAK #538 - four bi-level cars pushed by F59P #3501 came by in the near darkness at 6:24 PM, I gave up my spot and made a swing around the yard on the way to my motel, passing a string of 31 locos in UP, SP and D&RG colors slated for sale or scrap on the southmost track of the "Rockpile" - as the South bypass tracks seem to be called. To be completed next month.
RAIL THOUGHT OF THE MONTH: "The railway, has always been the main artery of land transportation, plays a vital role in both public service and national defense." Taiwan Railway Annual Report 1983. I think this is as true today for the USA as it was for Taiwan then.
Don't let Congress's shortsightedness emasculate AMTRAK!
RAIL FACTS AND FEATS: Mail was first carried by train on the Liverpool & Manchester Ry on November 11, 1830.
STAMP OF THE MONTH: Are these 1960 EUROPA stamps TRAIN stamps? In going through the Tucson collection, I found what I thought was a side collection of the first issue EUROPA stamps. But the write up states: "These 36 stamps were issued to commemorate the first anniversary of the establishment of C.E.P.T. (Conference Europeenne des Administrations des Postes et des Telecommunications). The 19 spokes of the stylized locomotive wheel on a track symbolize the 19 founding members of the conference." (Emphasis added). There is no reference source sited, but I have found his other write-ups to be quite accurate. Should all stamps with the EUROPA (C.E.P.T.) logo be included as train stamps? Can anyone confirm the railway theme origins of the logo?

May all your signals be green,

AL PETERSON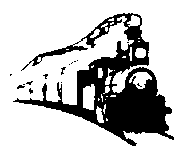 <![if !supportEmptyParas]> <![endif]>
<![if !supportEmptyParas]> <![endif]>
AL PETERSON
THE RAIL PHILATELIST
P. O. BOX 25505
COLORADO SPRINGS, CO 80936
<![if !supportEmptyParas]> <![endif]>
<![if!supportEmptyParas]> <![endif]>
<![if !supportEmptyParas]> <![endif]>
1-800-807-RAIL access code RR or 719-591-2341
http://www.railphilatelist.com/ or e-mail railphilatelist@aol.com
JOIN THE CASEY JONES RAILROAD UNIT OF THE AMERICAN TOPICAL ASSOCIATION
Dues $8.00. Contact Contact Bill Senkus @ CJRRU-ATA P.O.Box 4584, Walnut Creek, CA 94596-4584