The Rail Philatelist
News & Notes Back Issues
| Oct. 1996 | Nov. 1996 | Dec. 1996 |
| Jan. 1997 | Feb. 1997 | Mar. 1997 | Apr. 1997 | May 1997 | June 1997 |
| July 1997 | Aug. 1997 | Sept. 1997 | Oct. 1997 | Nov. 1997 | Dec. 1997 |
| Jan. 1998 | Feb. 1998 | Mar. 1998 | Apr. 1998 | May 1998 | June 1998 |
| July 1998 | Aug. 1998 | Sept. 1998 | Oct. 1998 | Nov. 1998 | Dec. 1998 |
| Jan. 1999 | Feb. 1999 | Mar. 1999 | Apr. 1999 | May 1999 | June 1999 |
| July 1999 | Aug. 1999 | Sept. 1999 | Oct. 1999 | Nov. 1999 | Dec. 1999 |
| Jan. 2000 | Feb. 2000 | Mar. 2000 | Apr. 2000 | May 2000 | June 2000 |
| July 2000 | Aug. 2000 | Sept. 2000 | Oct. 2000 | Nov. 2000 | Dec. 2000 |
| Jan. 2001| Feb. 2001 | Mar. 2001 | Apr. 2001 | May. 2001 | June. 2001 |
| July 2001 | Aug. 2001 | Sept. 2001 | Oct. 2001 | Nov. 2001 | Dec. 2001
|Jan. 2002| Feb.2002 | Mar.2002 |Apr.2002 |May.2002 |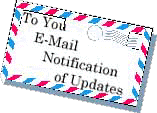 AL'S RAILINGS-
NEWS
&

NOTES

ON RAILWAY PHILATELY
Volume 7 Number 9
................

PRICE $1.50 (10 ISSUES FOR $12.00)

...............

June 1, 2002

Dear Fellow Rail Philatelist:

I certainly haven't gotten any more efficient in the past month, but now, at least, I am an award-winning author. My HIGH NOON HIGH LITES & HIGH JINKS monthly bulletin for my HIGH NOON SERTOMA CLUB won first place at the Greater Rocky Mountain regional convention in mid-May among over 50 clubs participating so I'm honored. I don't think the news will make the national media nor will it improve my standard of living.

MY "FAREWELL TO AMTRAK TOUR": The confluence of several events - Amtrak's threat to cancel all long distance trains on Oct. 1, 2002 if they don't get over a billion dollars in operating funds, their 30% discount offer thru June 15, my 62nd birthday, and the prospect of my first Social Security check to help pay for it - compelled me to finally call Amtrak and schedule the trip I've been dreaming about for the past few years. During a lull in the train action in the Roseville yard on my way to WESTPEX in San Francisco the end of April, I pulled out my Amtrak schedules and a blank piece of paper. The result was a plan for a 12 day, six train, 8554 mile trip around the western USA starting from Denver, CO at 9 AM, June 2, 2002 on the CALIFORNIA ZEPHYR (CZ), connecting in Sacramento, CA with the COAST STARLIGHT (CS) to Seattle where I'll spend a night before catching the EMPIRE BUILDER (EB) to Chicago, IL. After a night in Chicago, I'll ride the CITY OF NEW ORLEANS (CNO) to the Crescent City, spend a night before catching the SUNSET LIMITED (SL) to Los Angeles, CA for a connection with the SOUTHWEST CHIEF (SC) for the trip back to La Junta, CO, arriving about 9 PM June 13, 2002. If I had more faith in Amtrak's ON-TIME performance, I could theoretically complete the trip in just 10 days by making a one hour connection with the Portland, OR section of the EB and also making a scheduled three hour forty minute connection in Chicago with the CNO. Since the SL runs only three times a week (all the others are daily), a miss of either close connection would result in a two or three day delay waiting for the train in New Orleans. Consequently, I set myself a minimum eight hour connecting time between trains so I wouldn't have to worry about any of the trains running their typical two - four hours late. Saturday night after WESTPEX and dinner with friends where I discussed my travel plans, I called Amtrak to make the reservations. The trip was too complicated for the automated system to handle - "Judy" or "Julie" kept putting me on a bus from Denver to La Junta. I finally figured out how to speak with a human agent. She was extremely pleasant and helpful but I had to laugh when she said "You realize, sir, that you will have a long delay in Sacramento." I said, "Since the CZ usually runs late, I just hope eight hours is enough time to make the connection." She laughingly replied, "I guess you're familiar with Amtrak." I planned to book an economy sleeper for the CZ, EB, and SL, but the CZ was sold out. In coach, the entire trip would have cost just $280.00 plus meals and three nights in hotels. With sleeping cars on the two longest segments, my ticket was $1144.00. That price includes all meals on those two trains but is still pretty expensive, primarily because I am really paying for the space of two travelers in a sleeper. Later when talking with a friend about the planned trip, he suggested I call Amtrak every couple days to check on sleeper availability on the CZ. Sure enough, when I called Amtrak, they had a sleeper available. But at $364.00 for just a 31-hour trip, I decided coach would be fine. Five days before I was scheduled to leave, Amtrak called to confirm my tickets (which I had mailed to me) and to offer me specials on sleepers for the CS and SC. At $100.00, I took the CS sleeper offer but deferred the SC because I was planning to be a macho man and stay awake all night keeping track of all the passing trains on the busy BNSF mainline. I asked about specials on the CZ and the CNO but there weren't any. This will be my first Amtrak trip (and I hope not the last). I'll report on the trip in more detail in the July newsletter.

NEW COMPUTER/DIGITAL CAMERA: I've been debating buying a new laptop computer ever since my problems with the MAC in January so I've been watching all the computer ads and have even placed several unsuccessful bids in the DELL website auctions. People were outbidding me at $800 or more for reconditioned computers with 700 MHZ chips, 20 Gigabyte hard drives, 512 Megabyte Ram with ordinary CD ROM drives and Windows 98 software! Nothing seemed to be available with the Windows 2000 or 2000 Professional I really wanted and new computers come only with Windows XP. I didn't really want Windows XP because of the many horror stories I've heard, but when CIRCUIT CITY ran an ad for a COMPAQ Presario with a 1.1 GHZ processor, 20 Gigabyte hard drive, 256 Megabyte RAM, combination DVD/CD-RW drive and Windows XP for only $1049.99, I decided to go with the new technology. They also offered a Panasonic digital video camera with still capabilities for $599.99. With a new granddaughter nearby and another visiting in July, I decided a camera was essential (and it would be great for the Amtrak tour too!). After confirming that CONSUMER REPORTS gave the Panasonic camera high marks, I went shopping, first to COMPUSA and BEST BUY, to check out their offers, then to CIRCUIT CITY to make my purchases. At BEST BUY, I heard a guy asking the clerk about a Panasonic with a 3.5-inch screen, but they only had cameras with 2.5-inch displays. Ran into the same guy in CIRCUIT CITY as he bought a camera with the 3.5-inch display that had been sold and returned. I really liked the bigger display, but the only one left was the demo unit, so I bought it at a slight price discount plus a $50.00 gift certificate. I still haven't tried all the bells and whistles on the camera but I practiced enough on my granddaughter Christine when they were over for Memorial Day that I'm comfortable with the basic operations. I spent most of an afternoon running around to several stores trying to find a five hour battery for the camera with no success until a guy in a camera shop suggested SOUND TRACK - they had the one I needed. Then the trick was to get the camera and the computer to play together. As you might expect, the software that came with the Panasonic camera didn't work with Windows XP (not much does evidently). It did work fine with the Windows 2000 Professional on my DELL desktop. I was able to transfer and save video clips and still pictures from the camera to the PC almost too easily. But that wouldn't do me much good when traveling so I spent over three hours downloading software from the Panasonic web site that was compatible with Windows XP. Took me another hour to get it installed and working properly. Why can't Microsoft make their products backwards compatible rather than making everyone dance to their tune!

MAY TRAVEL: The trip home from WESTPEX had quite a bit of train action. The Roseville yard didn't seem to be awake yet when I made my 7 AM drive by - nothing was moving in the main yard, not even the usual hump train. There was a beautiful green and yellow "California Western" passenger car sitting in the center of the yard. The blue with white letters Boise Locomotive Works switcher pair were pulling away from the engine service tracks as I drove by and there were two visitors at the engine repair shops - yellow with black stripes Yolo Shortline GP-9R #132 and Rail Power's #2001 "Green Goat" "Ultra Clean Hybrid" that looks like a switcher/slug pair but is really (according to TRAINS July 2002 p.23) "a large bank of special lead acid batteries trickle charged by a fuel-efficient 100-hp Daewoo truck engine rather than a traditional locomotive prime mover". A WB manifest pulled by the Roseville station and a pair of locos running light was moving slowly EB as I headed for Donner Pass. I met a WB grain train at Auburn, then nothing until I met a WB manifest at Verde, NV about the time I turned off into Reno looking for a US Bank to make my deposit from a successful show. After breakfast in the Hilton's Grand Canyon Buffet, I headed east meeting or passing 10 trains of all types before meeting the WB CZ at 4:11 PM just east of Elko, NV - P-42s #88, 190 & 192, a baggage car and eight Superliners running 12 hours late. I thought, "If it's that late when I'm on it I'll miss my CS connection!" Met a coal train and a stackpack before passing over another stackpack on Silverzone Pass, then three manifests and a stackpack on my way across the salt flats into Salt Lake City. My usual dinner choices were all closed as I approached Ogden, so I settled for Carl's Jr., drove by the Riverdale yard where nothing appeared to be happening at 10:30 PM and headed for the Sleep Inn. There still didn't seem to be anything happening in Riverdale Tuesday morning when I drove by. I met a couple WB stackpacks in Weber Canyon and an autorack and manifest, both WB in Echo Canyon. Things were pretty normal in Green River, WY - they were unloading a string of five stackpacks in the intermodal yard, the Trackmobile was pulling a string of covered hoppers into the light repair building, there was a smattering of locos at the service facilities and ready tracks, an autorack and a manifest were waiting at the station for a crew change and clearance to go west. The only thing unusual was that the west yard goat was switching a string of tank cars and boxcars rather than the usual string of covered hopper trona cars. Met only about 15 trains of all types between there and Cheyenne, but I passed two EB stopped side-by-side on the main just east of Sherman summit. There were all kinds of Union Pacific work trucks parked in the place where I usually park across from the Hitching Post Motel when I drove by at 4 PM. After transiting the bridge over the yard both ways and checking out the east end of the yard without seeing a train, I stopped to gas up and got my Monster Burger dinner from Hardee's. I heard on the scanner that the track workers would be clearing up at 4:30 but was still surprised to see that all the trucks were gone when I pulled into my favorite spot about that time. There were still three machines on the track and several men working as I opened my dinner and settled in. They quickly finished up and pulled all three pieces of work equipment into a siding off to my left as a SB BNSF manifest crossed the bridge over the yard throat to my right. Then five more pieces of yellow work equipment came in from the east and started backing into the siding. They had just cleared the mainline when a swarm of work equipment came in from the west - yellow machines of every shape, size and description, many towing little four wheel carts loaded with tools or ties or fishplates, etc - 53 in all. Wish I'd had my camera to record all the interesting variety, but I didn't own it then unfortunately. They had a truck-mounted crane near the siding lifting some of the machines off the track since it evidently wasn't long enough to store all of them. Once the work crews had cleared the mainlines the parade began. Stackpacks and TOFCs that had been stopped on each side of Cheyenne started rolling by, mostly WB but the EBs I had seen earlier rolled in about 6 PM as I headed south. That was it for the rest of the trip but that was a fitting conclusion to a great train-watching trip!

ROMPEX: Well that's what they used to call the major stamp show in Denver. This year they renamed it the ROCKEY MOUNTAIN STAMP SHOW 2002. Probably a better name but ROMPEX is easier to type! I didn't have a booth, but I went there shopping Friday and Sunday (baby sat my granddaughter Saturday). As usual, I found quite a bit of material at A&D Stamps plus a couple other places, but was saddened to learn on Sunday that a couple dealers had been victims of a thief or thieves on Saturday. I also met with an exhibitor friend/occasional customer who sold me his accumulation of Danish and German railway parcel stamps so I have even more stuff to work up. There wasn't much rail activity on either of my trips, but I noticed that all the BNSF coal trains (loaded and empty) had distributed power - two SD-70MACs on the point and the rear but no helpers. Maybe BNSF has eliminated manned helpers out of Denver.

RAIL FACTS AND FEATS: The world's longest railway journey would be from Lisbon, Portugal to Kowloon, Hong Kong, 8686 miles with train changes in Paris, Berlin, Warsaw, Moscow (also a station change), Peking, and Canton.

RAIL THOUGHT OF THE MONTH: Save Amtrak!

STAMP OF THE MONTH: So many new issues are such blatant rip-offs, issued only to separate collectors from their money with no connection between the stamp subject and the issuing entity (country wouldn't be appropriate in many cases), that it is refreshing to see a new country like Slovenia issuing train stamps that not only relate to their history but are also tastefully designed and printed. Thus far Slovenia has issued six stamps depicting steam locomotives: Scott #203 Series 56 0-6-0 #5722, #233 KRB 37 "Podnart" 2-4-0 (looks like an 0-6-0), #243 "Ausee" 4-2-0 #32, #291 SZ03-002 4-6-0, #325 SZ06-018 2-8-2, and #363 "Terglou" 4-4-0. Scott, in their usual efforts to save space, only illustrates #203 so I thought I should show them all. Scott lists the others as "Railways Type of 1994". The six stamps make a colorful grouping.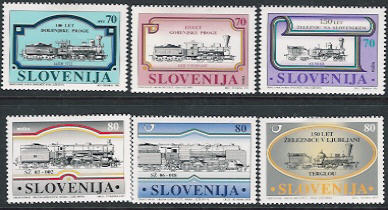 May all your signals be green,

AL PETERSON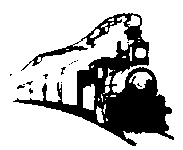 <![if !supportEmptyParas]> <![endif]>
<![if !supportEmptyParas]> <![endif]>
AL PETERSON
THE RAIL PHILATELIST
P. O. BOX 25505
COLORADO SPRINGS, CO 80936
<![if !supportEmptyParas]> <![endif]>
<![if!supportEmptyParas]> <![endif]>
<![if !supportEmptyParas]> <![endif]>
1-800-807-RAIL access code RR or 719-591-2341
http://www.railphilatelist.com/ or e-mail railphilatelist@aol.com
JOIN THE CASEY JONES RAILROAD UNIT OF THE AMERICAN TOPICAL ASSOCIATION
Dues $10.00. Contact Contact Bill Senkus @ CJRRU-ATA P.O.Box 4584, Walnut Creek, CA 94596-4584