The Rail Philatelist
News & Notes Back Issues
| Oct. 1996 | Nov. 1996 | Dec. 1996 |
| Jan. 1997 | Feb. 1997 | Mar. 1997 | Apr. 1997 | May 1997 | June 1997 |
| July 1997 | Aug. 1997 | Sept. 1997 | Oct. 1997 | Nov. 1997 | Dec. 1997 |
| Jan. 1998 | Feb. 1998 | Mar. 1998 | Apr. 1998 | May 1998 | June 1998 |
| July 1998 | Aug. 1998 | Sept. 1998 | Oct. 1998 | Nov. 1998 | Dec. 1998 |
| Jan. 1999 | Feb. 1999 | Mar. 1999 | Apr. 1999 | May 1999 | June 1999 |
| July 1999 | Aug. 1999 | Sept. 1999 | Oct. 1999 | Nov. 1999 | Dec. 1999 |
| Jan. 2000 | Feb. 2000 | Mar. 2000 | Apr. 2000 | May 2000 | June 2000 |
| July 2000 | Aug. 2000 | Sept. 2000 | Oct. 2000 | Nov. 2000 | Dec. 2000 |
| Jan. 2001| Feb. 2001 | Mar. 2001 | Apr. 2001 | May. 2001 | June. 2001 |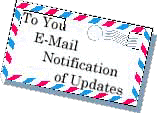 AL'S RAILINGS-
NEWS
&

NOTES

ON RAILWAY PHILATELY
Volume 6 Number 8 PRICE $1.00 (10 ISSUES FOR $8.00)
July 1, 2001

Dear Fellow Rail Philatelist:

I didn't do any traveling in June because of Sue's surgery so I did all my railfanning via computer at the Rochelle web cam and thru the games mentioned below. Not quite as good as the real thing but certainly better than no trains at all! The new issue controversy is still swirling but I'll give it a rest this month for the most part. Hope you are having a great summer!

DREADED RED DOT: With a recent 50% increase in printing costs and the pending postal rate increase, it becomes imperative that I cull the mailing list once again. Each individual mailing now costs $1.37 plus my time and effort licking, sticking and stuffing to say nothing of the time spent creating them. So, if your mailing label has a RED DOT, this is your last mailing unless I receive an order or some other form of remuneration for these monthly mailings (see mast head). Thanks to all of you who order regularly - keep those cards and letters (and checks) coming!

WEB PAGE UPDATES: My May web page updates went off without a hitch but the computer gremlins harassed me at every turn during the June updates. How else can I explain Lot # 411 in the Mail Bid Sale appearing after Lot #415 when I was ready to upload it to the web - it was in the proper place when I printed it out for the monthly mailing? And I encountered similar mysteries with every page I tried to upload. Even had problems with the photos - they all looked good when I scanned them but when I saved them they somehow became bigger than life-size so it took an inordinate amount of time to upload them. (That probably means customers will also have trouble downloading them). I think I worked around all the problems and learned quite a bit of HTML in the process although it took almost two full days. Thus far all my efforts have been to get the newsletter, monthly specials, new issues, two letters of the alphabet and the mail bid sale updated each month. My new goal is to work on getting some of the other pages updated on a regular basis also - there are some that haven't been changed for a couple years! Wish me luck!

MORE ON MAURY PAUTZ'S ROMPEX EXHIBIT: Maurice Pautz sent me the following email concerning the judges' critique of his ROMPEX exhibit. He has graciously consented to my sharing it with you: "I showed the exhibit at OKPEX last month to sort of test the waters before I showed it at ROMPEX. I got a second place there, but also received a special award for best in class. So the second place at ROMPEX was what I expected. I knew there were rough spots in the exhibit. After collecting train stamps and covers for about 5 years, I decided it was time to do something with them, so this was my first train exhibit. Your critique of my exhibit was pretty much in agreement with the judges at OKPEX and ROMPEX. They said I tried to do too much in 160 pages and that it might be better to break it up into two or three separate exhibits. Being in the display class, the judges said using RR logos and the self-created covers was O.K. Where they knocked my exhibit down was the first part with too much text. I agree, but was trying to do the educational part there. The second part, the A to Z, was too much of the same thing...stamps, and S/S. Here, I was trying to show the large variety of stamps, etc., that could be collected... and I only used about a fourth of my stuff. The other weak point was that I would have been better off using only stamps from countries that had their own trains, not like stamps from Tuvalu, etc. I thought about that about half way through that section, but didn't have time to go back and change it. Also, they said I could have used more R.P.O.s. One of the judges at OKPEX said that my exhibit was the best researched and most accurate of any train exhibit he had ever seen. That made all my work worthwhile. I do plan to change the exhibit when I get time. May show it at APEX in September if I can revise it in time."

MAURY PAUTZ'S FAVORITE TRAIN AND FAVORITE RAILROAD: In his ROMPEX exhibit Maurice Pautz used several "Galloping Goose" items to illustrate his section "My Favorite Railroad", thus the Rio Grande Southern claims the honor. As for the "World's Most Beautiful Train", Maury allowed as how many would vote for South Africa's "Blue Train", but he chose the Southern Pacific's "Coast Daylight" which he illustrated with several covers and postcards. Much to my surprise and disappointment, not a single reader even ventured a guess as to the above nor did anyone offer their "favorite" suggestions. Have apathy and ennui taken over out there too? Was that an "I don't know and I don't care" I heard?

WHAT DOES "SOLD OUT"REALLY MEAN?: For those of you who have received a "SOLD OUT" on one or more items you have ordered, that doesn't mean "FOREVER". In fact, I may have the items in stock when I fill your next order! Seems like every time I turn around, I'm stumbling across an item I reported as "SOLD OUT" to someone in the past week or less. I don't keep records of the "SOLD OUT" items from your orders for two reasons: (1) I'm already up to my ears in bookkeeping and haven't figured out a simple, easy way to keep such records. (2) You may have already found the item somewhere else by the time I come up with it. Since I am adding or working up new material every day, if you really want something I've listed but reported "SOLD OUT", put it on every order until I send it or I cry "Uncle"!

YOU CAN TELL A BOOK(LET) BY IT'S COVER: At least you can when it comes to stamp booklets and that's where the problem lies. The editors of the SCOTT CATALOGS had a good idea adding the special section on Great Britain booklets, but like almost everything else they do, the effort was less than successful. I guess they think all trains (or trams) are alike since they list just one £1.25 booklet (#BK514 Railway Engines) when in fact there are at least five different £1.25 booklets with distinctly different steam locomotives on the covers. Similarly, the £1.30 BK525 Trams should list four distinct cover types. To be fair, they include a (5) and (4) in the respective listings to indicate the number of cover types (assuming you were clever or bored enough to have read the fine print a few pages earlier). But knowing the number of types available does little to aid identification. A "catalog" should assign each item a distinct number and description. Thus for the Great Britain booklets I'll have to stay with the Stanley Gibbons numbers rather than reverting to SCOTT as originally planned.

CONFESSION: As much as I have railed against the flood of excessive, abusive, exploitive, unnecessary new issues, I have to admit I actually like some of them. While the latest set from Guinea is particularly abusive and over-priced with four souvenir sheets and six miniature sheets of 9, I find the designs and color selections particularly attractive, especially when compared with some similarly abusive sets from Ghana, Grenada and Grenada Grenadines whose colors and designs can most kindly be described as garish. Things were bad enough when some sets came out in two parts. Now they are coming in four and six parts. And it appears we have at least two sets coming out simultaneously from Congo Democratic Rep. (Zaire), Ghana and Grenada - formats are similar but design styles are different enough that they don't seem to belong together. This has me going in circles trying to straighten them out. In fact, I think I mixed a SS from one Congo set with a MS from the other set in the June new issues. Why can't they be satisfied to issue just one trashy set at a time! (Ooopps! There I go again. Sorry, I just can't seem to control myself when it comes to new issues.)

MICROSOFT TRAIN SIMULATOR: The railroad magazines have had full-page ads for Microsoft's new game "Train Simulator" for a few months but no price or ordering information. So when Sunday's papers the first weekend in June included a Circuit City ad @ $39.95, a Best Buy ad @ $34.95 and a CompUSA ad @ $29.99, I rushed to CompUSA to get a copy. (Turns out the estimated retail price was $54.95 so $30 was a good deal!) The good news is now I can "play engineer" any time I want. The bad news is the game is somewhat disappointing. I'm not a "gamer" so I really don't have anything to compare it to but I feel the graphics are somewhat crude - trains even run without tracks in some scenes. My mouse offers limited control (read almost NO control) in several of the places where you have to click a choice, causing lost time and some frustration. I'm sure this is a program glitch because I haven't had a mouse problem with anything else I've done thus far on the PC and it also works fine for the main Train Simulator menus. At present there are just six train route choices: BNSF's Marias Pass in Montana and Amtrak's northeast corridor in the US; Japan's Hisatsu and Tokyo-Hakone lines; Great Britain's Settle & Carlisle line with the Flying Scotsman; and the Orient Express on the Innsbruck - St. Anton line in Austria. Each line is about 100 miles long. I still haven't spent more than a couple hours playing with it so maybe I'll grow to love it. Hey, for 30 bucks it's a good deal. I haven't checked the web to see any reviews or if Microsoft has offered fixes for the mouse problems but I'm sure Microsoft will add improvements and refinements if it proves popular, just like they have for their best seller, Flight Simulator. So, get out and buy a few copies!

RAILROAD TYCOON II:I stumbled across a copy of this train game and had to have it too. I had the original RAILROAD TYCOON on my old MAC SE30 and loved it in black and white, but it didn't work well on my laptop, so I had forgotten about it. The new RAILROAD TYCOON II is fantastic! (I say new but it was the 1999 PC Game of the Year so that shows how well I keep up). The graphics, animation and scenarios are all outstanding. You can have hours of fun with it building railroads, competing with the "robber barons", etc. I now turn to it for solace every time I get fed up with the new issues.

ebay: One of my customers called last week and asked me to look at an ebay RPO lot since it contained a couple items he really wanted but he couldn't use the other 90 or so covers in the lot. I hadn't had time to look at ebay for a couple years so after looking at the RPO lot, I looked around. WOW! It's a whole new world. There are over 12,000 listings for railroad collectibles on any given day plus a few hundred stamps that fit the railway topic. (Actually a SEARCH on "train*" brings up over 68,000 items but that includes "train", "trains", "training", etc while "rail*" brings up over 32,000 for "railroad", "railway", "railings", etc. I haven't figured out the "ideal' search yet. Any suggestions?) To make a long story short, I'm hooked. I've spent a couple hours or more every day since and I still haven't touched all the possibilities. I got "sniped" (outbid in the last minute or less) on the first three items I bid on - really wanted a couple of them too! Turns out there is even a chat page where these ever-adolescent egomaniacs brag about their exploits (or conquests) and there are a couple web sites to teach you how to snipe and even special software to improve your odds at sniping. Certainly not my cup of tea, but I think I've learned at least one way to beat them at their game (or at least cost them a lot more than they wanted to pay). After the initial lack of success, I'm now winning most of the lots I really want and only losing the ones that were just too cheap to pass up but not really anything to waste a lot of time and energy (or money) on. Thus far there appear to be three types of listings: Over-priced because the seller hasn't a clue as to the value of his item (or doesn't really want to sell it)(e.g. "block of 4 Casey Jones stamps" with minimum bid of $3.00-a plate# block catalogs $0.35), fairly priced items, and BARGAINS, again because the seller doesn't have a clue as to the value (or he really wants to sell it!). Needless to say I'm concentrating on bargain hunting. With my eclectic tastes in railroadiana, there are usually at least 100 items worth bidding on each week. So far I've won about 70% of my bids, paid for them and am waiting around for the mailman to show up! One of the side benefits of my searches is that I've bumped into quite a few dealers I know from the show circuit, so I've been able to query them about their ebay experiences. But as one of my experienced counselors pointed out "In the long run, you'll find ebay isn't as "interesting" as it appears to be now. There is lots and lots of junk to wade thru, and you will spend many hours searching, bidding, tracking, sending loads of checks, record keeping, etc. for $5/10 items, which you then have to reprocess if they are for resale." I obviously still have a lot to learn before I'm ready to become an active player much less a "power seller"(r) on ebay. Stay tuned.

RAIL THOUGHT OF THE MONTH: "A bad day railfanning still beats a good day at work." Even if you love your job!

RAIL FACTS AND FEATS: Steel rails were first laid in the US by the Pennsylvania RR in 1863 in Altoona and Pittsburgh, PA under the supervision of John Edgar Thomson (1808-74) the third president of the PRR and himself an engineer.

STAMP OF THE MONTH: Austria always seems to do an excellent job with their stamp designs so I am past overdue in recognizing them. Scott #1840, one of last month's new issues, honors the 100th anniversary of the Zillertal railway. It is particularly attractive both in design and in the color selections.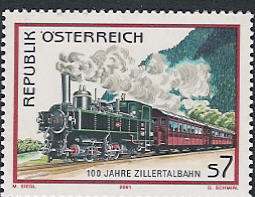 May all your signals be green,

AL PETERSON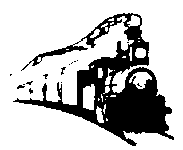 <![if !supportEmptyParas]> <![endif]>
<![if !supportEmptyParas]> <![endif]>
AL PETERSON
THE RAIL PHILATELIST
P. O. BOX 25505
COLORADO SPRINGS, CO 80936
<![if !supportEmptyParas]> <![endif]>
<![if!supportEmptyParas]> <![endif]>
<![if !supportEmptyParas]> <![endif]>
1-800-807-RAIL access code RR or 719-591-2341
http://www.railphilatelist.com/ or e-mail railphilatelist@aol.com
JOIN THE CASEY JONES RAILROAD UNIT OF THE AMERICAN TOPICAL ASSOCIATION

Dues $8.00. Contact Oliver Atchison, PO Box 31631, San Francisco, CA 94131