The Rail Philatelist
News & Notes Back Issues
| Oct. 1996 | Nov. 1996 | Dec. 1996 |
| Jan. 1997 | Feb. 1997 | Mar. 1997 | Apr. 1997 | May 1997 | June 1997 |
| July 1997 | Aug. 1997 | Sept. 1997 | Oct. 1997 | Nov. 1997 | Dec. 1997 |
| Jan. 1998 | Feb. 1998 | Mar. 1998 | Apr. 1998 | May 1998 | June 1998 |
| July 1998 | Aug. 1998 | Sept. 1998 | Oct. 1998 | Nov. 1998 | Dec. 1998 |
| Jan. 1999 | Feb. 1999 | Mar. 1999 | Apr. 1999 | May 1999 | June 1999 |
| July 1999 | Aug. 1999 | Sept. 1999 | Oct. 1999 | Nov. 1999 | Dec. 1999 |
| Jan. 2000 | Feb. 2000 | Mar. 2000 | Apr. 2000 | May 2000 | June 2000 |
| July 2000 | Aug. 2000 | Sept. 2000 | Oct. 2000 | Nov. 2000 | Dec. 2000 |
| Jan. 2001| Feb. 2001 | Mar. 2001 | Apr. 2001 | May. 2001 | June. 2001 |
| July 2001 | Aug. 2001 | Sept. 2001 | Oct. 2001 | Nov. 2001 | Dec. 2001
|Jan. 2002|
AL'S RAILINGS-
NEWS
&

NOTES

ON RAILWAY PHILATELY
Volume 7 Number 5
................

PRICE $1.50 (10 ISSUES FOR $12.00)

...............

February 1, 2002

Dear Fellow Rail Philatelist:

There never seem to be enough hours in the day to get everything done and now I get a month with fewer days! I'll have to hustle to get the March mailing out before I leave Feb. 28 on my Ogden-San Francisco show trip.

E-MAIL CRASH: Computers -aaaarrrrgggghhhh! They're great when they work, but ... On the Arizona trip, my laptop got lost in cyberspace while trying to send and retrieve email. The AOL program locked up and the only way I could get off line was to unplug the telephone line and emergency shut down the computer. Subsequent attempts resulted in the same problem, so after an hour or so of frustration, I left my Gallup, NM motel room for an otherwise successful trip. Not only couldn't I receive or send email during the trip, but all the stored email files from the past year and all addresses were lost as well. Upon returning home, I spent eight hours trying to fix the problem, including seven frustrating calls to AOL Tech Support. In the process, we uninstalled and reinstalled the AOL software several times while exploring nooks and crannies of the computer that I'm sure I never want to visit again. All to no avail. To AOL's credit, they walked me thru all the potential software problems before, on the last call, suggesting that maybe my modem was dying. I thought that may well be the problem until I remembered I still had my original 14K external modem. When it encountered the same problems, I rejected the modem hypothesis and called AOL again. Another couple hours wasted with no solution. I'm beginning to suspect that AOL is no longer supporting 4.0 and is trying to force people to upgrade their service. Then I remember a former boss's credo: "Never attribute to malice, what can be explained by shear incompetence." Should I continue to try to get an out-of-date MAC laptop to work (it is limited to AOL 4.0), or am I better off buying a new Windows laptop compatible with my desktop PC, or should I get a Pocket PC (Palm, Handspring, HP Jornada, etc) that I can use on my now infrequent road trips for email and travel notes that will synchronize with my desktop when I get home? The latter was tempting until I visited AOL Keyword "PDA" and found from the discussion groups that AOL doesn't really support PDAs - you can only access email with the AOL software available - you can't connect to the Internet. Maybe it is time to junk AOL. Decisions, decisions, ... Anyone have any suggestions? In the meantime, I have transferred the AOL account to my desktop so I can again send and receive email. However, I've had some problems with AOL 7.0 as well requiring calls to Tech Support and reinstallation. If you have sent me an email message before Jan.26, 2002 that I have not responded to, assume it is lost in cyberspace. Please resend the message and I'll try to get to it this time. Thanks for your patience.

ATA HANDBOOK #138 SUPPLEMENT #2: Norm Wright informs me that the new 94 page Supplement #2 to WORLD RAILWAYS PHILATELIC (ATA HANDBOOK #138) is available from Paul Tyler, ATA Headquarters, P.O. Box 50820, Albuquerque, NM 87181-0820. Price is $10.00 plus postage. This yellow-paged supplement brings us up to date thru 12/31/01. It also contains a special new section on the Norway Post Horn issues which all have winged wheels in the corners that research by Jon Digranes indicates are intended to honor mail service by rail, so here is a whole new collecting area to pursue! ATA will be offering some special deals on purchases of the original handbook and both supplements but I don't have any details yet. There also are reports that Supplement #2 will also be available on computer disk in Microsoft WORD(r) format, but again, no further details from ATA yet. If you wish to place your orders thru me rather than directly with ATA, I will consolidate the orders, making one large order to ATA February 27, 2001. Don't send money, just indicate your desires for the Handbook, Sup.#1 and/or Sup.#2 (the latter on paper or disk).

CASEY JONES RAILROAD UNIT: As most of you probably know by now, Oliver Atchison will release the throttle and step down from the cab of the CJRRU in the next few months. He has been the engineer, fireman, conductor, brakeman, switchman, signalman, dispatcher, gandy dancer, ... as well as chief cook and bottle washer of CJRRU for longer than I care to remember. He certainly has earned his retirement, but he will be hard to replace. I don't think a single person can replace him. Thanks to all of you who have suggested I take over THE DISPATCHER. I'm flattered but I think that would create a conflict of interest since the CJRRU is a nonprofit and I am in business to make a profit even if I don't do so very often. There are several qualified individuals waiting in the wings that I expect to step forward shortly. Certainly, many of you are qualified. Why not volunteer your services? [ED: As this was going to press, Oliver's health took a sudden turn for the worse, moving up the transition timetable considerably. Fortunately, Bill Senkus (of Alphabetilately fame) has stepped into the breach, assuming control for the time being. At a special meeting on Feb. 4, the President and Board of Governors endorsed this transition by appointing Bill to the position(s) of assistant treasurer and editor of The Dispatcher. Norm Wright will continue to compile the "New Issues List" pages and serve as a special coordinator to the Board of Governors. I'm sure we all wish Oliver the best and will give Bill and Norm our full support.]

JANUARY TRAVEL: I originally planned to leave for the Phoenix show on Wednesday, Jan. 23, with a side trip to Tucson to appraise a deceased client's collection. However, the directions didn't arrive in time so we rescheduled the Tucson visit for Monday. That worked out well for me, not only because I didn't have to travel in Wednesday's snow storm, but I was able to update the web pages and fill some more orders plus attend my SERTOMA meeting where one of our members reported on his Thanksgiving trip to Chile to build a school in a rural area (and I got the club's bulletin prepared). Because of some last minute chores, I didn't get rolling until about 11 AM but I didn't see anything rolling on rails the entire 390 miles to Albuquerque, NM! I did see five stopped southbound trains - a coal train at Pueblo Junction, a manifest in Trinidad waiting to cross the old Santa Fe mainline on its way to Amarillo, TX, a manifest in Raton with a strange blue conveyor car and 15 unusual GREX yellow hopper cars numbered consecutively 2901-15 at the rear, a coal train with a CABOOSE near I-25 milepost 377 (maybe a work train - it was about a mile to the east of the highway), and a manifest near the Santa Ana Reservation north of Albuquerque. I didn't see either AMTRAK but I did hear a dispatcher tell a track foreman near Wagon Mound he had to "get AMTRAK thru there" but no mention of which one! The entire trip was made into a bright sun under a cloudless sky until the sun set while I refueled in Albuquerque. I thought I saw the lights of a WB to my rear near Acoma and an EB near I-40 milepost 66. I didn't hear anything on the scanner all the way to Gallup. As I ate dinner in my window seat at Long John Silver's in Gallup at 7:52 PM, AMTRAK's WB SOUTHWEST CHIEF roared by - four PH-42s (all in the new Acela paint scheme), a baggage car, eight Superliners, eight Express boxcars, and five Roadrailers. (Having AMTRAK that close behind me all day probably explains why I didn't see anything else moving.) At 8 PM, a WB local crept by. As I left the restaurant, I met an EB Intermodal. I caught up with the local as it entered the Gallup yard where an EB manifest waited and 10 locos filled the service tracks. An EB stackpack raced by as I got to my motel room. Eight trains (four each way, half stackpacks and half manifests) have passed in the two hours I've been working on the computer. (Getting AMTRAK out of the way cleared the high iron!)

By the dawn's early light, I watched two WB TOFCs while checking my email (more on that elsewhere!). Met two EB stackpacks as I drove toward the Arizona border sipping my free morning coffee. Saw the tailend of a WB near the border but it took me ten minutes at 70 mph to catch up with the coal train bound for the Joseph City power plant. Meeting an EB stackpack a few miles east of Holbrook told me I probably missed the EB AMTRAK in the Petrified Forest / Painted Desert area where the tracks aren't visible from the highway. In Holbrook, there was a string of about 50 faded blue Southwest Forest Products loaded coal hoppers waiting for the Apache RR to come pick them up along with a short string of boxcars. There were four BNSF road locos on one yard track and two more on another. I assume the six locos had brought the coal train in shortly before I got there. Meeting an EB Intermodal and a manifest before getting to Winslow confirmed my suspicion about AMTRAK. The "Amarillo" wrecking crane was in the same spot as I last saw it and a pair of geeps were working a string of cars at the east end of the Winslow yard. There were an EB and a WB stackpack at the engine service facilities on the west end. I had caught a couple glimpses of a WB TOFC before I reached Holbrook but with the detours into Holbrook and Winslow, I didn't pass it until Twin Arrows. I passed another WB TOFC in Winona as it passed a work train parked on the Phoenix "Kick track". Then I passed a WB Intermodal and a short stackpack. As I pulled into the Village Inn on the east side of Flagstaff for a late breakfast, a WB autorack was setting out a bad order Grand Trunk autorack that was probably reported by the defect detector at milepost 363.2. While eating, I heard it report "No defects. 54 axles" and "No defects 140 axles" as the other WBs approached. The TOFC from Winona also passed by as I was leaving. Blonde geep #8710 with two boxcars was sitting empty near the Flagstaff station as I drove thru town. The Santa Fe RR took a western arc thru Ashfork for a gentle descent from Flagstaff to Phoenix while I-17 takes the more direct roller coaster route, descending from over 7000 ft to 3000, back up to 5000, down to 3000, up to 4000, down to 2500, up to 3000, then down below 2000 ft with numerous other minor peaks and valleys along the 140 mile ride (not an easy trip for a loaded van in either direction). Got into Phoenix just after 1 PM, checked into my Mesa motel and then went to the show site to unload. The unloading went smoothly but I didn't complete my setup. I covered up about 3 PM and drove north to Scottsdale to spend some time in Molnar's Stamp and Coin. I had a little over two hours to go thru all the souvenir sheets, bargain boxes and the "I" boxes before closing. Found about $100 worth of stuff that will show up on future lists but nothing especially exciting. One of my good customers drove over from the Los Angeles area and showed up at Molnar's just before closing so I took him to JB's for dinner to catch up on things. Got to my room about 8 PM, made some calls and typed this up while watching CAST AWAY on HBO.

Got to the show site just before 8 AM Saturday morning and talked with a California cover dealer while waiting to get in. (He came because he got a $45 round trip from Sacramento to Phoenix on United!). Completed my booth setup and then checked out the rest of the show - about 30 dealers almost all heavy into postcards. My client showed up shortly after the 10 AM opening and we got down to business. He had identified some items he needed from the collection I bought in St. Louis when he saw me at WESTPEX last year but I hadn't had time to work them up. He had brought his Ceres, Michel and Yvert catalogs and spent the entire two days of the show identifying and pricing Algerian parcel post and other esoteric material. He even worked on some stuff in his motel Saturday evening so the least I could do was buy dinner at a decent Mexican restaurant. After dropping him at his car, I stopped at BOOKMAN, a used book, tape and magazine store and walked out with a bakers dozen train books which I spent the rest of the evening paging thru. Page 149 of AN AMERICAN JOURNEY BY RAIL by Timothy Jacobson contained this Dudley Witney picture of the semaphore signals at Wagon Mound, NM that I've mentioned in the past. I-25 is to the right.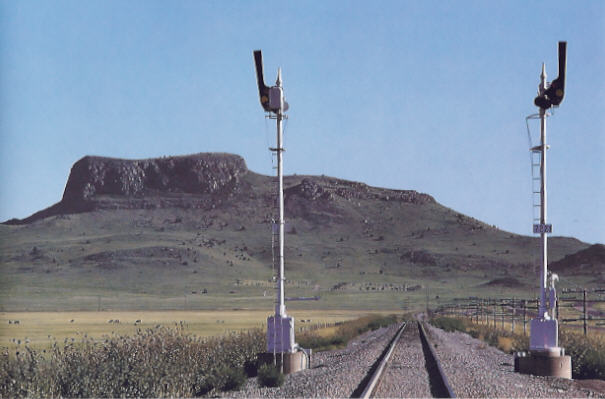 I'm happy to report that at least a few of them are still there (at least until the repair parts run out!). There must be a small rail yard in downtown Mesa since there was always a string or two of cars on the Broadway overpass as I drove back and forth under it and I heard train whistles both mornings. On Sunday morning, as I drove to Queen of Peace for the 7 AM Mass, one of the car strings was moving east but I couldn't see the loco. Thanks to Bill's presence at my booth, I was able to run around checking out all the other dealers. I bought something from about half the dealers present but also reconfirmed my feeling that postcard dealers price their train postcards much too high - usually at least twice what I would think of asking for them (and some into the $40's and $50's). Thus I had to work pretty hard to find any bargains. Even so I spent somewhat more than I sold. Except for a good flurry of activity around noon on Saturday, Bill was usually the only one at my booth. Nevertheless, I've signed up to do the show again next year. Always give them a second chance. The move-out went smoothly and I was on I-10 headed for Tucson in the 5 PM twilight. There was a long string of cars including several loaded lumber bulkhead flats sitting on the Pinacho siding but I didn't see any locos anywhere. It was too long to be a local but maybe the thru trains drop a block of their train there for pick up and delivery later the 20 miles or so north to Phoenix. Anyone know? Met a WB manifest about 30 miles from Tucson, then a stackpack 5 miles further on, and an autorack a couple minutes later. Met another autorack 12 miles further on. The sacrifices I make for trains! Turned out that the motel rooms with the best view of the tracks were all smoking, so I took the one closest to the tracks. Then went next door to Perkins for dinner, where it also turned out that the smoking section had the trackside window. Thankfully, they had good ventilation so the room wasn't blue with smoke as I ate my salmon and watched a WB stackpack race by in the dark. Back in my room, I saw three more WB stackpacks (one about every 30 minutes). Fortunately, they blow for the crossing so I had time to get to the window. The first EB was a stackpack at 9:09 PM followed at 9:29 by a WB manifest, then an EB manifest ten minutes later. At least four EB stackpacks came by after I turned in for the night, so there may have been some I didn't hear and run to the window for. I awoke at 5:30 AM to an EB manifest followed ten minutes later by an EB stackpack and then an EB autorack seven minutes later. Then nothing, even during my 7 AM breakfast meeting with my deceased client's son. He has no interest in the train stamp collection but is an avid railfan and model railroader so we had an interesting discussion on our mutual interests. Started going thru the extensive collection about 8 AM and worked at it continuously until 6 PM, when I finally tallied things up and made an offer. The offer was for more than they expected but they still needed to confer with other family members. Since I had planned to be there only 3-4 hours and then head to New Mexico, I had checked out of my motel. Fortunately, I was able to get a room although not one with as good a track view. Getting any room was a stroke of luck since the huge gem and mineral show started Tuesday and most rooms were booked. The couple ahead of me checked in for 18 days! The TV news reported that the show pumps $76 million into the local economy for rooms, meals, etc. Even Motel 6 raises their rates an extra $22 per night during the event! Had the smoking section at Perkins to myself for dinner and was rewarded with a WB autorack followed a few minutes later by a WB stackpack. When I got back to my room I was able to see another WB stackpack and a WB manifest (or maybe an autorack - all I know for sure is that it wasn't a stackpack). At 9 PM an EB stackpack came by as I typed this. Comparing last night's traffic makes it seem like Uncle Pete might be running his freights on a regular schedule. Just as my client's son arrived for a final negotiating session, another WB stackpack came by. They accepted my offer but we had some details to work out before I could pick up the collection in the morning.
Heard and saw several trains pass in the dark just as the night before but nothing in the daylight as I had my 7 AM breakfast at Perkins. It took me six cartloads and almost two hours to move the collection from the apartment to my Previa and find places to stash all the albums and a couple large boxes of miscellaneous stuff including a file of my old newsletters. The six shelf closet was filled with about 70 oversize three ring binders packed with train stamps, covers and cinderellas. It is the second most extensive collection I have had the pleasure to examine and the most extensive I have ever owned! There are numerous items I have never seen before. It will take me considerable time to integrate into my inventory for resale. Many of the items will show up as Monthly Specials or in Mail Bid Sales so stay tuned. Made a brief stop at another BOOKMAN's where the train book selection was better than in Phoenix but the prices seemed too high so I only picked up four more books for my library, then hit the road at 10:15 AM. The train watching started great with a WB autorack passing a short Intermodal and a stackpack waiting their turn to go west just before I reached downtown Tucson. On the east side, a coal train was completing it's unloading at the power plant while two stackpacks and an Intermodal waited to get thru town. Saw a WB manifest stopped at Wilcox, AZ. As I crested the hill at the New Mexico border I met an Intermodal led by CSX #7705, then passed an EB manifest in the siding at I-10 milepost 7 and an EB stackpack picking up speed as it left the siding at milepost 10. There was an EB manifest stopped at Lordsburg, probably waiting for the stackpack I just passed to come by. The last of the six locos on a WB manifest waiting at the milepost 33 siding was a Cascade green CFEX lease unit. Fifteen minutes later I met an autorack highballing west. Timing is everything - particularly in railfanning (and luck helps too). As I passed a string of chemical tank cars in an otherwise empty Deming yard, I saw some loco headlights ahead. Expecting another UP train, I was excited to see two Conrail blue GP-7s lettered "Southwestern Railroad" in white pulling about 10 cars into the yard from the former BNSF Deming-Rincon branch line. [ED: BNSF sold the Deming Subdivision to the Southwestern September 8, 2001 which is why I didn't see any BNSF locos in Deming on my October visit. Serving several Phelps Dodge copper mining operations to the Northwest of Deming for several years, the SRR needed more traffic as these operations close down. On a historical note, "...the Deming line, when Santa Fe opened it for operation on March 1, 1881, completed - with SP to Los Angeles - the second U.S. transcontinental route. But as a transcontinental it was a failure, because SP refused to make joint rates. Instead, SP completed its own line to New Orleans in January 1883, and Santa Fe opened its line through northern Arizona to Los Angeles in August 1883." Thanks to the February 2002 TRAINS magazine for this timely information.] That was it for trains however. My two hour, two lane drive from Alamogordo to Vaughn, NM along the UP's former SP "Golden State" line yielded not a single train nor even any noise on the scanner. I did see a SP caboose in a junk yard on the north side of Alamogordo and a couple pieces of work equipment on the tracks at Tularosa and a silver wide-vision caboose lettered C,B&Q as a tourist info center in Carrizozo (how disloyal for an SP town!). At Vaughn, I heard the dispatcher giving someone a warrant to pick up some cars but I couldn't see any loco lights in the darkness, just a string of Santa Fe covered hoppers. (Even without trains, this was the shortest way home). At I-25 milepost 400, I heard a defect detector report "No defects, Total Axles132 ". At the Cimarron Mine spur the signal light was yellow and it looked like there might be some cars on the spur so maybe they were switching some loads and empties - it was too dark to tell for sure. The string of white "like-new" covered hoppers I had seen in the Walsenburg yard on the way south was still there. South of Pueblo I heard the dispatcher mention a train "at Pueblo Junction", so that is probably the SB coal train I saw climbing the hill south of town. I met another SB coal train at Bragdon, just north of Pueblo. Pulled into my driveway just at midnight. An extremely long day, but a successful trip on all fronts!
The Union Pacific Olympic Torch Train evidently didn't come to Colorado Springs Jan. 31 - Feb. 1 when the torchbearers ran thru town. I made two trips to all the possible sidings looking for it unsuccessfully. I did see a UP coal train deliver its CSUX loads to the downtown power plant and a couple BNSF coal empties go north.
The Denver area was clogged with trains on my Feb. 2 trip to CHERPEX. Caught up with a BNSF coal empty at Larkspur, met a SB UP coal train with two locos on the point, two in the middle and two on the rear just south of Castle Rock and passed a NB BNSF manifest north of Castle Rock. Passed over a SB manifest at Broadway in Denver and saw the UP CSUX train I'd seen in the Springs the past two days pulling into the Denver yard as I raced by on I-25. Saw a SB BNSF manifest pulling into the clogged BNSF yard and a NB coal empty leaving. There was a BNSF local picking up a string of cars in the UP's crowded yard as I drove over the I-70 overpass. CHERPEX was once a premier stamp show in the Denver area. In fact, it was the first stamp show I went to as a collector and also the first I did as a dealer but it has been declining steadily. Still, I was able to visit with some dealer friends, buy a few things and trade the non-train stuff from the huge collection I bought in Tucson for train stamps so it was a successful show for me even without a table. On the way home, another SB BNSF manifest was waiting to pull into the yard. Near Coors Field a NB manifest was waiting to get into the yard while a SB UP coal train waited also. Since I had some time, I took US 85 to follow the tracks and was rewarded with two NB coal empties waiting in Littleton - a UP and a BNSF, both with two locos on the point and one on the rear and also passed a couple light rail trains. There was a string of assorted covered hoppers and a string of tank cars and a lonely BNSF geep at Big Lift but no pushers. At Sedalia, I passed a long train of identical tuscan red BNSF covered hoppers - three locos on the point & two pushers - a unit train for some commodity. Just south of Castle Rock, I met a NB UP welded rail train. Another all-round good day!
RAIL FACTS AND FEATS: The first semaphore signal was erected in 1841 by Charles Hatton Gregory (1817-98) at New Cross on the London & Croydon Railway. The three-position signal used a horizontal bar for "stop", inclined at 45° for "caution" and vertical, hidden inside a slot in the post for "line clear". At night a rotating light showed red for "stop", green for "caution" and white for "line clear". Thanks to Guiness RAIL THE RECORDS by John Marshall for the info. Semaphore signals are featured most prominently in the gutters on sheets of Australia #1324-9 and on Saint Thomas #888 Deluxe Sheet, allegorically on Belgium #1006 & Germany #734, and show up well on Burma #263, China #913-35 etc., Czechoslovakia #656, Great Britain #1094, Hungary #3533, Iran #1074, Israel #676, #1116 &1118B, and Spain #383-5 to list a few. This should be enough to get your semaphore signal side collection started.
RAIL THOUGHT OF THE MONTH: "WE CAN HANDLE IT" - slogan of the Union Pacific RR before they found out they couldn't handle it after the Southern Pacific merger.
STAMP OF THE MONTH: With patriotic fervor sweeping the country, this Freedom Train postcard seemed like a good choice for Stamp of the Month. Copyrighted in 1948 by the American Heritage Foundation, it was number 3 in a set of six sold as the original Freedom Train toured the country. Numbers F.T.-1 and -2 are paintings of the white, blue and red striped ALCO PA-1 diesels that pulled the train while F.T.-4 shows the Statue of Liberty and "The Freedom Prayer", F.T.-5 lists "The Nine Promises of a Good Citizen" and F.T.-6 repeats "The Freedom Pledge" under the Liberty Bell. Hopefully, the principles in this pledge continue to guide us as we face future challenges.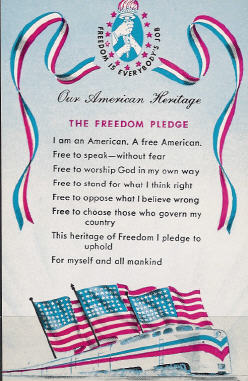 May all your signals be green,
AL PETERSON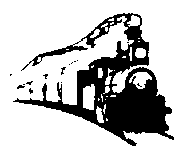 <![if !supportEmptyParas]> <![endif]>
<![if !supportEmptyParas]> <![endif]>
AL PETERSON
THE RAIL PHILATELIST
P. O. BOX 25505
COLORADO SPRINGS, CO 80936
<![if !supportEmptyParas]> <![endif]>
<![if!supportEmptyParas]> <![endif]>
<![if !supportEmptyParas]> <![endif]>
1-800-807-RAIL access code RR or 719-591-2341
http://www.railphilatelist.com/ or e-mail railphilatelist@aol.com
JOIN THE CASEY JONES RAILROAD UNIT OF THE AMERICAN TOPICAL ASSOCIATION
Dues $8.00. Contact Contact Bill Senkus, 27A El Mirador Dr., Walnut Creek, CA 94596-5325