The Rail Philatelist
News & Notes Back Issues
| Oct. 1996 | Nov. 1996 | Dec. 1996 |
| Jan. 1997 | Feb. 1997 | Mar. 1997 | Apr. 1997 | May 1997 | June 1997 |
| July 1997 | Aug. 1997 | Sept. 1997 | Oct. 1997 | Nov. 1997 | Dec. 1997 |
| Jan. 1998 | Feb. 1998 | Mar. 1998 | Apr. 1998 | May 1998 | June 1998 |
| July 1998 | Aug. 1998 | Sept. 1998 | Oct. 1998 | Nov. 1998 | Dec. 1998 |
| Jan. 1999 | Feb. 1999 | Mar. 1999 | Apr. 1999 | May 1999 | June 1999 |
| July 1999 | Aug. 1999 | Sept. 1999 | Oct. 1999 | Nov. 1999 | Dec. 1999 |
| Jan. 2000 | Feb. 2000 | Mar. 2000 | Apr. 2000 | May 2000 | June 2000 |
| July 2000 | Aug. 2000 | Sept. 2000 | Oct. 2000 | Nov. 2000 | Dec. 2000 |
| Jan. 2001| Feb. 2001 | Mar. 2001 | Apr. 2001 | May. 2001 | June. 2001 |
| July 2001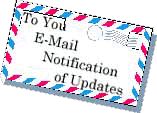 AL'S RAILINGS-
NEWS
&

NOTES

ON RAILWAY PHILATELY
Volume 6 Number 9 PRICE $1.00 (10 ISSUES FOR $8.00)
August 1, 2001

Dear Fellow Rail Philatelist:

My year old granddaughter Kathryn with her parents from Nova Scotia and my Mother-in-Law from Ohio came to visit so I didn't accomplish much business-wise the last part of July. The adjacent photo shows her helping me check my email. But I did get re-energized. Listening to her mostly undecipherable babble while watching her smiling face and the excitement in her eyes as she explored everything around her made me realize how interesting life should be each day. Even simple things like pushing a chair across the patio got her complete attention and interest. Being around her was an uplifting, invigorating experience. My batteries are recharged and I'm ready to get back to work! However, the "S List" is now so long, I'll have to squeeze "T" in next month. Something to look forward to!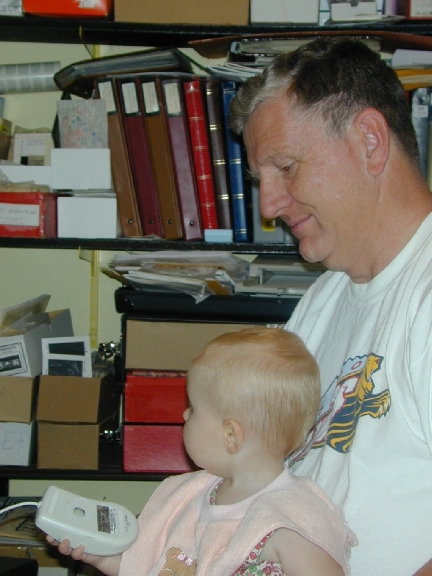 RPO ALERT: Reliable sources have informed me that there are some excellent fraudulent RPOs appearing in dealer stocks, mostly in the $50 and up range. I almost said "fake" but "fraudulent" is probably a better term since most of the bad covers discovered so far have simply had weak cancellations skillfully enhanced - careful examination under a microscope reveals slight graphite residues to the expert eye. Some covers, however, have had additional stamps, cancellations and back stamps added. The frauds are so well crafted that even the experts have had a hard time determining that they weren't genuine. The dealers offering them are unaware the RPOs aren't real until a bad certification is returned so they aren't being offered at bargain prices either. The perpetrator is as yet unknown but there are only a handful of individuals with the knowledge and skills to create such exquisite frauds. Hopefully, he will be identified and stopped soon. So if you are in the market for better RPOs, caveat emptor! If that RPO cancel looks too clean and complete to be real, it may not be. Remember, most of the RPO cancels were applied by an RPO clerk under great time pressures while swaying and bumping along on a moving train. They weren't creating works of art for collectors; they were doing a mundane job as fast as they could. Any cancel was good enough as long as it killed the stamp - it didn't have to be legible too.
AL'S RAILINGS VIA EMAIL?: After my rising costs discourse last month, Brian Hitchcock emailed me a reminder that he would be happy to receive his newsletter via email each month. How many others of you would be satisfied with an electronic version rather than the hard copy? Would you then go to my web page to check out the Mail Bid Sale, New Issues, Monthly Specials and two up-dated stamp lists or would you want to receive all of that electronically? As it stands now, you can click on the airmail letter icon on each page to receive an automatic "Notification" email when the pages are up-dated. While it may make a little more computer work for me, it will save postage and printing costs (and trees), so I'll offer three Freedom Train or silk cacheted "Hear The Whistle Blow" covers to all those who wish to receive my deathless prose via email and/or my web pages. Be sure to let me know all the pages you desire. Send all requests to my trainstamps@att.worldnet.net email address, not the usual railphilatelist@aol.com one.
NATIONAL TRAIN SHOW: The NMRA show bills itself as the "National Train Show" - they even had ads in all the Lite Rail stations. It is a gala event with all the manufacturers and several hundred vendors like me in attendance (about 900 booths). Held July 13-15, 2001 in the TWA Dome where the St. Louis Rams play football, it boasted 200,000 square feet of vendor space and 33,000 square feet of layouts in all scales from G to Z! There was constant activity all three days but it took a series of big magazine sales Sunday afternoon to keep it from being my poorest NMRA show to date from a sales perspective. I actually came home with three fewer boxes than I went with (really just two since I bought a boxful of books for my library from my dealer friend Mike Daliden, now dba Art of Motion). The show gave me a chance to renew old acquaintances and see all the new releases. One dealer couple I've known for years, the Carnabys of Neal's N-Gauging Trains now have a six month old son (their first) who seemed to be really enjoying the show. A lot can happen in a year. The NMRA show staff always do a good job with all the arrangements and make it relatively painless getting in and out - I had only a 40 minute delay getting out while they cleared a couple layouts from the hall. But this may be my last NMRA show. I have no desire to drive all the way to Fort Lauderdale, FL for next year's show and the following year the show will be held in Toronto, Canada. That presents a whole host of logistic problems not the least of which is giving the Canadian government a six - nine month interest free loan. You have to deposit an amount equal to 7% of your total inventory (in cash!) valued in Canadian dollars before the show for the GST (sales tax), then file for a refund after the show. Since at a really good show, I would be lucky to sell 2% of my inventory, it doesn't make economic sense to make that big a deposit up front. I went to a meeting Thursday evening where they discussed the issues but it only added to my resolve not to do the show - it didn't relieve any of the anxieties. Most of the other dealers I've talked with have similar doubts so there may not be many dealers there selling, just the manufacturers displaying their wares. Speaking of which...
MICROSOFT(r) TRAIN SIMULATOR REVISITED: Microsoft had a huge booth at the NTS demonstrating Train Simulator so I closed my booth about five minutes early Friday evening and headed over to see if there was a fix for my mouse problems with the game. The first Microsoft representative referred me to a pony-tailed young man who was their expert troubleshooter. After listening to my explanation of the problem, he gave me step-by-step instructions on how to adjust the sensitivity of my mouse/video card, walking me thru the steps on one of the display computers. Unfortunately, his solution didn't solve the problem, so I called the Microsoft HELP line. They offered a different solution that involved going into the "Troubleshooting" menu and clicking on all the trouble symptoms (clicking on just a few of them didn't work). This seems to have fixed the problem but I haven't had much time to explore all the options and check it out thoroughly. Microsoft wasn't selling anything, just demonstrating the game. When my friend George Voightmann, dba Gandy Dancer Videos, sold out of the few copies of Train Simulator he had with him on Friday @$54.95, he bought three dozen more at Wal-Mart. He sold them out on Saturday, went back to Wal-Mart Saturday night, bought out the rest of their copies and sold them Sunday. He was the only one who had any so the Microsoft people sent everyone to him! Smart businessman!
ST. LOUIS METROLINK LITE RAIL: As George Peppard used to say on the old "A Team" TV series "I love it when a plan comes together"! Rather than stay in one of the high priced hotels in downtown St. Louis for the NMRA show, I stayed about 20 miles west on the cheap and where I knew the restaurants, etc. Knowing that the Lite Rail line ran from Lambert Field into downtown (and now on into Illinois), I was pleased to see in the phone book Thursday night that Metrolink offered free parking at the North Hanley station just off I-70 and had a stop at the convention center where the show was being held. So I planned to park free (saving the $8 - $10 parking fee downtown) and get to ride the TRAIN! I almost messed up since there were just six parking spots left at North Hanley when I got there just after 8 AM Friday morning. After purchasing a $2.50 round trip from the ticket machine, I had a relaxing 25 minute ride on a clean, comfortable two-unit Lite Rail train thru a wooded area, passed a couple cemeteries, skirted Forest Park, paralled a nearly deserted rail yard with just one Cotton Belt loco in view on the right and the Metrolink rail service facilities on the left, then under Union Station (U.S. Scott #UX177), past another small yard with a solitary Amtrak Dash 8-32BHW #510 idling, then underground to the Convention Center station where I had a block and a half walk to the show. Seven westbound trains passed us on the way in. On the return trip, the train I caught at 7:10 PM went out of service at Union Station but that was fine with me since I had planned to get off there and look around anyway. Sure glad I did! They have retained the huge train shed from the original station but have built hotels, restaurants and a paddleboat lake under it. but what really caught my attention was train cars! There were still five tracks and on them were the following:
1. BNSF #4723 GE Dash 9-44CW with lettering on the front "Microsoft Train Simulator featured locomotive". It is the loco on the box and in the game.
2. TRRA (Terminal RR Assn. of St. Louis) SW-7 #2024 (red)
3. St. Louis Car Co. (SLCC) baggage "River Des Peres" (green with gold trim - as are all other SLCC passenger cars and locos), SLCC F7A #101, F7B #201, F7A #102, power/dormitory car "Current River", lounge/dining car "Cuivre River", diner "Osage River" and baggage car "Charrette Creek".
4. Anhauser Busch billboard wood-sided reefer, Reserve Mining caboose (red), SLCC caboose (red), SLCC coach(?) "Colorado River", CB&Q California Zephyr "Silver Quail", Frisco "Chouteau Club" (dark blue & white), Union Pacific "Echo Canyon" (silver & yellow), Santa Fe "Mohave" (silver).
5. Two baggage cars, two-tone gray but without markings, probably for storage.
(The tracks are track #6-10 of the original 42 tracks as I learned by studying a schematic in the TRRA booth at the NTS).
After the rail tour, I checked at Landry's Seafood House but with a 35-40 minute wait I decided to stay with my original plan for dinner at Long John Silver's near my hotel. I went into the Union Station shopping mall just long enough to resist some great smelling fresh fudge, note that the Great American Train Store was no longer there (I guess the whole chain has closed down) and see that Microsoft Train Simulator was priced at $69.95 in the Museum of Transport's store. I made the short walk back to the Metrolink station and waited for a westbound train, which arrived about 8 PM. Passed an EB UP coal train (HLMX) on the left and on the right the Metrolink service facility with several train sets parked "Out of Service" after a busy day. There are also a couple light green SW-9s stored in a fenced area near a grain elevator, one is marked RRC 14. Passed six EB trains on the way home. A very pleasant experience both ways! On the ride in Saturday morning, the shabby Cotton Belt #9636 was switching a short string of cars as we stopped at Grand and a WB UP manifest headed by a couple faded C&NW geeps was coming off the MacArthur Bridge just before we went underground. When I learned from a customer that the Lite Rail goes over the Eads Bridge (U.S.Scott #293), I decided to ride east on the way home to the end of the new line opened in the past month, then come back west just so I could see the river crossing. (U.S.#293 shows a small streetcar on the top level of the Eads Bridge but the Lite Rail crosses on the lower level - actually it looks like the upper level is being rebuilt). Saw a WB manifest on the MacArthur Bridge as I went east on the Eads. Aside from seeing the new service facility on the east side, the trip to "College" stop was uneventful. Passed six WB on the way east but only three on the way back. Made a brief stop at Union Station to say "goodbye" to the rolling stock there, then headed on west to dinner at a Chinese buffet. My train stopped at the service facility to change drivers; I don't think they call them engineers. At the Grand stop, an EB UP coal train (OVEX) rolled by. I rode all but about four miles of the 34.3 miles of Metrolink's Lite Rail system and enjoyed every mile. I think it is the best way in and out of downtown St. Louis. And the public must agree. The trains Saturday evening were more crowded than the Friday night train. On the way east, it was crowded with Cardinals fans heading home to Illinois from the baseball game and on the way west it was crowded until Union Station as families and teens rode in for a night on the town.
JULY TRAVEL: The Kansas wheat harvest was just over so all the combines were heading toward Colorado as I headed for St. Louis. The construction on the former Kansas Pacific line seems to be complete but there still wasn't much action. I passed an EB 110 car coal train rolling just east of Kit Carson, CO with two UP locos on the point and a UP and SP on the rear and a coal train waiting at Sharon Springs, KS. From the talk on the scanner, there was also some switching activity at Sharon Springs but I couldn't see it from US 40. I was concentrating on one of my 29¢ McDonald's hamburgers for dinner just east of Hays, KS when the scanner startled me with "468 axles, no defects". I quickly looked right and saw a WB coal empty with just two locos so that should calculate out to 115 cars. And that was it except for the idle green Cargill geep (CWCX2000) at Cheyenne Wells, CO (the blue & yellow SW-1 was still there too so it hasn't been sold yet) and the idle red former Ford loco at Ogallah, KS. Thursday morning, I was happy to see at least seven identifiable trains at the UP's Armourdale yard in Kansas City, KS as I drove by, including a stack pack coming down from the Hi Line and a coal train coming in from the north. My planned stop at Santa Fe Junction was even better - 24 trains in three hours. The most interesting were: (1) Sperry Rail Service truck #617 and its crew of two men and a woman checking several tracks in the junction area while all the other trains worked their way thru; (2) A Milepost Transportation crew van that pulled up behind me and waited until a pair of Norfolk Southern SD-70s came across the bridge from Armourdale yard. They also stopped just behind me, the crews changed, but neither the locos nor the van departed. A few minutes later a NS dash 9 came east out of the BNSF's Argentine yard and turned back west over the bridge toward Armourdale, switched tracks, and came back east to couple onto the other pair just behind me. I was able to watch the coupling and connection of the air hoses, etc. in my rear view mirror. The crew from that loco went to the crew van, the three-unit lash-up departed northeast toward the NS's yard and then the crew van departed too. Nothing particularly remarkable about the other trains. Crossed over a couple trains on I-70 as I left Kansas City, then nothing until I saw an EB manifest on the McKinley Bridge as I drove into downtown St. Louis to set up for the show and a WB on the same bridge as I drove to my motel later. Nothing on my way to Kansas City Sunday evening and things were slow at Santa Fe Junction Monday morning. But there was plenty of variety - Amtrak, BNSF, Gateway Western, KCS, NS and UP -twelve trains from six different railroads. The Amtrak was the EB SOUTHWEST CHIEF with four Genesis P42s elephant style, an Amfleet coach, baggage car, ten Superliners, nine express boxcars including one "Express Trak" with the new Acela logo, and 7 roadrailers. The Gateway Western was SW-7 #1204 coming east from the UP's Armourdale yard with six boxcars going toward Union Station and the Kansas City Terminal's yard and returning about a half hour later with four different boxcars. My eyes scanned the horizon under a bright cloudless sky in vain for most of the 600-mile trip from KC to COS. I did meet an EB coal train at I-70 milepost 119 and the usual EB coal was sitting at Sharon Springs, far off to the south. Having a little time I decided to explore and was surprised to find there were three locos on the west end of the train as it idled near the grain elevators downtown in addition to the two I had seen on the east end. And the coal cars were empty! So my "usual EB coal train at Sharon Springs" has really been a WB coal empty for the past couple years! I guess it waits there for a crew and clear track. I also discovered a neat white with red trim Alco S-1 switcher lettered for the Wallace Co-op at the grain elevators. I guess I'll have to make that detour more often. Out here in the wide-open spaces you can see a train coming a mile or more away so I was really startled to come up a small rise just east of Weskan and be face to face with an EB coal train. Actually he was about 30 feet to my right on a parallel path so there was no danger, just an unexpected encounter. Our family trip to the upscale Park Meadows Mall in Denver yielded only one coal train each way but the trip to the Outlet mall in Castle Rock the next day was a train watchers delight: eight trains in all including a SB UP coal train passing a NB BNSF manifest as we got to the mall and a SB BNSF coal train passing a NB BNSF coal empty as we were about to leave. But the best train of the month was probably the gas powered black and silver replica of the steam loco "C.P.Huntington" pulling three two-foot gauge open passenger cars at Santa's Workshop, North Pole, CO amusement park, part way up Pikes Peak since it was Kathryn's and my first train ride together! (I have a pink model train set for her when she gets a little older too).
SIGNS OF A SLOW ECONOMY: My St. Louis trip provided some strong signs the economy is still slow and may be for some time to come:
1. The Union Pacific has 100 car strings of empty Autorack cars stored on sidings in Kansas - on one of the new sidings just built west of Oakley, at I-70 milepost 115, and in the small former Rock Island yard in Topeka. In my 30+ years of driving that route I can't recall ever seeing cars standing idle out there but maybe they never had any spare sidings until now. Since the UP doesn't normally run autorack trains on that line, they have made special trips to store the excess cars in out-of-the-way places because they don't expect to have any use for them in the near future. I saw similar strings of autoracks and bulkhead flats stored on sidings in Nevada during my April WESTPEX trip also. Not a good sign.
2. One of the trains westbound at Santa Fe Junction was a long string of about 100 empty TOFC cars. Running trains with no revenue cars isn't a good sign either.
3. The drive from Kansas City to St. Louis was more pleasant than usual with only a couple 18 wheelers passing me and me not passing many - there just weren't many trucks on the highway. Usually the independent truckers blow me off the road in that stretch, but they evidently aren't on the road for a lack of loads. In my almost one million miles of driving experience, I've found that for the most part drivers for the major trucking lines like J. B. Hunt, Schneider, Werner, etc. obey the speed limits. However, the independent guys who have to hustle to make a buck push the limits at every opportunity so you need to stay out of their way!
DOMFIL RAILWAYS THEMATIC STAMP CATALOG: The Second Edition of the DOMFILS Railways Thematic Stamp Catalog has just been published. It has 739 pages with 13,835 stamps illustrated in color and is written in both Spanish and English. Stamps are presented in country alphabetical order by year in two sections: those that include a train no matter how small are illustrated (608 pages); those of just tracks, tunnels, bridges, etc. are in a separate section not illustrated (116 pages). The layout is great but the descriptions are cryptic so you'll still need Norm Wright's WORLD RAILWAYS PHILATELIC for details. In addition to Domfil numbers, catalog numbers of Yvert et Tellier, Michel, Scott and Unificato are also included, making this an excellent cross reference. Unfortunately, Stanley Gibbons refused permission to have their numbers included. Prices are in US dollars and in EUROs. Pricing is somewhat erratic, but it is a great reference just for the pictures! I have a few available at $52.00 postage paid (in US).
RAIL THOUGHT OF THE MONTH: Norm Wright emailed this story under the title "Why we like trains": "A large two-engine train was crossing the country. After they had gone some distance, one of the engines broke down. "No problem," the engineer thought and carried on at half power. Farther on down the line, the other engine broke down and the train came to a standstill. The engineer decided he should inform the passengers about why the train had stopped, and made the following announcement, "Ladies and gentlemen, I have some good news and some bad news. The bad news is that both engines have failed, and we will be stuck here for some time. The good news is that you decided to take the train and not fly."
RAIL FACTS AND FEATS: The world's oldest station building is at Cuautla, Mexico. It was built in 1657 as a convent until 1812. It became part of the railroad station about 1860.
STAMP OF THE MONTH: Trish Benedict, wife of customer Jerry Lindelef, emailed as follows: "Yesterday I bought some of the new 34¢ stamps of old baseball stadiums (stadia?). In the picture of the Schibe Stadium in Philly, I noticed what appears to be a trolley, although no tracks are visible. It 'looks' like a trolley and the two autos on the street would appear to date it to the pre-bus era. (Actually what it looks like is one of those 'nostalgic trolley rides' that they give tourists in buses tricked up to look like a trolley or cable car -but that would be out of period.) Any thoughts?" Thanks, Trish, it sure looks like a trolley to me. Trolleys probably ran to all of the ballparks in those days. Can anyone from that area confirm? Scott #3518, it also comes as a postal card, Scott#UX373.

May all your signals be green,

AL PETERSON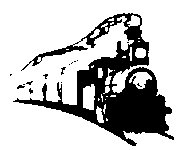 <![if !supportEmptyParas]> <![endif]>
<![if !supportEmptyParas]> <![endif]>
AL PETERSON
THE RAIL PHILATELIST
P. O. BOX 25505
COLORADO SPRINGS, CO 80936
<![if !supportEmptyParas]> <![endif]>
<![if!supportEmptyParas]> <![endif]>
<![if !supportEmptyParas]> <![endif]>
1-800-807-RAIL access code RR or 719-591-2341
http://www.railphilatelist.com/ or e-mail railphilatelist@aol.com
JOIN THE CASEY JONES RAILROAD UNIT OF THE AMERICAN TOPICAL ASSOCIATION

Dues $8.00. Contact Oliver Atchison, PO Box 31631, San Francisco, CA 94131