The Rail Philatelist
News & Notes Back Issues
| Oct. 1996 | Nov. 1996 | Dec. 1996 |
| Jan. 1997 | Feb. 1997 | Mar. 1997 | Apr. 1997 | May 1997 | June 1997 |
| July 1997 | Aug. 1997 | Sept. 1997 | Oct. 1997 | Nov. 1997 | Dec. 1997 |
| Jan. 1998 | Feb. 1998 | Mar. 1998 | Apr. 1998 | May 1998 | June 1998 |
| July 1998 | Aug. 1998 | Sept. 1998 | Oct. 1998 | Nov. 1998 | Dec. 1998 |
| Jan. 1999 | Feb. 1999 | Mar. 1999 | Apr. 1999 | May 1999 | June 1999 |
| July 1999 | Aug. 1999 | Sept. 1999 | Oct. 1999 | Nov. 1999 | Dec. 1999 |
| Jan. 2000 | Feb. 2000 | Mar. 2000 | Apr. 2000 | May 2000 | June 2000 |
| July 2000 | Aug. 2000 | Sept. 2000 | Oct. 2000 | Nov. 2000 | Dec. 2000 |
| Jan. 2001| Feb. 2001 | Mar. 2001 | Apr. 2001 | May. 2001 |
AL'S RAILINGS-
NEWS
&

NOTES

ON RAILWAY PHILATELY
Volume 6 Number 7 PRICE $1.00 (10 ISSUES FOR $8.00)
June 1, 2001

Dear Fellow Rail Philatelist:

WOW! I guess I should have sent out a survey before I mailed and published my new issue letter (see May AL'S RAILINGS). The response was overwhelming - I had telephone calls, letters, and emails from all over the world, some from collectors who are not even my new issue customers. Therefore, I've had to reconsider my position as outlined in "MORE ON NEW ISSUES". A couple of the many thought-provoking missives received are excerpted.>

MY READERS WRITE: Keith Downing of Great Britain made several interesting points in his email

"I liked your comments about new issues - even though I get mine over here in the UK. The deluge of material is never ending and it becomes ever more difficult to distinguish between non-authorised issues produced by non-postal authorities such as many autonomous Russian Republics, unauthorised issues from real countries such as Afghanistan, unnecessary issues produced by authorised agents from such real countries as Chad, unnecessary issues from legitimate postal authorities such as your USA example, commemorative issues from real countries in real postage rates but in unnecessary multiples such as our latest UK buses (the rail connection is the destination blind on one bus which is going to London Bridge Station via Old Street Station!!) and eventually commemorative issues in face values which have a real postage need - there are still some being issued! Fortunately the problem hasn't extended too much beyond the postage stamp and postal stationery is much less tainted, just extremely difficult to source. Booklets are almost as bad as stamps, just that fortunately there are much less of them.

I'm still almost trying to keep up with new issues, but try to exclude the first two categories but how can you tell? Even the sheets of multiple stamps are a difficult format. Does one break them up to show locos in their logical place in the album or keep them intact but serving no help to the thematic development of the collection? Or just buy two sheets!

There is no answer, that's part of the joy of collecting, but that's OK for those of us who have been around a few years and can form a logical basis for our 'rules', but it's the beginner who has a real problem. Another problem is if you don't buy an issue for any reason but then decide you need it a year or two later, many of them are unobtainable at any price, whilst the others are even cheaper than they were when first printed ('Leaders' are a great example of this).

There's no answer and no simple rule, it's just interesting to read another enthusiasts views. Another solution is to go back to earlier issues, but then you find the same thing has applied over the years - UK one pound UPU issue in 1925, USA Columbus Exhibition, Seebeck issues of Central America, charity stamps of the 1920's, we've always had the problem and most of these earlier examples are now very respectable. It does mean some of the present day examples will be collectable and hard to find - there will be some but just which will they be??"

Keith added in a follow-up email:

"Trouble is, as I said in my first response, it has always been with us. I think if you have a market for your new issues, supply them as long as you don't put yourself at a loss by stocking them and don't leave yourself exposed to being accused of supplying 'postage stamps' when some of them never are or will be! If you have customers who know what they are buying - or at least are happy - and you can at least cover your costs without spending too much time, then go on, sell what there is available. It doesn't mean you have to put it in your collection and certainly you wouldn't expect to see it in an exhibition.

On the other hand, I remember visiting the Sao Tome Post Office stand at Philex France 1980, and buying the stamp showing Rocket and the Eifel Tower. Gibbons doesn't list it, and it probably saw very little postal use, but I know I bought it from a legitimate post office for almost nothing at the event commemorated, issued by a country which has one of the lowest incomes on the planet. It is a legitimate issue in my collection and not very easy to find if I wanted a duplicate.

.

Similarly I remember seeing an entry at an international exhibition which contained only issues from Bhutan, Gulf States, Paraguay and similar - except every single issue was postally used on cover. Not one of the stamps would have been acceptable in a thematic exhibit in mint or cto format, but the display as it was organised was outstanding and contained many unique, totally legitimate postal history items.

If Scott, Gibbons, Michel etc chose to exclude an issue for whatever reason fine, but we must make our own rules and abide by them, you can guide, but I don't think censorship is the answer. You've already done that in the USA with issues from Cuba, Iraq, Iran and DPR Korea. (ED: And all eagerly sought after by topical collectors!)

So in summary, I go against my own principles - if there is a market and you yourself are not manipulating it, or knowingly misdescribing material, then go on, supply it if you are not taking a loss. Let the market rule! And that sentiment comes from a left-wing pro-European Limey who will vote Labour (Left of centre - but only just in its present form) in our elections in one weeks time!!

I just hope your collection contains all these new issues fine used on contemporary covers which have been through the mail! (ED: I wish it did.) You would have something worth having then. At least I've got most of the earlier Paraguay issues in that format and I've never seen them like that elsewhere. Similarly, it can be done from other countries, but I must admit, almost all mine are mint, straight from the dealer or post office agent. I would be interested to see some of these stamps from multi-value sheets commercially used, whether it be USA or St Kitts !"

Peter Hewitt of Australia pretty much summarized my customers' comments when he emailed,

"I'm devastated!! No new issues and a lot of comments which sound like "getting out of business". This is a sad day for philately. Hopefully it's a temporary thing while you re-group. I agree that every man and their dog seems to find five hundred ways to help us part with what is all too frequently hard to come by in the first place. However, I have always considered spending to be my choice. That said, I understand also the comments concerning loyalties and the feelings of being a pimp. But to throw a different light on things, please don't ever discount the tremendous service you provide in bringing all of this material together and making us aware of it. On that last note, I really don't know how I will be able to let you know I want something unless I know it's available. How can we find a middle ground?"

.

I quickly emailed him a draft of the "MORE NEW ISSUES" paragraph below to which he replied:

"Concerning the proposed June newsletter piece, I think that it will be very welcomed and also perhaps helps you/your customer to define the dilemma by soliciting customers' self-examination of their hobby and its parameters. This is not a bad thing because too infrequently we can lose sight of our objectives in the excitement of collecting. That is, I believe, a key reason why people throw in the towel all together. In my view, if the hobby gets too big, re-define it - perhaps into primary and secondary interests or by cutting off the collection at a particular date or leaving out the bridges and personalities or ..... I can't think of anything more disheartening than to just stop collecting. Having said that, I'm what we in Australia call a bit of a "mad bugger" (pardon the colloquialism) and am fortunate enough to have the resources to support a fairly wide collecting habit. Retirement might change that, but I'm only 46 so I guess I can be "reckless" for a little while. I intend to be an "everything" collector for quite some time to come."

That also seemed to be the sentiments of the majority of collectors I heard from. Therefore...

MORE ON NEW ISSUES: Or should it be moron new issues? Since my business credo from day one has been "Everything philatelic related to trains and trolleys," I have done my best to keep up with all these issues over the years, even as it has become increasingly distasteful. Based on the overwhelming requests to not end my new issue service, I will continue the service for my existing customers although my heart isn't totally in it any more. However, I am trying to define carefully what my customers really want. It seems to me there are three distinct classes of new issues that I'll call legitimate, semi-legitimate and illegitimate!

1. LEGITIMATE: Issued by a legitimate member of the Universal Postal Union to commemorate a valid railway event of the issuing country or as part of a new definitive series. Unfortunately, these are now a small minority of the stamps being issued.

2. SEMI-LEGITIMATE: Issued by a legitimate member of the Universal Postal Union primarily for sale to the philatelic market with no real connection to the history of the country of origin. These are probably the most abusive since they usually consist of long sets with several souvenir sheets and miniature sheets from a single country or omnibus sets from several countries. Unfortunately, these issues achieve some legitimacy by being listed in most catalogs. (The "Leaders of the World" are but one example. Shunned by many of my new issue customers when they were first issued, they are now sought after by those trying to "complete" their collections. I just mailed an order for over $100 of them.)

3. ILLEGITIMATE: Issued for non-existent countries or without the approval of legitimate countries primarily for sale to the philatelic market with no real connection to the history of the country of origin. More properly classified as labels or "Cinderellas", these seldom are listed in catalogs.

While I don't want to become the "train stamp censor", I have considered adding a column to my database and lists for an "L", "S" or "I" indication of legitimacy. It certainly wouldn't be the ultimate authority or guide, just my opionion. Would this be of any value?

Michael Laurence's May 14, 2001 Editor's Choice column "Bothered by illegal stamps? Use a catalog" in LINN'S STAMP NEWS offered several useful insights. I recommend you read the entire column. I'm only quoting the parts I feel are particularly relevant to my situation:

"As the American Philatelic Society learned three decades ago with its ill-fated black blot program, trying to suppress spurious stamps by illustrating them simply enhances demand. The stamps are appealing, and the warning illustrations are a form of free advertising. (ED: Thus my comment about not wanting to become the "train stamp censor"). So what's to be done? Collectors should simply wait. Stamp catalogs exist to sort out bogus stamps from the real. They do an excellent job. (ED: Here I disagree somewhat in that the SEMI-LEGITIMATE issues that are listed in the catalogs are every bit as abusive and unnecessary as the so called illegals, actually probably more so because of the aura of respectability the catalogs give them.)

Mr. Laurence goes on to make some analogies with the theater and first day cover collecting as well as his own Elvis Presley topical collection concluding:

Both are equally divorced from the realities of carrying mail. By me, that's fine. Those who are denouncing illegal stamps don't collect them. Those who collect illegal stamps don't care (ED: that is certainly the response I got from my customers regarding both SEMI-LEGITIMATE and ILLEGITIMATE new issues.) The argument ... that illegals are a dangerous fraud because they have no value in the aftermarket, is nonsense. None of these stamps, legal or illegal, has any aftermarket value. These stamps aren't for investment - they're for fun. Collectors should collect what they please. Critics should get a life! (Exclamation point added!)

I agree completely. Therefore, I will continue to allow my customers to collect as they wish (I won't be the "train stamp censor") and I will try to provide them the best service I can while doing so. Customer Bill Senkus' letter to LINN'S in the same issue makes the salient point, "the real villain here is the greed of the legitimate stamp-issuing countries". One can only hope that the flood of SEMI-LEGITIMATE and ILLEGITIMATE issues will abate quickly although that won't happen as long as us gullible collectors continue to yield our hard earned dollars to the unscrupulous perpetrators of these spurious issues. Oh, for a return to the stamp issuing policies of the 1900's.

LINN'S STAMP MARKET REPORT: LINN'S STAMP NEWS April 23, 2001 issue reported on their annual stamp market report. While the absolute numbers and methodologies may be subject to question, the basic trends seem clear. While the total stamp market was almost $1 billion ($996,000,000) in the year 2000, the market was basically static. The total growth of about $30 million occurred in USPS sales, probably all due to the postal rate increases. Increases in online retail and auction sales almost exactly match the declines in show, auction, and mail-order sales so there was no real increase in overall stamp sales to collectors. That certainly tracks with my experience - my 2000 sales were just $206 more than in 1999 so I'm hoping for a big upturn in 2001!

DINNER IN THE DINER: I'm glad I was home for the May 10 meeting of my Colorado Midland chapter of the National Railway Historical Society. The ladies prepared and served a six course "Dinner in the Diner" using original railroad diner recipes and wearing Harvey girl outfits:

0th Colorado Midland Non- Alcoholic Punch Colorado Midland RR

1st Orange & Grapefruit Crème de Menthe Union Pacific RR

2nd Relish Tray Great Northern RR

3rd Bisquick Biscuits Southern Pacific RR

4th Scalloped Potato & Sausage Supper Pennsylvania RR

5th Harvey Girl Trifle & Peppermint Coffee Santa Fe RR

It was a delicious meal and a festive evening. Mel McFarland, author of the COLORADO MIDLAND and other books, narrated the history of dining car meals with each course. Mike Doty displayed and discussed numerous items from his Union Pacific dining car china collection and Howard Noble reminisced on his experiences operating the Cadillac & Lake City dinner train over the old Rock Island tracks between Falcon and Limon, CO a few years back. The evening ended with Gracie and Bill Reister leading us in a stirring rendition of "The Chattanooga Choo-Choo" and an 1891 hymn they found in a Grand Junction, CO book store, "Life's Railway to Heaven (Respectfully dedicated to the railroad men)" by Charlie D. Tillman. I'll be happy to share a copy with anyone interested.

MIXED FREIGHT: 1. TYPOS - "Liechtenstein" is finally spelled right - the WORD(r) spell checker caught my misspelling after five lists were published with it spelled wrong. I also corrected a Denmark typo noticed while filling an order. Makes me wonder how many other typos are lingering in my 7400 record database. 2. Mike Doty suggested that the UP passenger train I saw on the way to San Francisco was probably the Engineering Special heading back to Cheyenne and Omaha after completing its California tour. If so, maybe the last car was the inspection car "Idaho". 3. Ralph Greenhut, dba MCXI Philatelics, watching me go quickly thru box after box of stamps at ROMPEX commented, "You make stamp collecting an aerobic exercise!" With so little time and so many stamps, I work fast trying to find new items for these lists. I found a couple thousand dollars worth at ROMPEX so the exercise was worthwhile. 4. Congratulations to Florence & Norman Wright (of ATA Handbook #138 fame) on their 50 years of wedded bliss. They make a great team.

OTHER READER COMMENTS:1.Robert Jensen wrote "Am thoroughly agreeing with you. Pan-American? With the way the rates are increasing, it won't be long and the 80¢ one will fit on a first class letter." 2. Keith Downing also wrote " I have received three or four postally used USA 80cent diamond stamps, they pay the international letter rate. It has always amazed me that you have almost no stamps to pay the basic letter rate but have to stick multiple values on a letter. When the US letter rate was 60c there was only one stamp at this value which was not readily available and I think my correspondent finds the latest sheets to be a good source of the new (very expensive) 80c rate. He can afford to waste the inverted low values or use them as make up values. (ED: It has been reported that at least one dealer bought a huge quantity of the Pan-Am sheets, cut off the strip of four 80¢ stamps and wholesaled them off as discount postage.)

www.trains.com: On my birthday, I took time to do a couple things I haven't previously had time for. One was a drive up to Palmer Lake hoping to see a couple trains and maybe a pair of helpers dropping off. There was a lot of UP traffic, but nothing with flanged wheels - just maintenance trucks driving around seemingly without purpose. Sadie and I did enjoy a pleasant walk around the lake on a beautiful, sunny day with just enough breeze to keep it cool and watched some fishermen catch a few trout. The highlight of the day was my visit to the Kalmbach Publications web site www.trains.com. Most of the content is interesting and informative but the WEBCAM was spectacular! Actually there are two. I didn't see any trains on the Ft. Madison, IA webcam but I did get to control it for my two minutes of fame, panning around the area, checking out the sites. The Rochelle, IL webcam is fantastic. It is fixed on the crossing of the Union Pacific (former Chicago & North Western) double track mainline and the Burlington Northern Santa Fe double track line to Minneapolis-St. Paul. This is one of my favorite train watching spots as I've mentioned in previous newsletters, so to be able to view it from the comfort of my home 1000 miles away was a special treat. Not only do they have the camera focused on the crossing for real time views, but they also have a photo file of recent views so you can see the trains that have passed in the past 30 minutes or so. I saw 4 trains go by in about 50 minutes of switching back and forth from the webcam to the various content pages. Now I'm hooked - I have to check the webcam everytime I log onto the web! Check it out if you haven't already - there is a train almost every 10 minutes, some times less (I saw two at once when I logged on this morning!). Now there is no reason to have a day without trains! I also visited www.uprr.com and www.bnsf.com. I was somewhat disappointed in the BNSF site since it is geared primarily to customers rather than railfans but I was pleased to find schematic diagrams of the North Platte Bailey Yard and the new Roseville Davis Yard on the UP site that I was able to print out for future use.

ROMPEX 2001:The highlight of ROMPEX 2001 for me was viewing customer Maurice Pautz's exhibit TRAINS OF THE WORLD FROM A TO Z, although it didn't fair well with the judges, receiving only a ROMPEX 2nd Place ribbon. That was probably because he included several slightly oversized self-addressed covers with cachets he created by cutting pictures and slogans from magazines and brochures, then mailing them from appropriate railroad venues - I liked them but I doubt the judges did. He also included quite a few railroad logos that added color and interest to his pages but aren't really appreciated by philatelic judges. His outline was as follows:

I. Chronology of World Railroad Events

II. Chronology of United States Railroad Events

III. World Railroad Feats and Records

IV. Trains of the World A to Z

V. The First Train Issues of the United States

VI. United States Railroads

VII. Railroads of Colorado

VIII. Railroad Post offices

IX. Special Railroad Events

X. Tourist Railroads and Railroad Museums

XI. The World's Most Beautiful Train

XII. My Favorite Railroad

XIII. The Caboose

The first three sections were heavy on text but a little light on philatelic material so that may also have affected his award. Section IV, on the other hand, had lots of philatelic material but not much text except for the country name at the top of each page. It takes a lot of time and effort to put an exhibit like this together. I'm sure all of us who viewed the exhibits appreciated Maury's efforts and look forward to seeing it again as he modifies and improves it for future shows. Anyone care to guess Maury's choices for Sections XI and XII? What would yours be? Answers next time.

MAY TRAVEL: I didn't see any trains on the way to ROMPEX on Friday but I hit the jackpot on the way home. First I crossed over an empty WB UP ballast train on I-225 in Aurora, then, passed a SB BNSF coal train after dinner at Carl's Jr.'s in Castle Rock and a UP coal train stopped at Greenland. I thought I saw the light of helper locos (the BNSF dispatcher calls them "pushers") up ahead approaching Palmer Lake so I took the County Line Road exit from I-25 into Palmer Lake and arrived just as a BNSF coal train crested the Palmer Divide. So I not only saw the helper drop-off that I missed on my birthday, but the coal train was a "TROUGH TRAIN" - 19 sets of 13 articulated hoppers instead of the usual 110+ ordinary hoppers/gondolas. The lead units in the sets of 13 were labeled "A" while the trailing units were labeled "B", the others "C" through "M" with "M" next to "A". I was able to pace the train south to Monument and also noticed that the East and West sides of the "TROUGH" cars were painted differently - the east -side of the A,M,L units were painted BN green with white lettering while the K-B were aluminum with green (or black) lettering. On the West side, the B,C, D units were painted green with white lettering and the E-M, A units were aluminum with green (or black) lettering. On my trip back to ROMPEX on Sunday I saw a couple more coal trains and a pair of NB helpers plus a loaded UP ballast train waiting to head East for work on the old Kansas Pacific line Monday morning.

RAIL FACTS AND FEATS: The first railroad in North America was a short length of wooden track laid on Beacon Hill, Boston, MA in 1795 to carry building materials for the State House. A railway was laid on the same hill in 1807 to carry bricks.

RAIL THOUGHT OF THE MONTH: "I light up when I see a train." (And no, I'm not a smoker!)

STAMP OF THE MONTH: The so called "movie stamp" is really a Cinderella. Prepared by Mr. William O'Hara in red, blue, and green (perforate and imperforate) for use in movies, particularly "A Letter for Evie", most were confiscated by the Secret Service as being too much like real postage, especially after a few collectors actually used them to mail letters. The "stamp" was modeled after the 3¢ "Mail Train" parcel post stamp but is considerably smaller.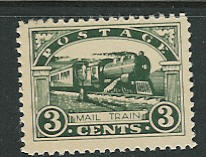 May all your signals be green,

AL PETERSON
<![if !supportEmptyParas]> <![endif]>
<![if !supportEmptyParas]> <![endif]>
AL PETERSON
THE RAIL PHILATELIST
P. O. BOX 25505
COLORADO SPRINGS, CO 80936
<![if !supportEmptyParas]> <![endif]>
<![if!supportEmptyParas]> <![endif]>
<![if !supportEmptyParas]> <![endif]>
1-800-807-RAIL access code RR or 719-591-2341
http://www.railphilatelist.com/ or e-mail railphilatelist@aol.com
JOIN THE CASEY JONES RAILROAD UNIT OF THE AMERICAN TOPICAL ASSOCIATION

Dues $8.00. Contact Oliver Atchison, PO Box 31631, San Francisco, CA 94131