The Rail Philatelist
News & Notes Back Issues
| Oct. 1996 | Nov. 1996 | Dec. 1996 |
| Jan. 1997 | Feb. 1997 | Mar. 1997 | Apr. 1997 | May 1997 | June 1997 |
| July 1997 | Aug. 1997 | Sept. 1997 | Oct. 1997 | Nov. 1997 | Dec. 1997 |
| Jan. 1998 | Feb. 1998 | Mar. 1998 | Apr. 1998 | May 1998 | June 1998 |
| July 1998 | Aug. 1998 | Sept. 1998 | Oct. 1998 | Nov. 1998 | Dec. 1998 |
| Jan. 1999 | Feb. 1999 | Mar. 1999 | Apr. 1999 | May 1999 | June 1999 |
| July 1999 | Aug. 1999 | Sept. 1999 | Oct. 1999 | Nov. 1999 | Dec. 1999 |
| Jan. 2000 | Feb. 2000 | Mar. 2000 | Apr. 2000 | May 2000 | June 2000 |
| July 2000 | Aug. 2000 | Sept. 2000 | Oct. 2000 | Nov. 2000 | Dec. 2000 |
| Jan. 2001| Feb. 2001 | Mar. 2001 | Apr. 2001 | May. 2001 | June. 2001 |
| July 2001 | Aug. 2001 | Sept. 2001 | Oct. 2001 | Nov. 2001 | Dec. 2001
|Jan. 2002| Feb.2002 | Mar.2002 |Apr.2002 |May.2002 |June 2002 |
|July-August 2002 |Sept.-Oct.-Nov 2002 |Dec. 2002 |June 2003 |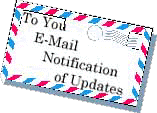 AL'S RAILINGS-
NEWS
&

NOTES

ON RAILWAY PHILATELY
Volume 8 Number 4
................

PRICE $1.50 (10 ISSUES FOR $12.00)

...............

July-August 2003

Dear Fellow Rail Philatelist:

AIMEE LYNN and ELIZABETH FAITH PETERSON were born at 4:00 and 4:01 AM Mountain Time respectively July 24, 2003 in Colorado Springs, CO to proud parents Diane and Thomas Peterson and sisters Christine, Grace and Emily. At just over two pounds each, they were over eight weeks premature so they will be in intensive care until October even if everything develops properly. The good news as this goes to press is that on July 31 they were both removed from the ventilators and are breathing on their own.

Only time will tell. Please keep them in your prayers.

Thanks to all of you for the many cards, letters and emails of congratulations for my 20 years as The Rail Philatelist. I am hoping to get myself back on track and stay there for the foreseeable future. Wish me luck!

Last June we had the twin fawns born in our yard. This year we seem to have almost a complete menagerie: one doe (possibly the one born last summer) visits every day or two and even comes up on the patio to check on Christine eating an apple slice,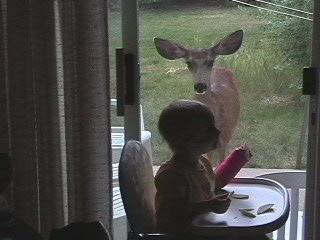 a pair of raccoons that I got a picture of in the hackberry tree the other night (Christine called them monkeys when we first saw them),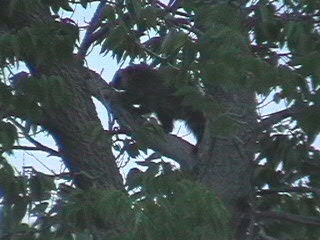 and a fox family (parents and at least two kits). One of the foxes doesn't appear to be too smart a hunter since I've found several rawhide bones in the yard purloined from neighbor dogs, but I've also found a squirrel tail and similar detritus so I guess at least one of them can hunt. The male is bright red and the female is almost gray. I haven't gotten a picture of the whole family yet but our houseguests have seen them all frolicking in the backyard in the early morning.
Our daughter-in-law Diane entered the hospital June 23 with complications from her pregnancy so Christine, our 16-month-old granddaughter, has been staying with us while the two older girls are with their real father. Playing with (and spoiling) Christine has taken precedence over working on stamps so this has taken much longer than I expected. Thanks for your patience.
NTSS: The National Topical Stamp Show in Denver June 27-29 was rather small with only about 20 dealers, but what we lacked in quantity we made up for in quality. It was a fun, friendly, laid-back atmosphere all weekend. The bourse chairman was extremely cooperative and helpful - they even provided coffee and Danish each morning before the show opened. Because of my 20th anniversary celebration, I approached the NTSS as a social event rather than a profit making opportunity. That was the right approach I guess since although my sales were reasonably good, they didn't quite cover the cost of the social hour, much less the show fees and stock replacement costs. Most of the dealers I talked with were disappointed in their sales, but weren't too unhappy. I had a great time all weekend meeting old and new customers so the time flew by. The "Oracle" and his wife stayed with us for the weekend so I continued my railway philatelic education on the drives back and forth to Denver as well as late into the night (early morning) each night he was here - I was exhausted by the show's closing Sunday evening. It was gratifying that he noticed several items in my Cinderella collection that he hadn't seen before. He also brought me some treasures (including some French colis postal die proofs) and I made several purchases at the show as well so my inventory continues to increase much to Sue's chagrin. We had a lively discussion at the Casey Jones Rail Road Unit meeting on Saturday about various methods to increase membership with seven members and three non-members all actively participating. There was good fellowship and plenty to eat and drink at my social hour also - I certainly ate more than I should have. I'm sorry more of you didn't make it out to participate in all the show activities. You missed a great opportunity. Maybe next year in Memphis.
HANDBOOK #138 SUPPLEMENT #3: Ray Cartier, the new Executive Director of the American Topical Assn. brought my copies of Supplement #3 to the NTSS so I now have them in stock. However the wait has been so long I'm not sure I can locate my list of everyone who requested a copy, so if you ordered one and haven't received it yet, send me a reminder. The delay was caused by some production problems in the Albuquerque office, then the change in executive directors and move of the office to Arlington, TX. I guess all the bugs are out now and Ray and his lovely wife Karen seem to have things under control. I also bought a copy of the new Handbook #138 Computer Disk Version at the NTSS. It has separate files for each letter, all in both PDF and Microsoft WORD text files that can be printed to make hard copies if you so desire. The letter files are integrated so you don't have to search the main handbook and three supplements to find the listings for a single country; they are all in one file. The CD has a few listings received after Supplement #3 went to press so it is more up-to-date than the paper copies. The only things missing from the CD are the pictures and my exhibit that are included in the main handbook. This is a valuable addition to your philatelic library. And at the special $18.00 show price, it was much cheaper than the 700-page handbook and three supplements combined. I hope to use it to crosscheck and update my rail stamp database when I get some time.
MILE HIGH RAILFAIR: I have a special fondness for Denver's Mile High Railfair held each July since it is the first show I did as a dealer. Unfortunately, I've had conflicts the past couple years since it moved back to the Jefferson County Fairgrounds and haven't been able to do it. I didn't sign up for it this year either but I did go Sunday, July 26. I was disappointed to find it just a shadow of it's former self. The room that was jam packed with dealers when I started 20 years ago wasn't more than half full. I got lost trying to find the place and didn't get there until almost 2:30 PM and won a door prize as the 200th paying customer. I was thrilled to receive a Pennsy bowl and coffee mug, but amazed that only 200 people had shown up. After walking the floor twice and making just one $5.00 purchase, I left, glad that I hadn't taken a table. Most of the dealers I talked with probably won't be back next year either unfortunately.
NEW ISSUES: The flood of new issues made preparation of the enclosed "G" list particularly challenging since it seems that the under-developed "G" countries are having a contest seeing which of them can issue the most train stamps. Guinea and Guinea-Bissau seem to be winning but Gambia isn't far behind with two sets per year (8 + 4MS of 6 + 4SS (or more)) although the Scott catalog seems to have adopted the policy that all train stamps issued in the same year should be combined into a single number series per country even if the designs clearly indicate different sets. When the sheet formats, sizes, border designs, etc. are clearly different (not to mention the titles), they should be listed as separate sets - maybe Scott doesn't look at the designs. I've tried to list the sets individually, which should explain the awkward numbering (e.g. Gambia#2524-7, 30-1, 4-5 for "The History of Trains" set while #2520-3, 8-9, 32-3 are "Famous Trains of the World"). To complicate the problem, the sets are issued in two to four or more parts, sometimes with a time lag of almost a year between parts so I still am waiting for some part sets already listed in Scott. I guess I shouldn't complain too loudly about the Scott catalogue. At least they list the new sets from former British colonies like Gabon, Gambia, Grenada and Guyana. They seem to be totally ignoring all the issues from Guinea and Guinea-Bissau. Maybe that is because some or all of these issues are illegitimate, but Scott hasn't updated their listing for these countries since 1999 and 1995 respectively. If they recognized legitimate issues more promptly, maybe the market for the other issues would dry up. On a more positive note, the past two biweekly lists from one of my new issue suppliers have contained not a single train stamp listing, so maybe the flood is abating. One can only hope!
JUNE TRAVEL: Sue, Sadie and I left on Tuesday, June 3 for Norfolk, VA to visit our youngest son before he shipped out on the carrier USS Enterprise and to attend our three year old granddaughter Kathryn's first dance recital. We stopped in Ohio for a day coming and going to pick up and drop off my Mother-in-law. Turned out Sue's sister from Florida and her husband were also in Virginia Beach visiting our nephew who is an F-14 pilot, also assigned to the "Big E", so we had a mini family reunion. Aside from the recital where Kathryn stole the show as you would suspect (couldn't film the recital but this picture is her warming up at home before the big event).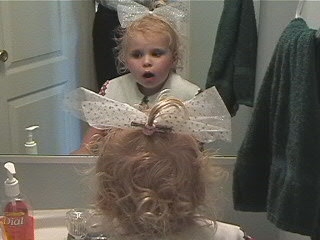 Other trip highlights included a visit to colonial Williamsburg where we put Sue's mother in the stocks (couldn't resist titling this picture "Finally have my Mother-in-law where I've always wanted her!" [Actually she and I have gotten along extremely well over the past 40 years so I've never understood all those Mother-in-law jokes.]),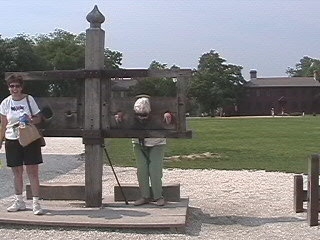 lots of good food, a visit to the zoo, more good food, a Father's Day cookout with even more great food, a guided tour of the "Big E", and plenty of great food - I gained at least 10 pounds on the trip. While trains weren't the primary mission of the trip, I did manage to see a few. Just east of Oakley, KS we passed an EB UP coal train and a few minutes later met a WB coal empty racing to get into the siding ahead of the EB. As usual, the UP's Kansas City yard was filled with trains waiting for clearance to highball. Passed a busy CSX yard on the east side of Charleston, WV and got a chance to check out a Norfolk Southern coal yard on the Kanawha River south of there -looked like they were transferring the coal from NS "Top Gon" cars to river barges for the trip down the Ohio and Mississippi Rivers. Passed an EB CSX coal train at Clifton Forge, WV and was sorely tempted to make a detour when I saw the "Cass Scenic Railroad" signs at White Sulphur Springs but that will have to wait for another time. Passed a large CSX yard on the east side of Richmond but couldn't get a good view because of all the trees. A CSX mainline runs right by colonial Williamsburg so I saw one EB coal train and heard a couple other trains roll by during our six hours there. On the way back to Chesapeake, there were delay warnings for the I-64 tunnel so we took I-664 south and passed right by the huge coal loading docks in Norfolk harbor - probably not as extensive now as they were in their heyday, but still quite impressive. Saw a couple different geeps from the Norfolk Portsmouth Belt Line RR sitting idle in the yard just south of I-464 on our trips into downtown Norfolk, but I didn't get to see any trains on the NS line that runs near my son's house, just their horns blowing for the road crossing. On the way back to Ohio there was an EB CSX grain train at Clifton Forge and an EB CSX manifest near Chillicothe, OH but that was it.
Sometimes a detour is a good thing. My usual I-70 route through Indianapolis, IN was closed for construction so I had to take an I-464 detour on the south side of the city that produced four positive outcomes: (1) I learned that Beech Grove, IN, site of AMTRAK's car repair shops is a SE suburb so I'll have to check it out sometime (I thought it was near Chicago); (2) I saw two bright red "Central(?) Indiana" geeps on a WB manifest; (3) I passed a string of derelict Indiana Public Utilities hoppers; and (4) I found a gas station with the lowest prices on my entire cross-country route ($1.389). Action was heavy on the former Kansas Pacific in western Kansas - first, an EB coal train at Page City, then a WB coal empty on a siding at Weskan waiting for the EB coal train I met a few minutes later, followed by a grain local shortly thereafter. At Cheyenne Wells, CO, the string of 15 unusual GREX hopper cars and loader I've seen at Raton, NM, Chicago, IL and Kansas City, MO were sitting on the Cargill siding so I finally got a good picture of the loader.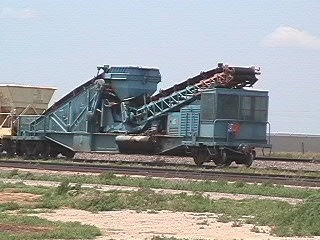 MY FAREWELL TO AMTRAK TOUR PART 5:CHICAGO'S UNION STATION AND THE CITY OF NEW ORLEANS. Woke up about 6:30 AM June 8, 2002 but rolled over and snoozed until 8. Brewed some Holiday Inn coffee while I showered, then checked my email, transferred some photos from the camera to the computer, then reviewed yesterday's videotape, making a few more still photos that I also transferred. Then I cleared the camera disk, put in a new videotape and headed for Chicago's Union Station about 10:30 AM. Took pictures of everything that caught my interest - video and still - especially the Great Hall waiting room but without a wide-angle lens I couldn't get a picture that did it justice. Union Station is really two stub end terminals with a common concession area between them. The North concourse has the odd numbered tracks 1 through 23 and the South concourse has the even numbered tracks 2 through 28 arranged in pairs (1/3, 5/7,...22/24) and track 23 on the North and 28 on the South are really the same run-through track. There was a fairly steady flow of METRA's and a few HIAWATHA's during the day from the North side while the south side seemed to be exclusively for AMTRAK.
About noon, I was sitting in McDonald's having a donut and orange juice when a guy in line waved at me. Turned out to be Don, an AMTRAK engineer I have seen at a few train shows in the Kansas City area over the years. He was getting an ice cream before going to work on the CALIFORNIA ZEPHYR (#5 WB) at 1:53 PM. He made me aware of another opportunity I had missed. If I had done my homework, I would have realized that the big St. Charles Railroadiana Show was this weekend. I could have gotten up early, rented a car and driven out to the show for a few hours before catching the CNO tonight. I did the show a couple times before I cut back on my show schedule - it was always a great place to buy but I never did well enough selling to justify the time and/or expense. There was no way to tell Don was an AMTRAK engineer (or even an AMTRAK employee) by the way he was dressed -T-shirt and jeans. He makes the run three times a week deadheading from his home in Omaha, NE to the crew change point in Ottumwa, IA. I considered asking him to see inside his locomotive but realized that would probably get him in trouble so I didn't. Headed back to the Holiday Inn about 12:30 to pick up my gear and check out. Decided to transfer a few more photos and the Compaq 722US locked up. My first problem with it thus far. Couldn't figure any way to get it unfrozen so I pulled the power plug and when that didn't work I removed the battery too. Things seemed fine when I turned it back on so I completed the photo transfers, then caught up on my journal. Housekeeping knocked on my door about 1:30 so I packed up and headed for the station.
The EMPIRE BUILDER (#7 WB) was starting to board on track 23 when I got there at 1:53, but they had a couple of "runners" (late passengers) so it didn't start rolling until 2:17, just seven minutes late, with five express boxcars and four Roadrailers in tow. Then I scurried to the south end but the CZ had already departed on time at 2:15. I went into the passenger lounge to read the NEW YORK TIMES, but the over-loud TV, blaring AMTRAK announcer, a screaming toddler and a teenager bouncing a tennis ball incessantly were driving me crazy so I left and found a seat in the hallway where the continuous computer voice "Track 12, Track 12, ..." seemed the lesser of the evils. The CZ's departure from track 20 revealed a private car on track 24 - a dark blue smoothside observation car lettered "SHERRIF RAILROAD" in gold serif letters above the windows and "CRIPPLE CREEK" in script below. The SOUTHWEST CHIEF was ready to depart when a lady and a redcap came rushing through the lounge. The AMTRAK agent at the track door spread his arms out signaling "NO!" to the agent at the lounge door, but the lady pushed her way by and then past the guy who had signaled "NO!". I guess she got on the train because she didn't come back from the platform. Meanwhile, a heated argument ensued among the three AMTRAK employees at the doors. Once again, it seems like some employees go out of the way to assist the passengers while others take the hard line. As the TEXAS EAGLE (#21 SB) pulled out on time from track #28 with eight express boxcars and five Roadrailers, northbound #22 was running about eight hours late! On the scanner, I heard the dispatcher tell the SC that its express cars were waiting on the mainline for it. I wonder if they'll put any on the CNO. I watched the ILLIANI depart on time from track #14 and then saw SW-1000 #794 roll through the station on track 28 getting into position to remove the freight cars from the EB (#8), now due in at 4:45PM. I walked back to the north side and found her waiting on track #23. The brakeman was walking around near the passenger gates and then came in to check the monitor. I asked, "Don't they tell you when it's coming?". He replied, "Yes but when it misses it's window (It was due in at 4:20) they have to work around the METRAS." About 4:45 the baggage carts started coming from the tunnel between tracks 15 and 17, up the ramp and turning south along the track that becomes track 28 in the south concourse. At 4:49 they announced, "AMTRAK Train #8 , the EMPIRE BUILDER, has arrived on track #28 from Milwaukee, ... Seattle". It wasn't until 4:56 that I actually saw it's headlights coming at me on track 19. It pulled on through until the last passenger car had cleared the "track 21/23" doors, then stopped. At 4:59 I heard the air release as the freight cars were uncoupled and looked out the door to see the passenger train pull on south as the switcher #794 brakeman/conductor walked north checking the car numbers against his manifest. About 5:12 the first of the baggage carts came back loaded. The string of freight cars started moving north, then came back south a few minutes later with the brakeman standing on the coupler of the lead car as the safety lookout - ten express boxcars and eight Roadrailers pushed by #794.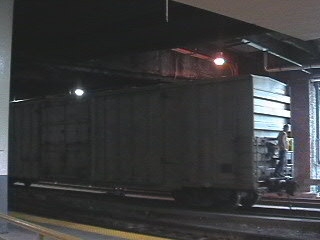 I made my way up to the food court about 5:30 and found some of the restaurants already closing. Again, McDonald's seemed like the safest bet - I didn't need Cajun if I was going to New Orleans and a couple of the others sounded like they would produce heartburn also. When I came back downstairs at 6:35 PM, my train was sitting on track 19/21 led by baggage car #1002 and no power. At 6:50 I saw mailcar #1718 back up to #1002, so I walked out the "track 21/23" doors and was surprised to see Sightseer Lounge #33006 ahead of #1718 and behind P42 #65 with #69 on the point. I made a quick trip to video the head end and also caught the drumhead/observation platform of the "Cripple Creek" still sitting on track 24. At 7:30 they started boarding the sleepers, then those with small children and senior citizens (me). They still had water hoses connected to the diner as I made my way up platform 19 to Coach #31592 and found a seat on the right side of the 68 passenger coach so I could videotape as we rolled through the south side of the terminal.
On 6/8/02 the CITY OF NEW ORLEANS (#59 SB) consist was P42 #69 and #65, Sightseer lounge #33006, mailcar 1718, baggage #1002, Transition Sleeper #39015, Sleeper # 32050 (0831), Sleeper #32097 (5900 - "New Hampshire"), Diner #38022 (612?), Coach #34082 (2212), Coach #35192 (2210), Coach #35006 and Coach/Baggage #31076 and no freightcars. The "Cripple Creek" was sitting alone on track 24 as we rolled by at 8:13 but I couldn't get a good picture in the dark. As we were leaving the station, there were three tracks on the left with express boxes, one headed by switcher #792. As we came out into the twilight, the AMTRAK service facilities were also on the left so I had to film across the car since all the seats had at least one occupant. We stopped with my car on a bridge as the AMTRAK train that had blocked my view of the service facilities raced by. Then we started to back up. I should have filmed the service facilities then, but figured I would get them on the way back. Big mistake since we didn't return that way! Instead of backing up to pick up some freight cars as I expected, we were merely changing to the former Illinois Central track for our trip south. When we started forward again we were on a route that crossed above and perpendicular to the AMTRAK service area rather than level with and parallel to it. If there is a next time, I'll sit on the left side on the way out. We passed a major crossing at the 16th Street tower and came near a three track electrified line on the left at what looked like Soldiers Field. We went through a long, dark underpass and when we emerged the electric lines were on the right as we passed 27th Street station. We passed two SB METRA's and one NB before reaching the METRA service facility where three interesting pieces of equipment for working on the catenary lines were parked. A NB manifest roared by at 8:52 but I didn't see the locos. I assume they were Canadian National since we were on their tracks (but you can never be sure anymore). The ride was pretty bumpy, making it difficult to write in the journal so I decided to try reading instead. The diner didn't open for dinner until 9:30 PM - too late for me to eat a big meal - glad I ate earlier. Stopped briefly at Kankakee, IL, 16 minutes late. Met a NB manifest at 10:54. Made a quick stop at Effingham, IL just before midnight, fouling the Norfolk Southern (former PRR, Penn Central, Conrail) line to St. Louis temporarily. About 12:30 AM I realized I was the only one with a light on so I shut mine off too. I had planned to stay awake all night but since it was too dark to see much and there wasn't much train traffic anyway, I decided to get some sleep. Lots more leg room than on an airplane, but the seats aren't any more comfortable, even with the leg rests. I couldn't really find a comfortable position. Laying straight back as in a recliner turned out to be the least comfortable. In the darkness I resolved to see if the sleeper bargain for the SOUTHWEST CHIEF was still available as soon as I could get to a telephone!
Dozed off and on and the next thing I knew it was 5:30 AM as we slowed while a NB manifest rolled by. Went and freshened up, then walked the train to confirm the car numbers. The last coach was locked so no one could enter and there were only three passengers in the other rear coach. We also didn't have a Sightseer Lounge since ours was inaccessible at the head end, evidently dead-heading to New Orleans for needed repairs. We pulled into Memphis about 7 AM. There was no one in the station and there wasn't a drop box. There was a police substation in the same building, so I asked a policeman in the parking lot if there was a drop box. He said he would mail my letters for me "If they didn't contain ANTHRAX" but they never showed up in Colorado Springs. There were three WB trains (at least one a CSX) waiting to cross the Mississippi River bridge as we rolled slowly through the crossing pulling out of Memphis. My breakfast companions were a young couple from the Chicago area going to New Orleans for a few days vacation. He writes software for the AMA and she was a social worker before becoming a stay at home mom. The other guy was an environmental scientist also from the Chicago area on his way to NO for an AREMA conference. He is responsible for the environmental chapter of a new book they are writing on Railroad Engineering and Construction. (I wondered if they are reinventing the wheel!) We passed a large yard off to the left as I finished my breakfast ($11.25 including tip) about 8 AM. About 8:30 we met a NB Illinois Central manifest and TOFC waiting on sidings for us to get by. Stopped at Greenwood, MS for a crew change - the engineers and conductors change at regular intervals but the service crews stay on the train for the trip's duration. Several people got on and off in Greenwood but there didn't seem to be much there. We were running about 70 minutes late. The guy across the aisle was getting off at Jackson, MS (I knew that because as we left Chicago the car attendant put a slip of paper in the overhead rack with the destination and number in each party) so I asked him to mail my covers for me. We met a NB manifest led by a Conrail loco at 11:18, then passed a large CN engine service facility with several Grand Trunk and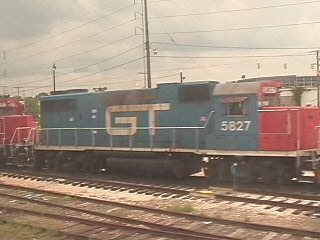 Kansas City Southern locos sitting idle on the left and a CN geep and slug flat switching on the right into a long multitrack yard. We made two stops at the Jackson station's short platform. On the scanner, I heard our lady engineer getting her track warrant and a warning about a slow grain train ahead. There was a NB manifest with an IC, 2 CN and a GT loco waiting for us to clear as we left at 12:27 PM, 75 minutes late. We bumped along slowly for about 15 miles after we caught up with the grain train before it could get into a siding just south of Crystal Springs, MS. We raced by at 78 mph so I only got a glimpse of the GT loco on the point and the black IC unit behind it. Passed a string of bulkhead flatcars being loaded with pulpwood as we entered Hazlehurst, MS but I wasn't fast enough to get a picture. Passed a local led by a black IC geep waiting to go north as we entered Brookhaven, MS, now 80 minutes late. There was a quaint old brick station there sitting idle. I've probably missed more photos today than I have taken - I need to improve my reaction time. The sign at McCloud said "Railroad Depot and Museum". I don't know if there were any displays inside but they had Illinois Central 4-8-4 steam loco #2542, a white IC reefer and red wide-vision caboose on display to the south in a covered shelter.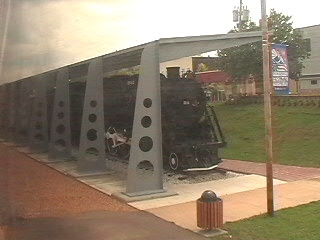 Saw the red snout of a GT geep in a yard filled with grain cars as we left McCloud. I've probably passed a couple thousand covered hoppers sitting idle on this trip thus far. At 4:45 I heard our lady engineer say, "Milepost 833.2. We're going in the hole." Probably so the NB CNO can come on. We went into the siding just north of the Hammond station so #58 wasn't really up to speed when she rolled by us on time. I presumed it was the consist that I watched leave Chicago two nights ago with the cars I rode on the EMPIRE BUILDER. My check of the videotape confirmed it since AMTRAK P42 #199 was on the point again and several of the car numbers were the same also.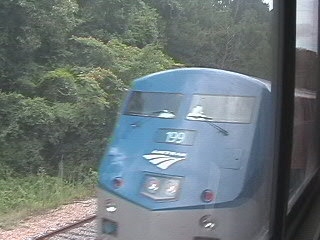 The Hammond station is a beautiful three-section brick building but, once again, I didn't get a photo. There were a couple men in dark green "Trails to Rails" National Park Service shirts on the train but because our lounge car was out of service we didn't get any narration on this trip. Shortly after we passed the New Orleans airport, we passed a small blue depot labeled "Louisiana Railroad Museum". I had never heard of it and I didn't see any rolling stock on display, but I did find an article about it in CLASSIC TOY TRAINS (It started as a collector's Lionel Museum, but is in need of financial support). After passing the IC shop and yard, we backed past the AMTRAK service area and into the station just an hour late. AMTRAK Dash 8-P32BWH#508 was sitting on one track while a Superliner diner, green express boxcar and three "Express Trak" boxcars sat on another track. The EB SUNSET LIMITED was scheduled in at 10:30 PM but since it usually runs quite a bit late I didn't have any inclination to hang around waiting for it nor coming back to see it. The board in the station lobby listed a Holiday Inn within walking distance. I called and got a non-smoking king for the AMTRAK rate of $79 plus tax (the PRIORITY CLUB and AARP rates were $95 plus tax). It was a long three blocks to the hotel but I got there about 6 PM with the young German who had sat in front of me tagging along since he needed a room too (Couldn't contact the youth hostel he had planned to crash in). In excellent English he explained that he was on a three week train and National Park tour - NYC to Chicago, then to Flagstaff on the SC, a tour of the Grand Canyon, then on to LA and the CS to San Francisco, then a tour of Yosemite. He then continued on the CS for a connection with the EB for a few days hiking in Glacier Nat'l Park. Then on to Chicago for his CNO connection, a day in New Orleans, then the CRESCENT back to NYC and a flight home. The hotel had a shuttle to Bourbon Street but I'm not much of a party animal on my own, so I just freshened up and went to the hotel's restaurant with a "Streetcar Named Desire" theme. Had to try Cajun so I'll need my Zantac tonight. The steamed shrimp were slightly spicy without the sauce and really spicy with it. Seafood Gumbo - good but also spicy, Jambalaya on linguine rather than rice (not too spicy), then bread pudding as an antidote. Checked on the inbound SL and found it was four hours late so I won't go see it tonight. Transferred a few pictures to the computer, reviewed today's video, tried unsuccessfully to call AMTRAK's "specials" desk for a sleeper on theSC, then called it a night at 8 PM. Next time, the SUNSET LIMITED from New Orleans to Los Angeles.
RAIL THOUGHT OF THE MONTH: "...the golden age of railroads has come and gone, and we have yet to grasp fully what it meant to American civilization" says historian Maury Klein. In that regard we have evidently not been well served by our history teachers.
RAIL FACTS AND FEATS: The most unusual train accident recorded occurred in February 1913 during a flood on the Memphis Branch of the Louisville & Nashville RR. A freight train collided in the dark with the shallow-draught packet boat LOCHIE S that was sailing above the flood-covered tracks. No one was injured and the responsibility for the damages was never properly settled.
STAMP OF THE MONTH: Bill Senkus, Casey Jones Rail Road Unit Sectretary/Treasurer and DISPATCHER editor used his creative genius to design a special souvenir sheet for my 20th Anniversary celebration. I gave him only minimal guidance so credit for the finished product, which I think is fantastic, goes primarily to him. Thanks Bill for all your efforts on our behalf! The presentation folder thanks all of you who have made my first 20 years such a pleasure and provides the rationale for the photos selected and details on each. If I haven't sent you a copy yet, let me know and I'll get one to you - it and $5.00 will probably get you a cup of coffee someday. I don't expect it to ever be worth anything but it was a lot of fun to do. Bill also produced a few sheets perforated and a couple sets of progressive proofs for our personal collections.
(Sadly, on July 21, 2003 a class F1 tornado ripped through the Kinzua Bridge, destroying the middle 21 of 40 support sections. It is unlikely that there will be funds available to rebuild this historic relic.)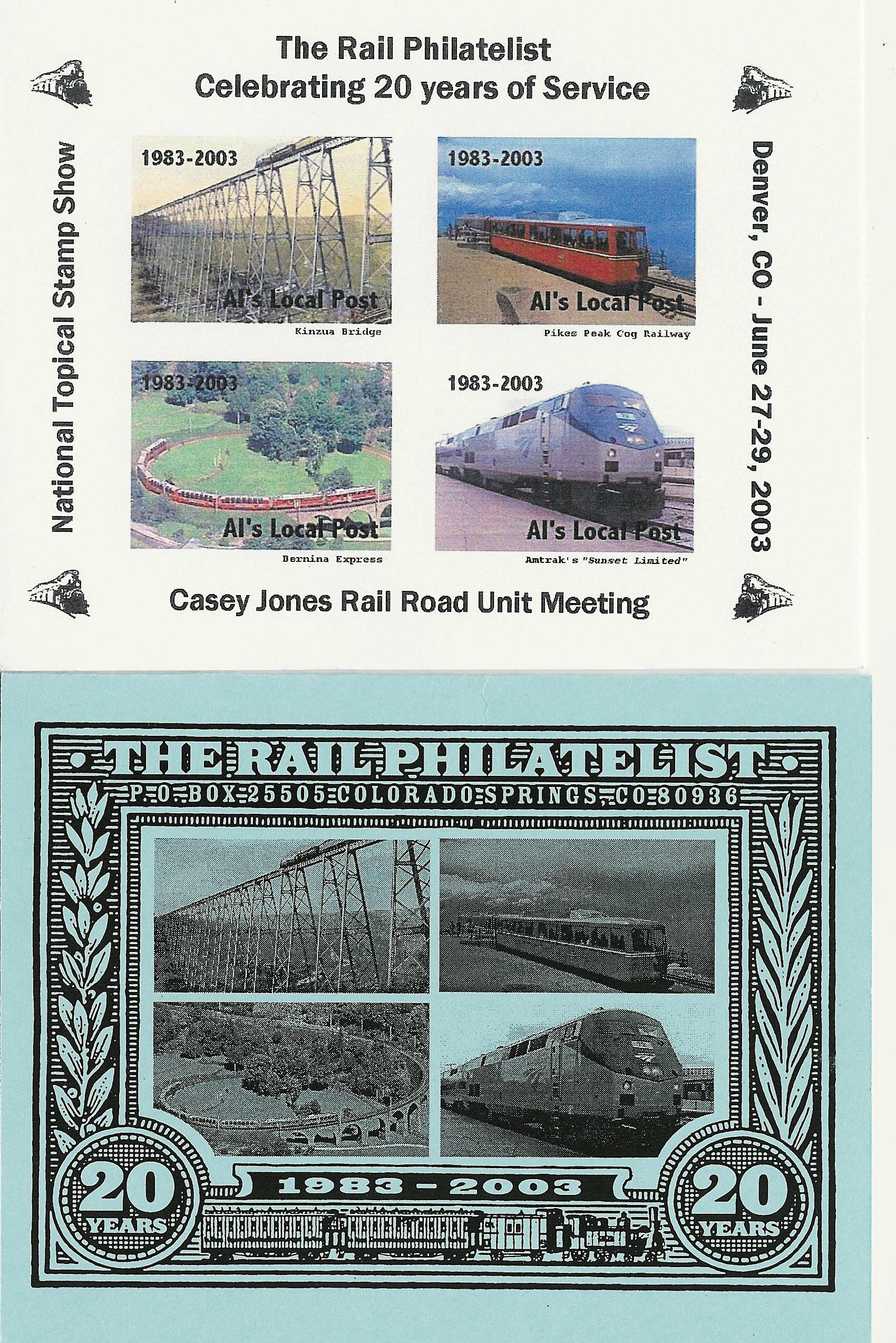 May all your signals be green,

AL PETERSON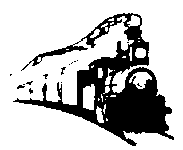 <![if !supportEmptyParas]> <![endif]>
<![if !supportEmptyParas]> <![endif]>
AL PETERSON
THE RAIL PHILATELIST
P. O. BOX 25505
COLORADO SPRINGS, CO 80936
<![if !supportEmptyParas]> <![endif]>
<![if!supportEmptyParas]> <![endif]>
<![if !supportEmptyParas]> <![endif]>
1-800-807-RAIL access code RR (77) or 719-591-2341
http://www.railphilatelist.com/ or e-mail railphilatelist@aol.com
JOIN THE CASEY JONES RAILROAD UNIT OF THE AMERICAN TOPICAL ASSOCIATION
Dues $10.00. Contact Contact Bill Senkus @ CJRRU-ATA P.O.Box 4584, Walnut Creek, CA 94596-4584